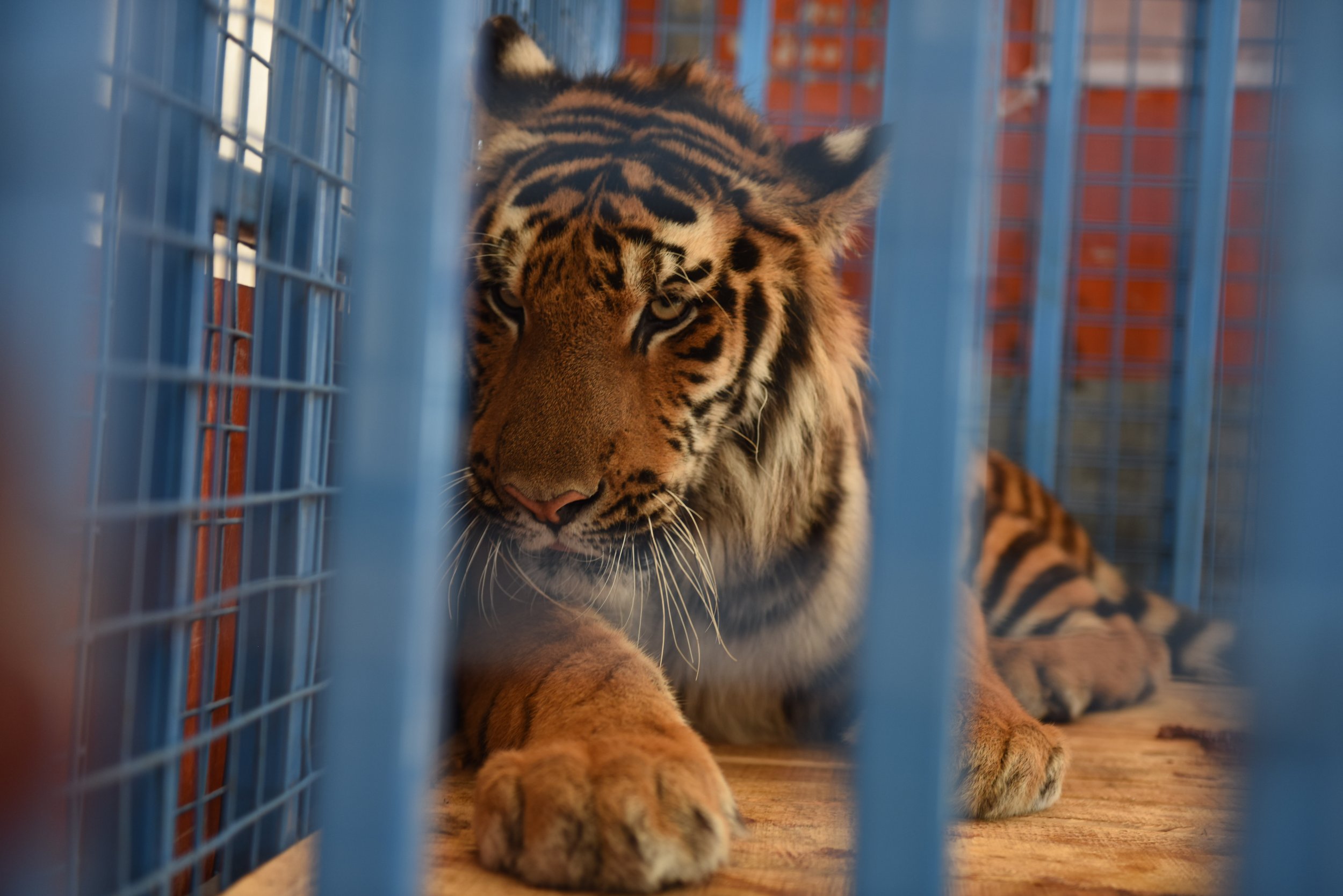 An animal welfare group has rescued nine exotic animals—endangered lions, tigers and bears—from a devastated Zoo near the Syrian city of Aleppo, successfully evacuating them to Turkey.
The international animal welfare organization Four Paws, which in April saved three year-old lion Simba, and Lula the bear from the Iraqi city of Mosul, extracted three lions, two tigers, two Asian black bears, and two hyenas from Magic World amusement park near Aleppo, Friday.
The nine animals have now arrived safely at a temporary home in an animal protection center in Karacabey, Turkey near the city Bursa. After a quiet first night the team's vets began comprehensive examinations of the traumatized and emaciated animals. However, more animals remain trapped in the Aleppo amusement park.
Read More: Family of Syrian Boy Who Became a Symbol of the Aleppo Siege Claim the Syrian Opposition Used Him for Propaganda
In the wake of the fighting and turmoil that ravaged the city over more than four years of conflict, the rescue team is planning to rescue the remaining animals in a subsequent mission to the city and in the meantime has administered emergency care.
Conditions during the 24-hour convoy to Aleppo caused delays as vets and security experts had to deal with the intense summer heat.
"The journey across Turkey was a tiring affair for all of us. Due to the extreme heat, we had to stop every three to four hours to check on the conditions of the animals and provide them with water," stated Head of Mission Dr. Amir Khalil. "We are thrilled that we were able to bring the animals safely to their first destination."
A security team, with experience in dealing with hazardous conditions on the ground in Syria, evacuated the animals from the amusement park and brought them to the Syrian-Turkish border. There, the animals were handed over to the rapid response team and taken to Turkey.
The Four Paws team will decide when and where each animal will be relocated based on each animal's condition. The first examinations have shown the two rescued bears from Syria are doing well. Both are about seven years old. Aside from dental problems and parasites, the team did not detect any serious diseases.
The rest of the animals are still being examined and as soon as their health conditions allow, they will be transferred to an appropriate place.