Mystery Syria Missile Strikes Kill Iranians Fighting for Assad, Observers Say
Iranians fighting for the Assad regime in Syria were allegedly among those killed by a new wave of missile strikes, the origin of which is yet to be confirmed.
The Syrian Observatory for Human Rights, based in the U.K., said the strikes in northern Syria overnight on Sunday appeared to have been carried out by Israel, Agence France-Presse reported.
An arms depot containing surface-to-surface missiles at a base known as Brigade 47 was thought to have been struck, the Observatory said, and at least 26 fighters were killed. Most were Iranians, the BBC reported. Four Syrians also were reportedly killed.
The regime-run Syrian Arab News Agency reported that military sites in the provinces of Hama and Aleppo were struck by rockets at around 10:30 p.m. local time (3:30 p.m. EDT). It did not say who was responsible for the attack.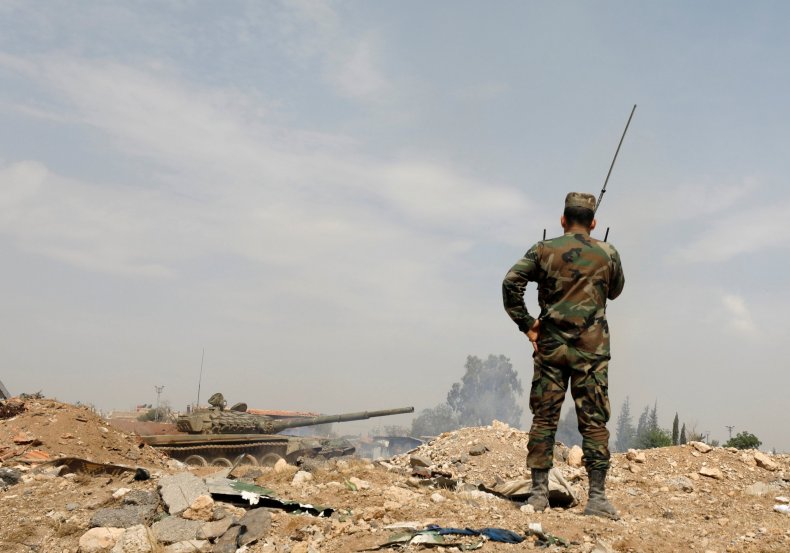 Neither the Syrian Observatory for Human Rights nor Israel's defense ministry responded to requests for comment.
Syria and Iran are strategic allies in the Middle East. Iran supports the Syrian regime in the country's brutal civil war that has been raging since the Arab Spring uprising in 2011. The Iranians offer a range of support to President Assad, including military and financial backing.
WikiLeaks shared a video showing a massive explosion rocking southern Hama on Sunday night, claiming that earthquake monitors in Lebanon and Turkey recorded a blast that registered over 2.0 on the Richter scale.
Israel has struck Syria on a number of occasions. In April, at least seven Iranian military personnel were killed in a missile strike on an Iranian drone base in Homs. The strike killed Colonel Mehdi Dehghan, who led the drone unit.
Syria, Iran and Russia all blamed Israeli forces, though Israel would not confirm or deny its involvement. Israel was reportedly responding to an attempt by Iran to fly an armed drone into Israeli airspace. The drone was shot down by Israeli forces.
The latest strikes on Syria followed a missile attack by a Western coalition of the U.S., France and the U.K. on what the allies said were the regime's chemical weapons facilities. It was a response to an alleged chemical weapons attack by the Assad regime on civilians in the city of Douma that killed dozens and injured hundreds more, including many children.