Syria's New Top Diplomat Goes to Iran for Closer Ties As They Face US, Israel
Syria's new top diplomat has traveled to Iran in his debut trip abroad, using the visit as an opportunity to emphasize close relations between the two allies as they face U.S. pressure, attacks attributed to Israel, as well as strife at home and across the region.
Syrian Foreign Minister Faisal al-Mekdad, who was appointed to the post last month after the death of his longtime predecessor Walid al-Muallem, arrived Sunday in Tehran and met Monday with a number of senior Iranian officials to whom he stressed the need for close cooperation among their governments.
Mekdad also conveyed his condolences for the death late last month of nuclear scientist Mohsen Fakhrizadeh, whose assassination Iranian officials have blamed on Israel, a common foe of both Damascus and Tehran.
Mekdad told his Iranian counterpart Mohammad Javad Zarif that the killing of the individual credited with pioneering the Iranian military's nuclear program "does not represent a loss to Iran only, but to Syria, the world and humanity as a whole, considering that this terrorist crime is a crime against humanity and comes in the context of a scheme targeting both countries," according to a readout shared by the Syrian Foreign Ministry.
He also hit out at Washington, arguing "America's anomalous activities in the region have escalated the tensions, saying they reveal that the Zionist regime's interests have priority over the American interests in the region," according to an Iranian Foreign Ministry readout.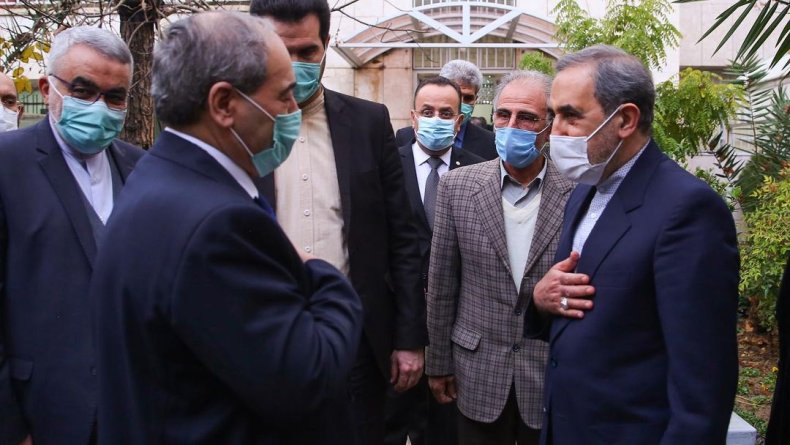 A similar sentiment was expressed to Newsweek by the Syrian mission to the United Nations in response to Secretary of State Mike Pompeo's visit to the Golan Heights, a southwestern Syrian territory occupied by Israel since 1967. While tensions run high between the two countries to this day, Israel has focused on Iran as an archfoe in the region.
"Expounding on the situation and the recent developments in the region, Foreign Minister Zarif stressed the need for vigilance and consultations among Iran, Syria and other countries," according to the Iranian account of his meeting with Mekdad.
Both Iranian and Israeli officials have communicated to Newsweek that they remain vigilant and prepared to defend their countries in the wake of Fakhrizadeh's slaying.
Iran has always denied seeking nuclear weapons, but its program has been the target of mostly unclaimed attacks, both on equipment and personnel, for a decade, as well as international sanctions lifted by a 2015 nuclear deal with China, France, Germany, Russia, the United Kingdom and the United States.
The U.S. left the agreement in May 2018, as President Donald Trump accused Iran of pursuing missile development and funding foreign militias across the Middle East, including in Syria.
Syria has also had nuclear sites struck, with Israel only last year admitting to a brazen 2007 raid on a site in the country's east. Today, Israel conducts regular air attacks on suspected sites associated with Iran in Syria, as well as government positions defending them.
While in the Iranian capital on Monday, Mekdad and Iranian parliamentary speaker Mohammad Bagher Ghalibaf "confirmed the cooperation between the two countries in order to thwart all plans to divide the country and break it up in service of the Zionist-American project in the region," according to the Syrian version of events.
The Syrian officials also thanked his hosts for their intervention on behalf of President Bashar al-Assad and his efforts to stamp out an insurgency once backed by the U.S. and other major powers but now mainly supported by Turkey, and to defeat the Islamic State militant group (ISIS).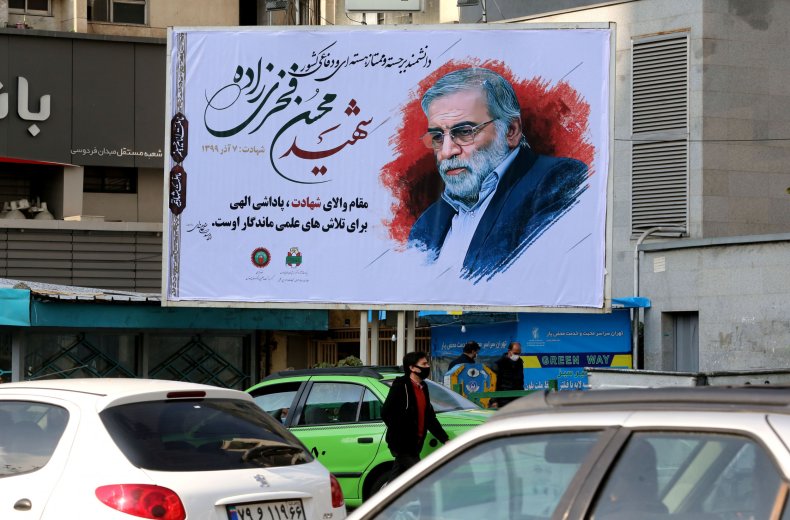 Mekdad told Ali Akbar Velayati, senior adviser to supreme leader Iranian Ayatollah Ali Khamenei, that "the victory achieved in Syria against terrorism and its supporters is a joint victory for Syria, Iran, Russia and their allies, stressing the importance of investing the opportunity that resulted from the victory over terrorism to work toward reaching a political settlement to the crisis in Syria that preserves Syria's unity and sovereignty over all its territories without any outside interference."
Russia joined the Syrian civil war in 2015, further bolstering government forces and allowing them to retake much of the country. A third of the nation remains in the hands of the U.S.-backed Syrian Democratic Forces, a mostly Kurdish group also battling ISIS but seeking more autonomy from Damascus. Stretches of Syria's border with Turkey, including much of Idlib, is controlled by Ankara-backed opposition forces opposed by both the Syrian government and Syrian Democratic Forces.
Syria, Iranian and Russian officials have told Newsweek they seek an immediate withdrawal of U.S. forces from the country as they operate without Damascus' permission.
The U.S. does not recognize Assad's administration, having accused the leader of orchestrating human rights abuses, though officials from both countries have engaged in diplomacy in hopes of a deal as recently as October, as Newsweek reported at the time.
Velayati, for his part Monday, commended Syria's position in the so-called "Axis of Resistance," comprising the two countries and partnered militias opposed to the U.S., Israel and Saudi Arabia.
"Undoubtedly, Syria has a fundamental and decisive role in the resistance front," Velayati said, "and it has paid a heavy price for playing this role, although today, more than ever, it continues the path of dignity and independence with power, aware of the plans of the enemies."