Syria, Russia and Iran Win Major Base, Split Rebels in Two as War Shifts West in 2018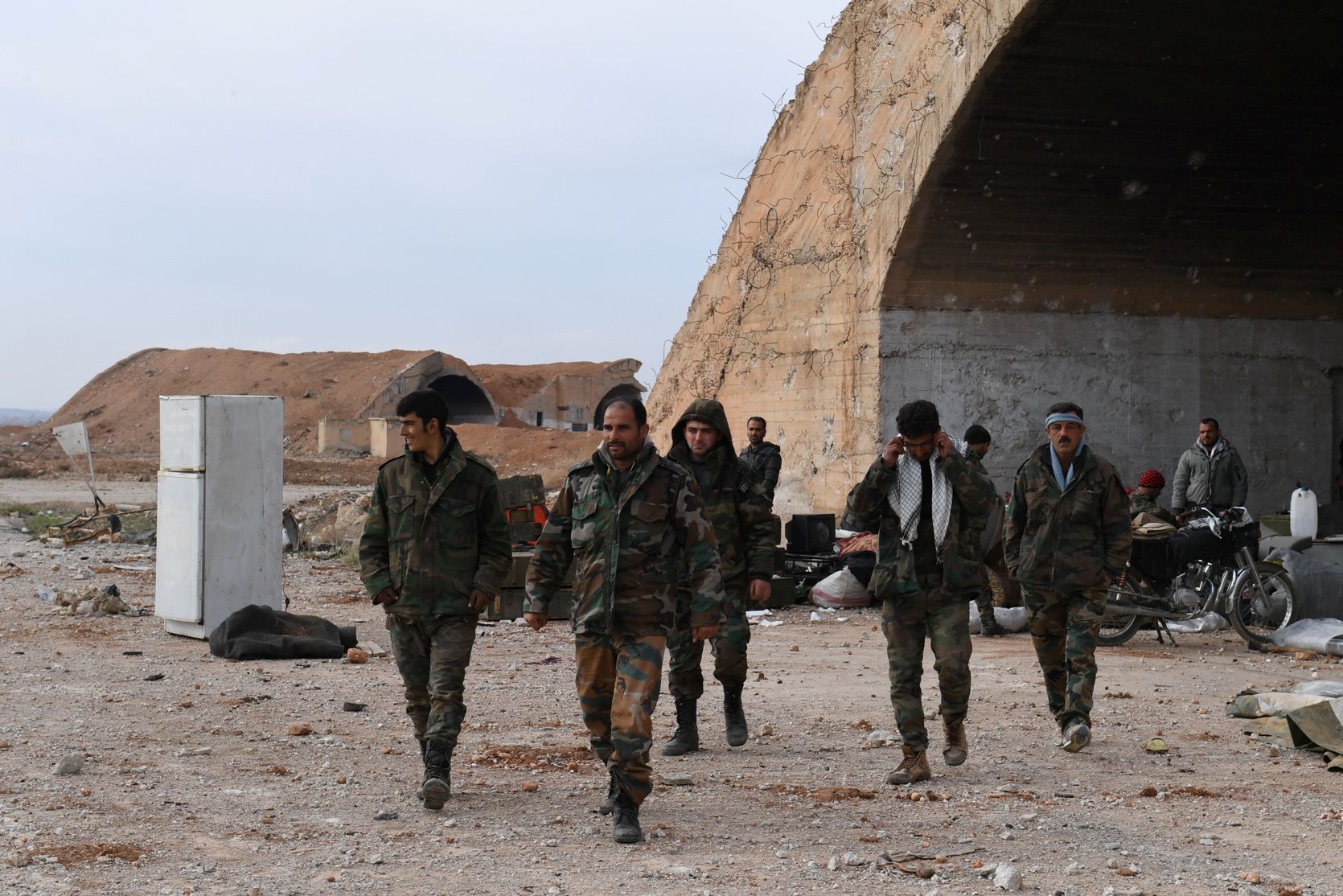 Syrian troops have retaken the strategic Abu al-Duhur military airport, located deep within the country's final major pocket of rebel territory that was recently split in two by the pro-government offensive.
After declaring victory over the Islamic State militant group (ISIS) late last year, the Syrian military, backed by Russian warplanes and Iran-backed, Shiite Muslim militias, launched a rapid push into the northwestern province of Idlib, the final bastion of support for rebels that have tried to overthrow Syrian President Bashar al-Assad since 2011. The latest win at Abu al-Duhur came after more than 100 villages and towns were secured in the mostly insurgent-held region, giving Assad more leverage as his Russian and Iranian allies sought to negotiate a political solution to the conflict.
Related: Will U.S. Take a Side in War Between Two of America's Allies in Syria?
"After a series of qualitative operations, units of our armed forces, in cooperation with partnered and allied forces, successfully carried out their military operations and took control of the Abu al-Duhur military airport in the southeastern countryside of Idlib," a spokesman for the Syrian army and armed forces' general command said Sunday in a statement.
"The General Command of the Army and Armed Forces affirms its determination and persistence in continuing to execute its national duty of eliminating terrorism, thwarting the schemes of its supporters and sponsors and restoring security and stability to all territory of the Syrian Arab Republic," he continued.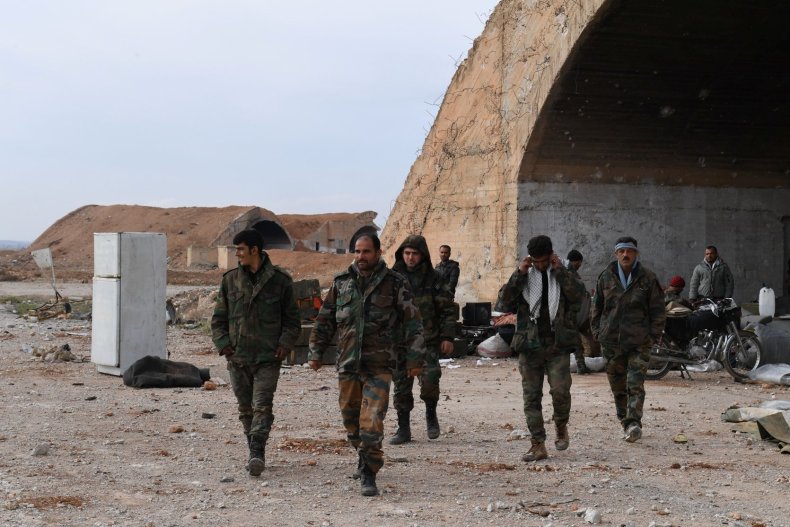 The Abu al-Duhur military airport became the scene of intense fighting early in the war, and rebel and jihadi fighters besieged it in 2012. Clashes continued for three years until opposition forces overcame the Syrian military, forcing troops to evacuate in September 2015. Fighters with the Nusra Front, the Syrian branch of Al-Qaeda, executed dozens of Syrian soldiers upon taking control of the base.
A month later, Russia intervened at Assad's request in a bid to help the embattled Syrian leader and his armed forces overcome an increasingly Islamist takeover of the country. As Russian warplanes turned the tide for Assad, the U.S. created the Syrian Democratic Forces, a mostly Kurdish coalition that included Arabs and ethnic minorities and took the place of Washington's chief ally in Syria after rebel ranks fractured due to infighting and jihadi influence.
Since then, rebels and jihadis including ISIS have been dislodged from all major cities except Idlib, at the hands of the Russia-backed Syrian military offensive and U.S.-backed Syrian Democratic Forces offensive. Until late last year, Idlib was the only province of Syria to remain completely outside government control and was dominated by Hayat Tahrir al-Sham, the modern successor to Nusra Front.
In the neighboring province of Idlib, another post-ISIS offensive threatened to undermine Washington's mission in Syria, where the government considered U.S. military presence illegal. Turkey, which remained in support of a rebel group known as the Free Syrian Army, launched a second major incursion into Syria, attacking U.S.-backed Kurdish militias that Ankara considered to be terrorist organizations due to alleged links to an ongoing Kurdish insurgency in Turkey. Both sides have accused each other of supporting ISIS.​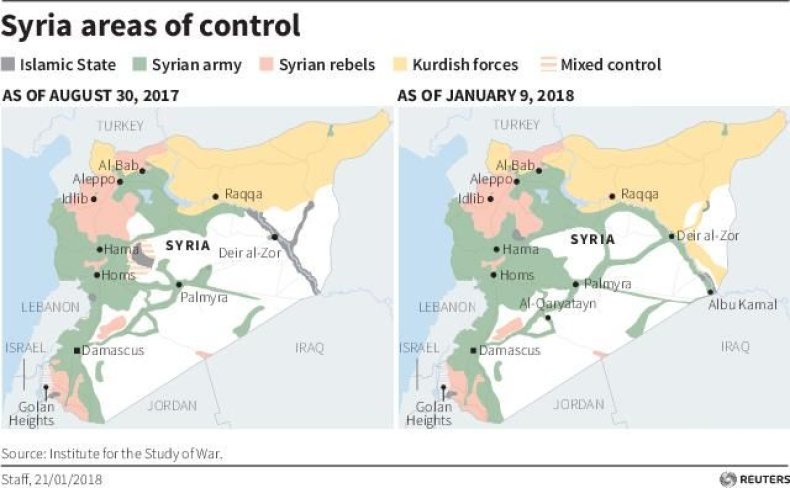 While the People's Protection Units (YPG) comprised the dominant faction of the U.S.-backed Syrian Democratic Forces, the Pentagon has not taken retaliatory measures against Turkey, a fellow member of Western military alliance NATO.
On Monday, Defense Secretary Jim Mattis said Turkey had advised the U.S. before the assault on the Kurd-controlled district of Afrin, and praised both Turkish and Kurdish efforts in defeating ISIS. The U.S.-led coalition said Sunday it had no role in the Turkish operation but would continue to work with Turkey in combatting ISIS.
"We are aware of reports of Turkish shelling in Afrin, Syria. The Coalition does not have operations ongoing in Afrin. Although Turkey is a valued member of the Global Coalition, any Turkish actions in Afrin are undertaken unilaterally," the coalition told Newsweek in a statement.
"We urge all parties to avoid further escalation and to focus on defeating Daesh, our common threat," it continued, referring to the Arabic-language acronym for ISIS.