Syria Is Safe So Send Refugees Back, Says German Far Right After Visiting War-Torn Country
In a bid to stop the influx of refugees from the Middle East, Germany's far right has declared Syria a safe country and demanded they stop receiving asylum.
Members of the resurgent anti-migrant party Alternative for Germany (AfD) issued a statement calling on Berlin to reconsider the status of Syria, after returning from a controversial trip to the Middle Eastern country at a time when half a million Syrians are currently living in Germany after making the opposite journey.
Syria has been ravaged by a bloody civil war since 2011, when anti-government protesters clashed with regime forces. Hundreds of thousands have been killed and Germany has been among the top destinations for those fleeing the violence.
Related: In Germany an anti-Islamic party politician has resigned and become Muslim
The AfD has persistently opposed German Chancellor Angela Merkel's pro-refugee policies, and members of the party traveled to Syria earlier this month, claiming they were on a "fact finding mission." Speaking Monday about their trip upon their return, the delegation dismissed the idea that Syria is unsafe, public broadcaster Deutsche Welle reported. The delegation say their trip was "private" without assistance from the German parliament, but have reported to their party about their impressions.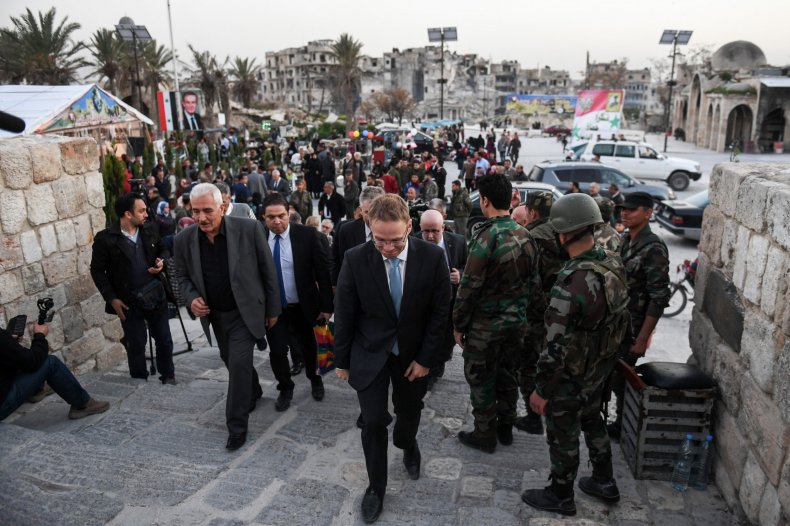 "I felt safe in Damascus, Homs and Aleppo," said Christian Blex, the lawmaker from Germany's western state of North Rhine-Westphalia, who led the group, in comments reported by the Spiegel Online website.
German government officials and other opposition parties lambasted the AfD members for the visit, chiefly because the delegation only met with President Bashar al-Assad and figures in his regime, but with no members of the opposition. Assad stands accused of torturing and killing his own people, including with the use of chemical weapons. Much of the territory he has regained is the result of a joint military offensive with Russia and Iran, who have frequently equated the many factions fighting against Assad with the extremist and anti-Western Islamic State militant group (ISIS).
Blex conceded that "there is no dispute that there are still war zones in Syria," but highlighted that he had seen areas unaffected by the conflict. Blex and his colleagues also posted a photo on Facebook from a diner in Homs, joking that while Syrians were drinking coffee in Germany on the dime of the "German taxpayer," the AfD delegation was doing the opposite. This prompted Syrians living in Germany to hit back on social media with images of their own, declaring "I pay for my coffee!"
Merkel has condemned the AfD, and her spokesman warned earlier this month that "whoever pays court to this regime disqualifies themselves."