Syria Seeks Criminal Accountability for US Airstrikes That Killed Civilians
As the United States investigates suspected war crimes committed by Russia in its war in Ukraine, Syria is seeking criminal accountability and other recourse against the U.S. as a result of airstrikes that have killed civilians and other alleged violations of international law.
In a statement shared with Newsweek by Syria's permanent mission to the United Nations on Monday, permanent representative Bassam al-Sabbagh criticized a statement issued last Tuesday by his U.S. counterpart Linda Thomas-Greenfield coinciding with the 11th anniversary of Syria's civil war when she said "the Syrian people launched a peaceful revolution, demanding political reforms, inclusive and good governance, and the protection of human rights for all."
She accused Syrian President Bashar al-Assad's government of having at that time "tragically responded by beating and jailing the protestors, precipitating a brutal conflict that has killed more than 350,000 people and displaced another 13 million people."
She also called for Damascus to halt the "atrocities, some of which rise to the level of war crimes and crimes against humanity" and engage in an oft-stalled U.N.-backed political process to end the war.
However, Sabbagh said it was Washington's policies that served as an obstacle for efforts to find peace in war-torn Syrian.
"For 11 years now, the United States of America has been persisting in its hostile approach and subversive policies towards the Syrian Arab Republic," Sabbagh said, "through its use of all tools of war against it, starting from campaigns of incitement, misinformation and deception, to investing in terrorist organizations and separatist militias, to direct occupation and the imposition of unilateral coercive measures."
The Syrian envoy dismissed Thomas-Greenfield's words as "nothing but a repetition of what officials of successive US administrations have been doing during the past eleven years," remarks he said were marked by "a disconnection from reality, a wrong description of events, and a presentation of fabricated information aiming at misleading the public opinion."
As for war crimes, he pointed to "atrocities" committed during the campaign waged against the Islamic State militant group (ISIS) by a U.S.-led coalition, "which destroyed the entire city of Raqqa and other areas, the latest of which was the US fighter jets destroying a part of the Euphrates University, an educational institute, a bakery and a gas station in the city of al-Hasakah earlier this year, under the false pretext of pursuing the remnants of the terrorist organization Da'esh [the Arabic acronym for ISIS]."
"Most importantly," he added, "the killing of more than 70 Syrian citizens in a village by US forces, as officially admitted by the US military, seems to have evaded the memory of Ambassador Greenfield and her country's Department of State."
The incident, which was first unveiled in detail last November by The New York Times, took place three years ago on March 18, 2019 at an ISIS-held camp in the eastern city of Baghuz, where a U.S. jet dropped 500- and 2,000-pound bombs on a crowd that consisted of civilians, including women and children, along with fighters, killing an initial assessment of 70 people altogether.
The U.S. and its coalition partners have been accused by Syrian officials and international human rights group of killing scores of civilians throughout a long-running air campaign against ISIS. Civilians have also been harmed in U.S. surgical strikes against Al-Qaeda officials, such as an attack last December that injured a family in the northwestern rebel-held province of Idlib.
In comments that echoed his response to the March 2019 airstrike, U.S. Central Command spokesperson Navy Captain Bill Urban said that "we abhor the loss of innocent life and take all possible measures to prevent them," and confirmed that an investigation would be conducted into what happened.
Sabbagh sought more comprehensive measures.
"The Syrian people, who withstood the huge multi-faceted, multi-tooled war machine, heroically defeated the terrorist organizations, and valiantly defended the sovereignty and territorial integrity of their country, will not allow anyone to impose any conditions or dictates on them," Sabbagh said in Monday's statement.
"They are also determined to hold accountable politically, morally, and criminally all those who took part in the shedding of Syrian blood, the destruction of their achievements, and the looting of their wealth," he added.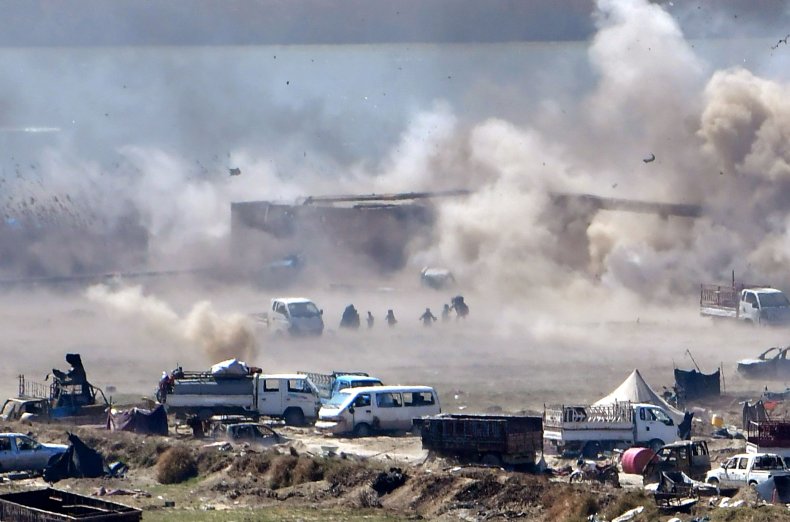 Around 900 U.S. troops continue to operate in stretches of oil-rich northeastern Syria alongside the Kurdish-led Syrian Democratic Forces, which seek autonomy from the government but also oppose ISIS and rebels, especially those backed by U.S. ally Turkey, as well alongside the insurgent Maghawir al-Thawra group in a southwester desert garrison.
The U.S. had supported early rebel efforts to oust Assad, but since 2015 has worked with the Syrian Democratic Forces to focus on battling ISIS' self-styled caliphate, which has been relegated from a massive swath of territory covering large parts of Syria and neighboring Iraq to an underground network of cells still capable of launching deadly attacks.
A day after Thomas-Greenfield's statement was issued, the State Department sent a delegation of senior U.S. diplomats to meet with Syrian Democratic Forces leadership, who said the discussion "stressed the partnership between north and eastern Syria and the U.S.-led international coalition would continue."
"The meeting also underscored that ISIS continues to pose a threat to the entire region, discussed ways to strengthen joint cooperation in various fields and at all levels, stressed the need to promote development in the north and eastern Syria to enhance stability and security," according to the Syrian Democratic Forces.
But Sabbagh on Friday accused the U.S. of sponsoring "a terrorist separatist militia that is causing great distress to the population of northeastern Syria, in addition to its involvement in the looting of Syrian national wealth."
He said the U.S. was also guilty in "its clear violation of the sovereignty of Syrian territories, relevant Security Council resolutions and the Charter of the United Nations through direct occupation by its military forces, and its officials' surreptitious infiltration into Syrian territory to coordinate its subversive policies."
Washington cut ties with Damascus early on in the conflict, and has rolled out tough sanctions on Syria, which have further damaged an economy that has atrophied due to war and financial crisis. As such, the U.S.-led coalition does not coordinate directly with the Syrian government on military operations, leading Assad's administration to regard such unsanctioned military presence as an occupation.
Supporting this view are Syria's two top allies, Iran and Russia, both of which also face U.S. sanctions as well. The international restrictions targeting Moscow, however, have broadened dramatically since Russian President Vladimir Putin invaded neighboring Ukraine late last month. Syria is one of only a few nations in the world to openly express support for the invasion.
U.S. officials have drawn parallels to Russian tactics in the two conflicts, including allegations of targeting citizens, with President Joe Biden referring to Vladimir Putin as a "war criminal," a comment that prompted Moscow to summon Washington's ambassador on Monday.
A State Department spokesperson told Newsweek that the U.S. "is supporting a range of mechanisms to document and pursue accountability for potential war crimes or other atrocities in Ukraine."
The spokesperson provided details of the process.
"This includes supporting Ukraine's authorities, who are already working to document potential atrocity crimes for prosecution," the spokesperson said. "It includes supporting a range of international investigative and accountability mechanisms, including the new UN Commission of Inquiry to investigate possible human rights violations and abuses and violations of international humanitarian law by Putin's forces, and joining 44 other OSCE countries in launching an Expert Mission to examine reported human rights abuses or violations and violations of international humanitarian law, including possible war crimes by Russia's forces in Ukraine."
"And it includes supporting the important work of human rights documenters in Ukraine," the spokesperson added.
The spokesperson said that the Biden administration was "committed to pursuing accountability for such acts using every tool available, including criminal prosecutions where appropriate."
Citing recent remarks by Secretary of State Antony Blinken, the spokesperson added: "Those responsible for war crimes committed in Ukraine will be held to account. Kremlin's heinous acts against Ukraine affect us all, they strike at the core of our common humanity. This is why we will continue to work in conjunction with the international efforts to investigate and document war crimes and bring all those responsible to justice."
But neither Russia, Syria, Ukraine, nor the U.S. are a party to the Rome Statue that serves as the foundation for the International Criminal Court in the Hague, Netherlands.
And Moscow has sought to restore Damascus' international ties, especially in the region, where Russian officials have repeatedly called on Syria to be readmitted into the influential Arab League.
That appeal was reiterated on Thursday by Russian Foreign Minister Sergey Lavrov as he visited the United Arab Emirates. Although Syria's membership remains officially suspended, Arab governments have gradually begun to gradually reconnect with Damascus in recent years.
In what could be a significant sign of progress toward that end, Assad visited the UAE just a day after Lavrov, marking the Syrian leader's first visit to a fellow Arab state since the outbreak of his country's conflict in 2011. In meetings with senior UAE leaders, including Crown Prince Mohammed bin Zayed Al Nahyan, Assad discussed broadening "brotherly" relations between the countries and their peoples.
The Biden administration quickly criticized the visit, with State Department spokesperson Ned Price saying in a statement shared with Newsweek at the time that U.S. officials "are profoundly disappointed and troubled by this apparent attempt to legitimize Bashar Al-Assad, who remains responsible and accountable for the death and suffering of countless Syrians, the displacement of more than half of the pre-war Syrian population, and the arbitrary detention and disappearance of over 150,000 Syrian men, women and children."
Citing Blinken, he said the administration does "not support efforts to rehabilitate Assad; and we do not support others normalizing relations. We have been clear about this with our partners."
"We urge states considering engagement with the Assad regime to weigh carefully the horrific atrocities visited by the regime on the Syrians over the last decade," Price said, "as well as the regime's continuing efforts to deny much of the country access to humanitarian aid and security."
Despite an increasing willingness in the region to engage with Damascus, Price asserted that the U.S. "will not lift or waive sanctions, and we do not support the reconstruction of Syria until there is irreversible progress toward a political solution, which we have not seen. "
"We believe that stability in Syria and the greater region can only be achieved through a political process that represents the will of all Syrians," he added. "We're committed to working with allies, partners, and the UN toward a durable political solution."
Sabbagh disagreed.
"As for the claim that the United States keen to find a political solution to the crisis in Syria, it is nothing but a hollow statement aimed at diverting the attention of the Syrians, prolonging their crisis, and obstructing any real solution," Sabbagh said in Monday's statement.
"The American perspective on the solution does not respect the will of the Syrian people and their national choices," he added, "but rather imposes political and military frameworks that serve its interests and meet its agendas."