Syria Torture Photos 'Depict Real People and Events': FBI Report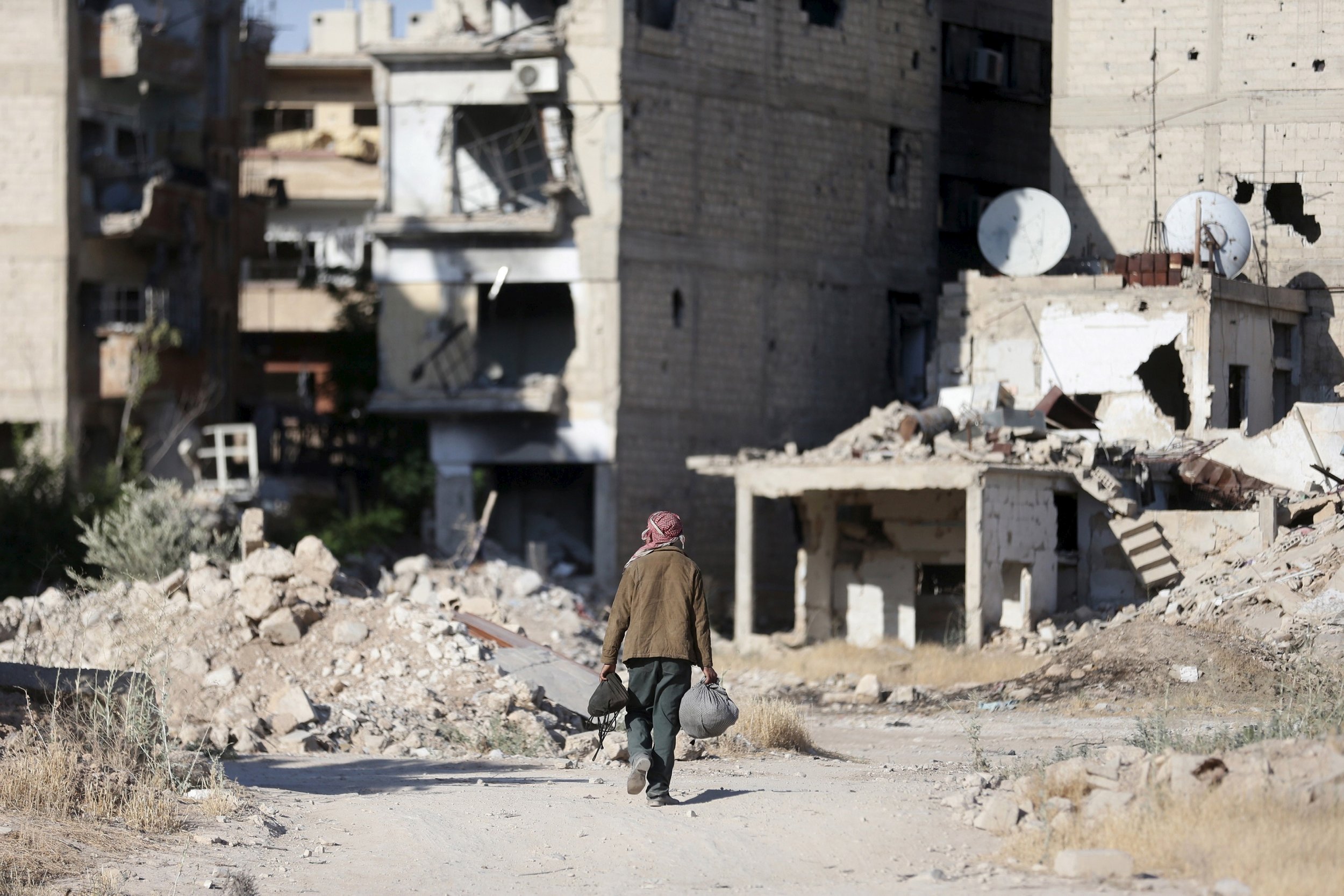 Updated | Hundreds of people crowded the atrium of the U.S. Capitol Visitor Center's Congressional Auditorium recently to view graphic photos of systematic torture and death at the hands of Bashar Assad's regime in Syria. Propped on easels, the images showcased at the event last Wednesday represented just a small portion of the roughly 55,000 photos smuggled out of the country by the former military police photographer Caesar—a code name used to protect the defector and his family. A subset of that cache of thousands of photos was verified as real last month by the FBI.
Caesar made his first visit to Washington, D.C., last July for an off-the-record briefing at the United States Holocaust Memorial Museum. A few months later, in October, a selection of his photographs went on public display for the first time at the museum and on its website, and have since been shown at the U.N. and the European Parliament. Advocates hope continued display of the photos will help spur leaders in the U.S., U.N. and elsewhere to intervene to protect civilians caught in Syria's devastating five-year civil war.
The pictures chosen for display at Wednesday's event were "quite graphic," says Cameron Hudson, director of USHMM's Simon-Skjodt Center for the Prevention of Genocide, who was joined by members of the Senate and House of Representatives—Democrats and Republicans—a Holocaust survivor and a survivor of torture in Syria. "Their intention is to shock your conscience."
Hudson and his colleagues have kept in touch with the Syrian activists who helped facilitate Caesar's visit. "We shared with them some amount of dismay that nothing really had happened…policy hadn't changed," he says. Wednesday's event, held one year after Caesar first shared his story in D.C., was hosted by the museum, House Foreign Affairs Committee and Senate Foreign Relations Committee. It was about commemorating the lives already lost and "recommitting ourselves to try to find a solution."
One important development came last month when the FBI's Digital Evidence Laboratory issued a long-awaited analysis of a subset of the photos, writing in a report that "the bodies and scenes depicted…exhibit no artifacts or inconsistencies that would indicate that they have been manipulated." The report, dated June 12, 2015, was compiled by the Operational Technology Division's Forensic Audio, Video and Image Analysis Unit; its author's name is redacted in the copy obtained by Newsweek.
Of the 242 sample images examined for the report, 22 photos "have been altered through the addition of text to a card in the scene, but this alteration had no effect on the bodies or the remainder of the scene depicted therein." Those alterations, according to Mouaz Moustafa—a member of the team that has helped Caesar bring his story to the U.S. who heads the Syrian Emergency Task Force and United for a Free Syria—were attempts acknowledged by Caesar to lighten or enhance the cards to make the text legible.
The samples analyzed otherwise "exhibit no artifacts or inconsistencies that would indicate that they are the result of computer generated effects." The photos, most taken with a NIKON CoolPix P50, "appear to depict real people and real events," the FBI's analysis concluded. The FBI added in a statement provided to Newsweek, however, that it was not able to "fully authenticate" all of Caesar's pictures or "independently verify" their origin. This was not indicated in the original report.
Though a private inquiry team called Caesar a "truthful and credible witness" in a January 2014 report, Moustafa says official corroboration from the U.S.'s own law enforcement in the form of a written report adds vital credibility and could be used for future prosecution.
The Obama administration has acknowledged repeatedly that Assad has lost his legitimacy to rule, but it has yet to intervene in the conflict despite U.S. intelligence concluding in 2013 that the regime had used chemical weapons against rebels and civilians. But Hudson says the museum did not intend Wednesday's gathering to be "an event that simply lambasted the administration for failures in Syria."
Rather, it was about "looking forward to what next steps could be," and encouraging further "discussion of what civilian protection options look like," such as safe zones, humanitarian corridors and especially no-fly zones. "As much as you need to continue to seek political solutions," Hudson says, "there remains an immediate need for providing refuge and rescue for people."
Hudson pointed to the remarks made at Wednesday's event by Margit Meissner, an Austrian Jew who escaped persecution by the Nazis. She reminded her audience that during World War II, "it was strict Allied policy to ignore the victims. The first priority was to win the war and afterwards bring the perpetrators to justice," she said. She implored leaders not to take the same path in Syria, where knowledge of the crisis has yet to inspire Europe, the U.S. or the U.N. "to respond in a meaningful way to alleviate the enormous pain of innocent civilians."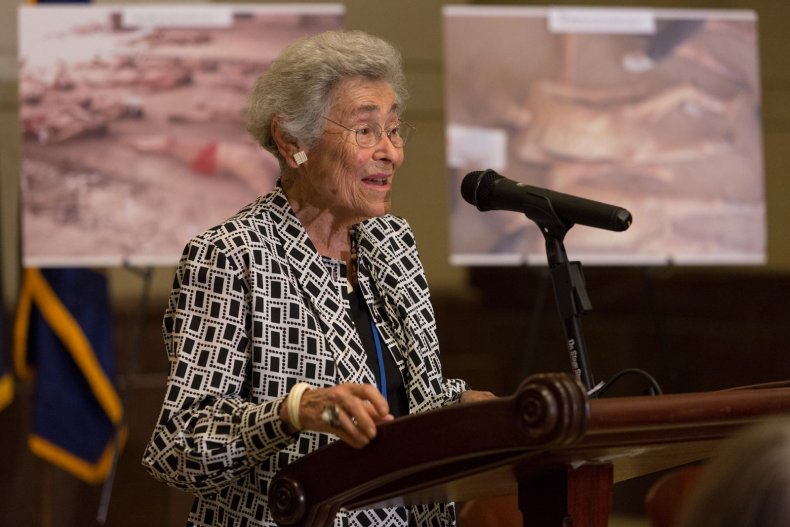 More than 230,000 people have died, including nearly 70,000 civilians, since the war broke out in 2011. As of July 9, the United Nations High Commissioner for Refugees had counted more than 4 million registered Syrian refugees.
Andrew Tabler, a senior fellow at the Washington Institute who co-founded the English-language magazine Syria Today, says that "despite a lot of talk about 'never again,' the United States has allowed these kinds of atrocities to happen yet again in Syria." The situation in Syria has gotten much worse since Caesar took his photos, he adds.
State Department spokeswoman Pooja Jhunjhunwala wrote in an email to Newsweek that Caesar's photos "remind us not only of the urgency in continuing our efforts to reach a negotiated political solution to the crisis in Syria, but [they are also] an important part of the growing case files of regime abuses that can be used in efforts to hold perpetrators accountable."
But Hudson and his colleagues at the museum, along with Moustafa and his fellow activists for democracy in Syria, are not content to just collect evidence of the atrocities taking place while they wait for Assad to be removed from power. They say they will continue to use the photos to raise awareness among the American public. Moustafa hopes their efforts can separate the humanitarian issue from partisan politics and that hearings in both the House Foreign Affairs Committee and Senate Foreign Relations Committee to discuss concrete options will follow.
Hudson says activists are "struggling to keep this issue on the public agenda." Last week's event was an opportunity to remind people that the situation in Syria remains unresolved and that "now is time for bold action."
This article has been updated to include a statement from the FBI.​