Will Trump Bomb Syria Again? Suspected Chemical Attack Occurs Year After Trump Previously Took Action
Almost a year to the day since President Donald Trump ordered a missile attack on a Syrian airbase in response to what the United States government said was a chemical attack, the president has weighed in on what is said to be another deadly incident.
In a tweet on Sunday, Trump mentioned Russian President Vladimir Putin and Syrian President Bashar al-Assad, who are aligned. "Many dead, including women and children, in mindless CHEMICAL attack in Syria," he tweeted. "Area of atrocity is in lockdown and encircled by Syrian Army, making it completely inaccessible to outside world. President Putin, Russia and Iran are responsible for backing Animal Assad. Big price to pay. Open area immediately for medical help and verification. Another humanitarian disaster for no reason whatsoever. SICK!"
He went on to blame former President Barack Obama, writing, "If President Obama had crossed his stated Red Line In The Sand, the Syrian disaster would have ended long ago! Animal Assad would have been history!"
The incident is said to have happened on Saturday in Douma, outside of Damascus. More than 500 patients came to medical centers in the area "with symptoms indicative of exposure to a chemical agent," the Syrian American Medical Society, a nonprofit medical relief organization, said in a statement. The statement cited civil defense volunteers as reporting 42 people killed. Footage appeared to show piles of bodies of the victims, including young children.
The Syrian government has denied responsibility and accused the Army of Islam, a rebel group, of fabricating the footage.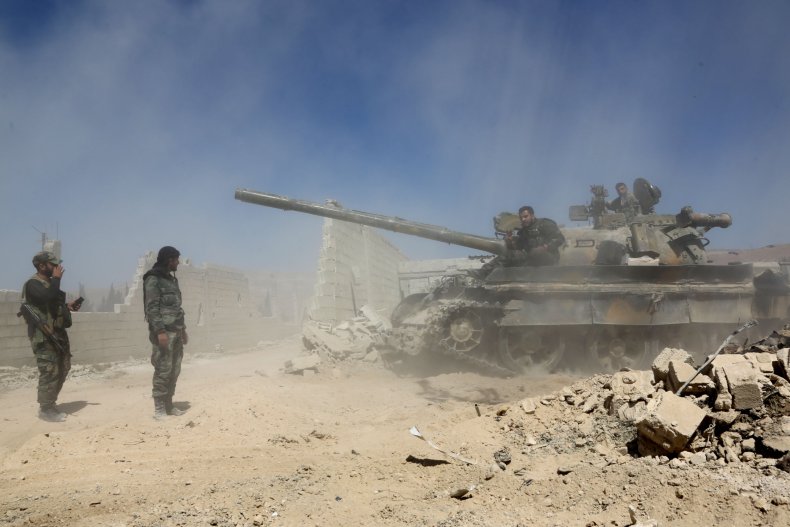 On April 6, 2017, in response to what was previously believed to be an Assad-ordered chemical attack on civilians, Trump ordered a missile strike on a Syrian airbase. "Using a deadly nerve agent, Assad choked out the lives of helpless men, women and children," he said in remarks at the time. "It was a slow and brutal death for so many, even beautiful babies were cruelly murdered in this very barbaric attack."
That U.S. airstrike targeted the airfield from where Assad is believed to have launched the attack. From Navy ships in the Mediterranean Sea, the U.S. used 59 Tomahawk Land Attack Missiles.
As of midday on Sunday, the U.S. government had not said whether it would retaliate for the latest suspected attack. The State Department said it was monitoring the situation. "The United States continues to use all efforts available to hold those who use chemical weapons, in Syria and otherwise, accountable," Heather Nauert, a department spokesperson, said in a statement.