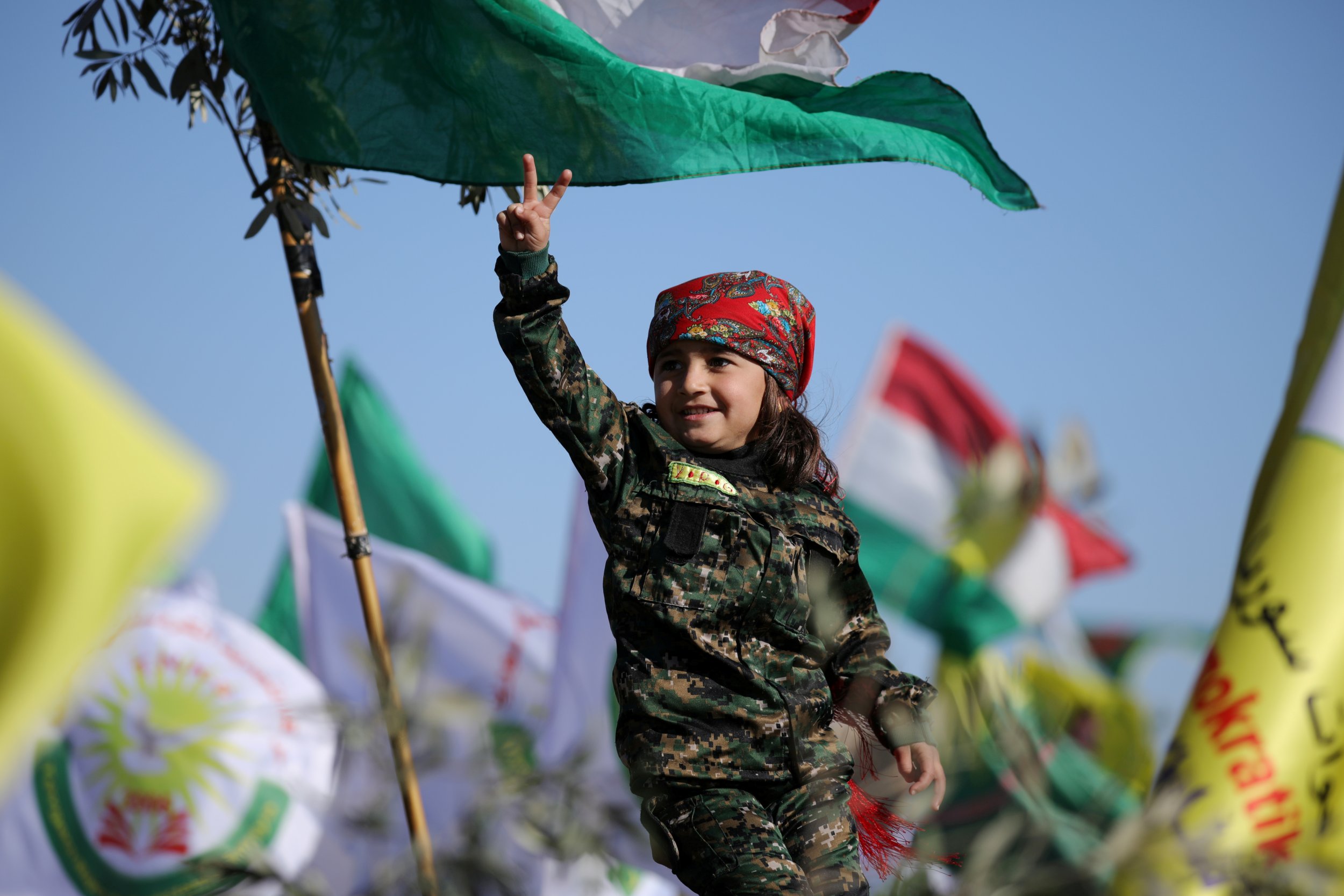 The war in Syria has taken several new turns in the first month of 2018. One leading U.S. partner turned against another in the wake of the Islamic State militant group's collapse, and Russia embarked on a new peace initiative favored by its allies, who have emerged the biggest victors after nearly seven years of conflict.
Turkish bombs continued to drop Thursday on towns controlled by U.S.-backed Kurdish forces that were attempting to defend their northwestern pocket of Afrin, in the Aleppo province. The Turkish offensive, backed by the insurgent Free Syrian Army, has left leading international players the U.S. and Russia on the sidelines as they attempt to maintain relations with both Ankara and the People's Protection Units (YPG), a Kurdish militia that's serving as the primary faction in the U.S.-led Syrian Democratic Forces (SDF).
Related: CNN Turkey reports 'American Sniper' Bradley Cooper killed in Syria, U.S. military denies
In a statement Tuesday, the Pentagon confirmed it was aware that its allied Kurdish fighters were diverting their resources from frontlines against ISIS in the east toward to the northwest, preparing for a battle that the U.S. could neither sanction nor condemn because of its ties to both sides.
"We are aware the SDF has repositioned some forces in response to recent tensions, however this was not under coalition direction," Pentagon spokesman Adrian Rankine-Galloway told Turkey's Hurriyet Daily News.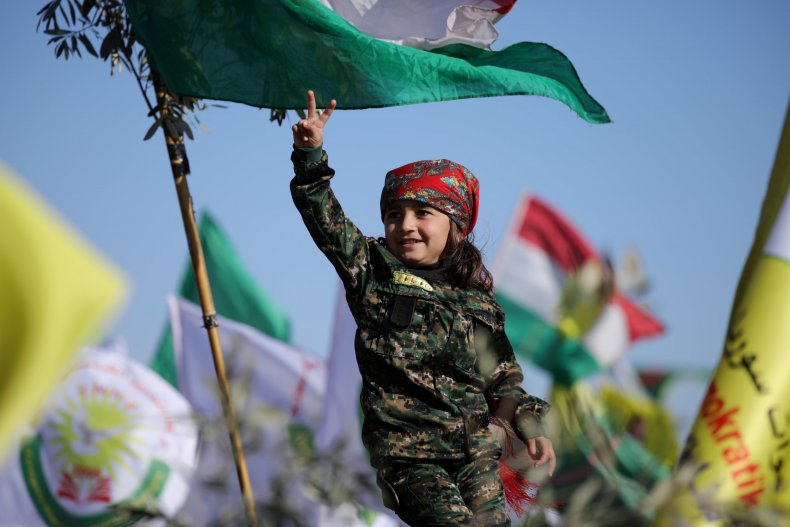 Without explicitly urging fellow NATO Western military alliance member Turkey to halt its invasion of Syria, the U.S.-led coalition told Newsweek in a statement Monday that "increased tension in northern Syria disrupts what was a relatively stable area of Syria, distracts from efforts to ensure the lasting defeat of Daesh [the Arabic-language acronym for ISIS] and could be exploited by Daesh for resupply and safe haven."
ISIS once controlled about half of Syria, as well as neighboring Iraq, where it originated as a branch of Al-Qaeda under U.S. occupation of the country. Since storming Syria in 2013, it's been beaten back by two major campaigns: one by the U.S.-allied SDF and another by the Syrian military, which has received extensive support from Russia and Iran and declared victory over ISIS in November.
ISIS has been largely defeated nationwide, but it continued to offer resistance in the far eastern province of Deir Ezzor and another pocket in the west central region of Hama. While the U.S. has continued to conduct airstrikes on a near daily basis in Deir Ezzor, its ground campaign may be distracted by Kurdish fighters switching their focus to counter Turkey, which considered the YPG a "terrorist" organization because of its alleged ties to the Kurdistan Workers' Party, a militant group waging a decades-long insurgency against the Turkish state.
Turkish President Recep Tayyip Erdogan has ignored President Donald Trump's calls for restraint and has called on his U.S. counterpart to remove Special Forces posted in the northern city of Manbij, which has a significant YPG presence. A leading U.S. general said Monday he had no plans of moving his troops, despite their facing attacks from the Syrian rebels they used to support.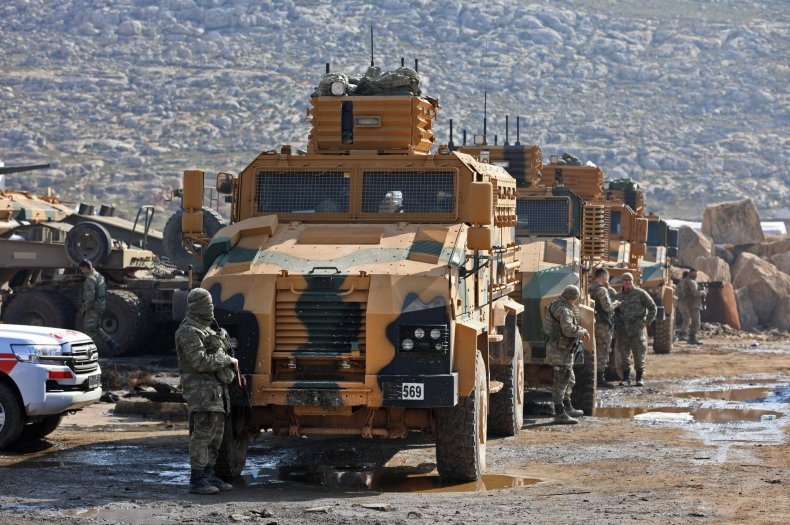 Meanwhile, Turkey moved its troops deep into Syrian territory as part of a military convoy traveling through the final rebel-held province of Idlib. This area was dominated by Hayat Tahrir al-Sham, the jihadi successor to Syria's former Al-Qaeda branch, Nusra Front. The Turkish military said it was attempting to establish a safe zone to ease fighting between the Syrian military and opposition forces, but neither the Syrian government nor Hayat Tahrir al-Sham has agreed to stop battling one another. After a fatal Kurdish roadside bombing and reports of nearby pro-government shelling, the convoy retreated.
Miles away, the Syrian troops continued to advance into Idlib from the east, passing the Abu Duhur military airport, recently retaken from insurgents, while also battling the remains of ISIS in Deir Ezzor and Hama. The Syrian military, loyal to Syrian President Bashar al-Assad and backed by pro-government militias, including Iran-backed Shiite Muslim groups, have retaken most of the country, countering a 2011 rebellion that threatened Assad's rule. Many Western powers, however, have called for the Syrian leader to step down over allegations of widespread human rights abuses.
Since intervening to bolster Syria's armed forces in 2015, Russia has helped preserve Assad's mandate against what Moscow and its allies saw as a Western plot to depose him. Russia teamed up with fellow Assad sponsor Iran and pro-rebel Turkey in an attempt to start new peace talks in the Kazakh capital of Astana. These talks have run parallel to a West-sponsored dialogue in Geneva that has increasingly stalled. As part of Russia's latest effort to end the war, it invited various parties to a conference in its southern resort city of Sochi.
The Sochi conference got off to a rough start Tuesday: Kurds declined their invitation due to the ongoing conflict in Afrin, and Russian Foreign Minister Sergey Lavrov was heckled during his speech, prompting shouting from detractors and supporters. Some Syrian opposition members would not even leave the airport, demanding that Syrian national flags were first removed.
Russia Senator Konstantin Kosachev, head of the international affairs committee of the upper house of parliament, however, said Wednesday that "the outcome of Sochi Congress of the Syrian National Dialogue is very encouraging" in a Facebook post.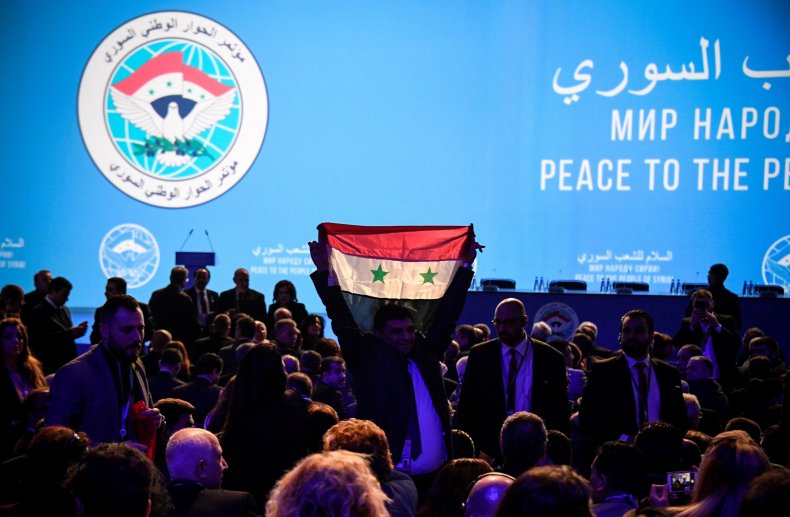 Russia's ousting of the U.S. as top foreign intermediary in Syria has also placed it in a difficult position diplomatically. Russia has previously supported Kurdish forces, who wanted more autonomy across northern Syria but have not called for Assad's departure. Russia has also worked closely with Turkey, however, as a crucial third to Moscow's efforts to establish safe zones across the war-torn nation. The Russia-backed Syrian government has called for the immediate withdrawal of all U.S. and Turkish troops, but has expressed openness in negotiating with Kurdish forces.
Russia also found itself caught in the middle of the international rivalry between Iran and Israel. Iran has greatly expanded its influence in Syria via the proliferation of allied militias such as the Lebanese Hezbollah. Hezbollah, Iran, Syria and their allies were deeply opposed to Israel over the mass exodus of Palestinians that followed the mostly Jewish state's creation, in 1948, as well as its ongoing occupation and annexation of Palestinian territories.
Israeli Prime Minister Benjamin Netanyahu traveled to Moscow earlier this week to meet with Russian President Vladimir Putin. Israel has officially remained neutral in the neighboring Syrian conflict, though its military has bombed positions it said were held by Hezbollah and has reportedly paid the salaries of Syrian rebels near the Israel-occupied Golan Heights. Netanyahu vowed to put an end to Iran's influence in Syria during his Monday meeting with Putin, according to The Times of Israel.
The following day, Iran's Deputy Foreign Minister for Arab and African Affairs, Hossein Jaberi Ansari, was quoted by the state-run Tass Russian News Agency as saying that Iran, like Russia, had entered the fight at the Syrian government's request and "when all the tasks are achieved, Iranian forces will leave the country with the consent of the Syrian authorities."