I married very young—aged just 15—to a man who was 10 years older than me. It was an arranged marriage as was customary for some families in Kafranbel, the town in Idlib, northern Syria where I'm from. Because I got married so young I was denied the chance to finish school. A year before I got married, in 1988, I had won first place in athletics and running competition in Raqqa city and was dreaming of entering the national playoffs but in the conservative community I lived in my ambitions "crossed the red line," so instead I got married. I had my first child Khaled in 1990, aged just 16, and went on to have a daughter, Rahaf five years later, followed by two more sons, Mohamed and Ahmad, in 2000 and 2001.
Before the Syrian revolution, I ran a hairdressing salon. I decided to work because I felt I needed to do something for myself and to gain financial independence. Working helped me save myself and my children from being limited by societal norms where we live. The salon soon became a place where women would gather for a chat, sharing ideas and exchanging opinions about our day to day lives. The women were mostly housewives or students between the ages of 30 to 50. Later, some younger women and teenagers also joined us.
But after the revolution began and the war broke out in 2011, we started discussing politics and what lay ahead for Syrian women. It was out of these discussions that the idea to set up a center giving women the education, knowledge and skills they need to succeed was born. Our first gatherings took place in basements. Women huddled together, along with their children, sheltering from bombing by the Syrian regime and Russian forces. As the bombs fell, we spoke of the future we wanted to build for women after the war.
One of the meetings took place as missiles rained down on our town. The women started asking questions like, "What if food gets scarce?" "What if hospitals were bombed out of service?" "What if our children couldn't go to school anymore?" and "What can we do in response to all of this?" Although they were terrified, they wanted to come up with solutions to help us survive.
We started as volunteers in early 2013 and opened our first Mazaya center in June 2014. The Mazaya Center for Women's Empowerment was the first of its kind in northern Syria. It offered vocational training, educational courses from basic nursing and first aid skills to courses in hairdressing, sewing, weaving, economics, photography, law and journalism, and psychological support to women in Idlib. I wanted to ensure my children could achieve their dreams and weren't denied the opportunities I had been. In our conservative society, women were not seen as having an active role to contribute—our place was in the home.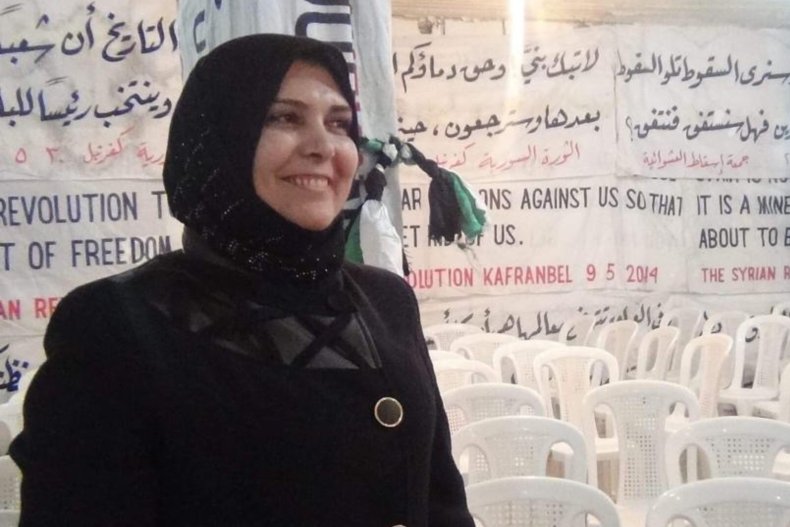 But when I set up Mazaya my family did not approve. My parents told me I was crazy: "You gave up the hairdressing salon to do this?! How will you survive?" they would say. But my eldest son, Khaled, was my biggest supporter. He encouraged me to ignore the critics and keep going despite all the risks.
As a women's rights activist in northern Syria my daily life is fraught with dangers and challenges. I have faced death threats, online harassment and abuse from critics within my own society as well as violent attacks from armed groups. In November 2014 our head office was burned down in an arson attack by unidentified armed attackers. We lost all our equipment and 5,000 books.
I even survived an assassination attempt. In March 2015, I woke in the middle of the night to find my car outside on fire, it had been rigged with a bomb. It exploded while we came inside to fill water to put out the fire. Thankfully no one was hurt.
Recovering from that attempt on my life wasn't easy for me. For a long time after the incident, I lived in a state of instability and fear. I kept asking myself, "What if one of my children had been in the car? They would've been hurt because of me!" At the same time I thought maybe having enemies who wanted to silence my voice meant that I was on the right path. That was when I decided that it was necessary to expand our work to cover more areas and involve more women; we would make it harder for them to target us if we were everywhere. The assassination attempt was traumatizing, but it gave me a push to move forward and work harder to achieve my vision.
Although we have slowly been able to gain the community's respect, It has not been an easy journey. At every stage we have faced resistance and attacks—from online trolls on Facebook to armed groups determined to crush strong women.
After my son Khaled, a journalist, was killed in a targeted attack in 2016, I decided the risks for my three other children were too great. I wanted to do everything I could to protect them. That same year, I made the hardest decision of my life; I sent them to Europe on a boat in the hope they could live a better life there. I still dream of the day I can be reunited with them.
I stayed behind to carry on my work with Mazaya as I felt a responsibility to my team and the women we help. It is devastating being apart from my children but in Europe, I know they are living in safety. Nobody will ever love them like I do, but war forces you to make hard choices.
We have faced further challenges since then. Mazaya's offices were bombed and destroyed in 2019 when the Syrian regime and Russian forces attacked Kafranbel, completely emptying it of its residents. We fled to the northern part of Idlib to the town of Selqeen and had to start over. Picking ourselves up was so hard. Our team of more than 200 were forced to flee to different areas and we rebuilt the center again with a team of just seven.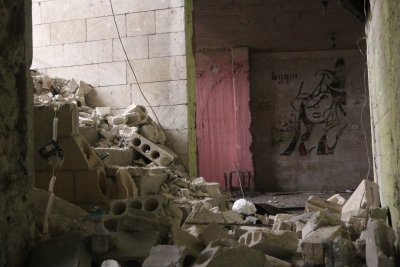 We set up a branch inside a camp for displaced people in Barisha where women were struggling to survive in dire conditions. I spent 10 months living in a tent in the camp to understand their suffering, which ranged from little privacy to a lack of basic supplies. I realised there was so much work that needed to be done.
We rented a small apartment near to the camp and secured transportation for the women to drive them back and forth every day. There, we offer them training and workshops in first aid, journalism and photography as well as offering legal counsel and psychological support. We also work to raise awareness of women's rights and non-violent activism.
We have helped many women gain the skills they need to earn a living. One group we trained started a small business making and selling pyjamas; I feel such pride at what they have managed to achieve.
Being around the resilient women I meet at Mazaya gives me the strength I need to heal from all the heartbreaks I have suffered in recent years. To me, Syrian women are the makers of hope, security and peace and I have a huge faith in what they can achieve.
Today I lead a wonderful team of inspiring women—each one is a Mazaya success story. We still have a long struggle ahead of us—the struggle for a safe, equal Syria free from destruction, killing and hatred. I could never imagine myself going on this extremely hard journey without them by my side.
Ghalia Rahhal is a women's rights activist and founder of the Mazaya Center for Women's Empowerment in Syria. Mazaya is a partner of The Syria Campaign which works to promote human rights in the region.
All views expressed in this article are the author's own.