Syria at War: As U.S. Bombs Rebels, Russia Strikes ISIS and Israel Targets Assad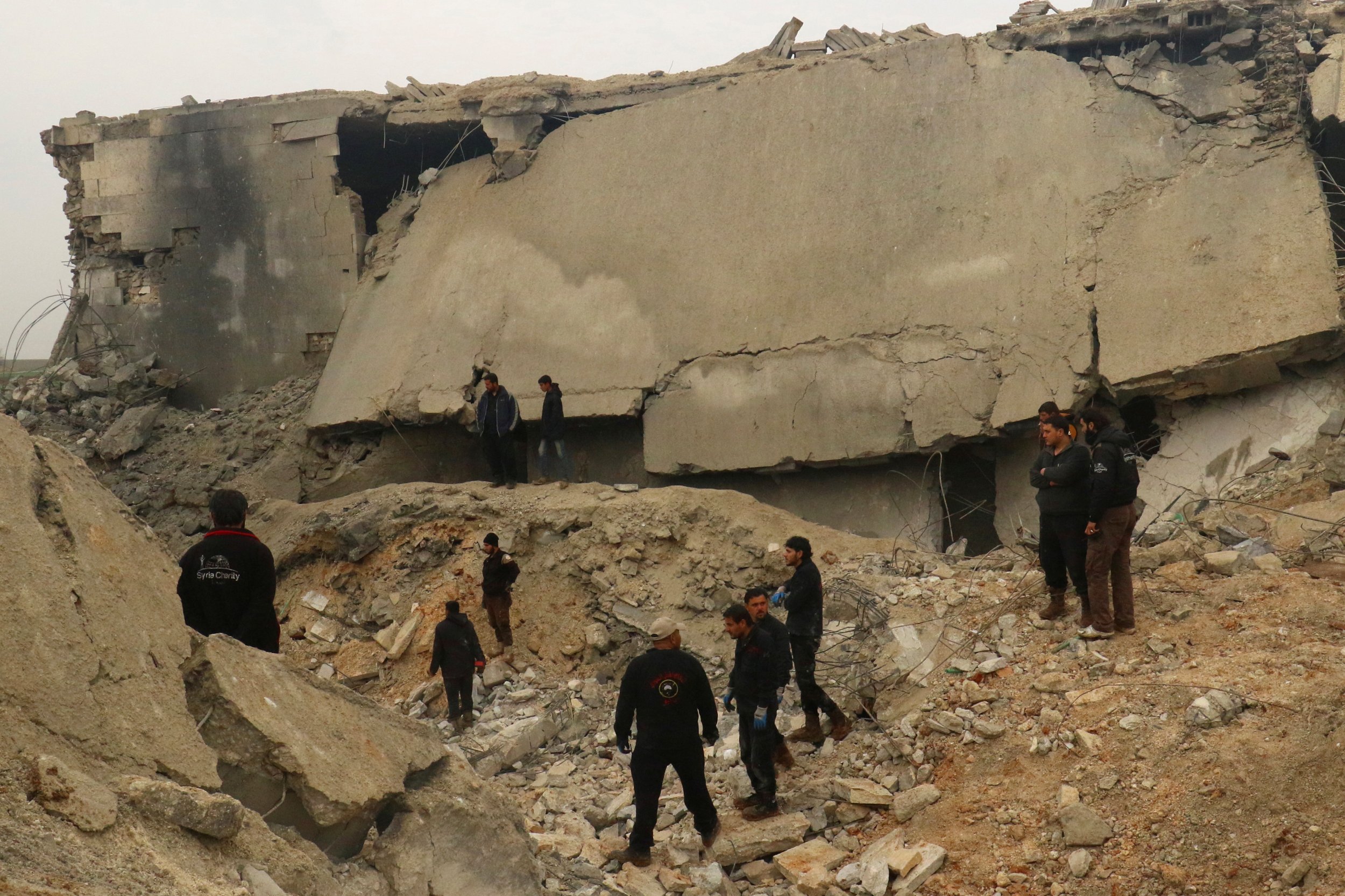 A coalition of hardline Islamist rebel groups accused the U.S. Friday of conducting a deadly airstrike on a mosque between the northwestern Syrian provinces of Aleppo and Idlib. The attack came amid an ongoing campaign by the Russia-backed Syrian army to defeat the Islamic State group, also known as ISIS, and an Israeli jet bombing of pro-Syrian government forces.
As the Syrian civil war entered its seventh year, Ahrar al-Sham, an alliance of conservative Sunni Muslim opposition forces, said that jets belonging to the U.S.'s anti-ISIS coalition struck the Omar ibn al-Khattab Mosque in the village of al-Jina in Aleppo's western countryside. The attack killed at least 46 people, mostly civilians, according to the U.K.-based, pro-opposition Syrian Observatory for Human Rights. Ahrar al-Sham has enjoyed backing from U.S. allies such as Saudi Arabia, Qatar and Turkey and has played a central role among the various insurgent groups attempting to overthrow Syrian President Bashar al-Assad since 2011.
"If the international coalition continues to launch murderous raids on the province of Idlib and its surroundings and turns a blind eye to the crimes of murderous Iranian militias, it will only lead to the strengthening of the criminal regime, continued Syrian bloodshed and an escalation of violence," the group said in an online Twitter statement.
The U.S. denied hitting the mosque, but confirmed it conducted airstrikes at a nearby location where a group of al-Qaeda leaders was allegedly meeting. The area has been a cornerstone of control for Tahrir al-Sham, another jihadist coalition that includes Jabhat Fatah al-Sham, formerly known as al-Qaeda's Nusra Front. The U.S. labeled Tahrir al-Sham a terrorist organization, but not Ahrar al-Sham, though the group's leadership has been targeted by U.S. forces. Both jihadist coalitions have previously collaborated with ISIS, according to Stanford University's Mapping Militant Organizations initiative.
Both groups have also been targeted by Russian and Syrian warplanes in the area. Russia intervened on Assad's behalf in 2015, helping to reverse the gains of opposition forces, which had begun to fracture under the pressure of ideological infighting and a decline in foreign support. On the other side of Aleppo, which was recaptured by the Syrian army in December, Russia conducted dozens of airstrikes on ISIS targets, according to pro-government Al Masdar News.
As pro-government forces, including the Syrian army and allied militias, continued to advance against ISIS in eastern Aleppo and eastern Palmyra, they were targeted by another adversary—Israel. Tel Aviv confirmed Friday it had conducted airstrikes on positions near Palmyra that may be held by Syrian government ally Hezbollah, an influential Lebanese Shiite Muslim movement backed by Iran. The attack was Israel's deepest incursion into the Syrian conflict, where it has officially remained neutral while offering limited assistance to opposition forces. The Syrian army fired anti-aircraft at the Israeli jets in response, according to The Washington Post.
The U.S. was once supportive of the Syrian opposition, but has since shifted its support to the Syrian Democratic Forces (SDF). The SDF has been labeled a terrorist organization by Turkey for its affiliation with Kurdish militants and Ankara launched an August invasion of Syria to support rebel groups and dislodge SDF and ISIS areas of influence. These developments have led to a tentative alliance between the U.S-backed SDF and Russia-backed Syrian army as they jointly held areas in the northwestern town of Manbij. All three international powers and their sponsored forces have sought to play a key role in defeating ISIS in its de facto capital of Raqqa in northern Syria.