Syrian Doctors Detail Horror of Chemical Weapons Attacks to Congress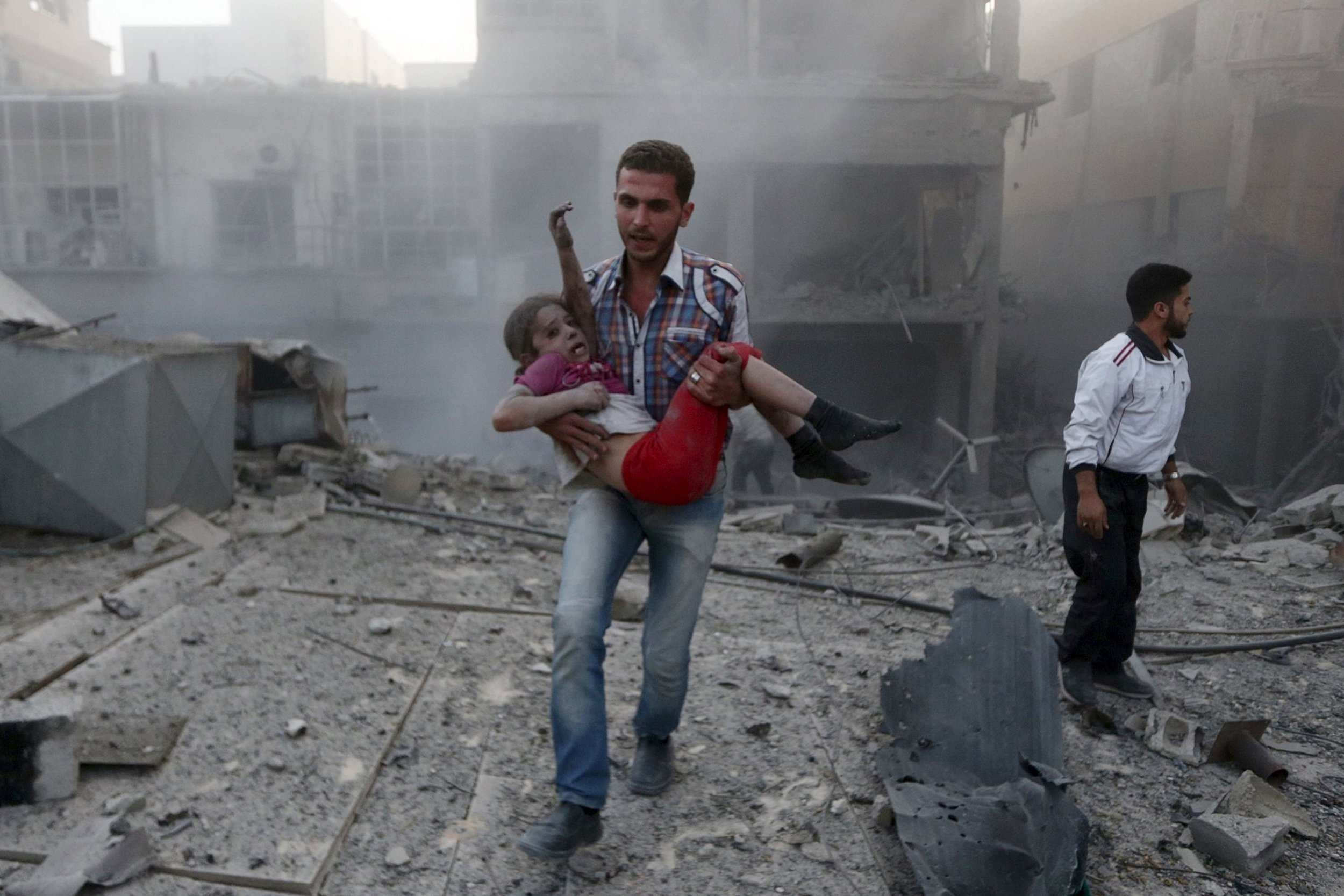 Syrian doctors and war-trauma specialists presented evidence of continued chemical and barrel bombs attacks on Syrian civilians in an address to the House Foreign Affairs Committee Wednesday and asked for assistance in implementing a no-fly zone over the country.
Panelists echoed previously stated concerns that the regime of Syrian President Bashar al-Assad is using chemical warfare to attack the country's civilian population with impunity in Assad's ongoing battle to root out opposition fighters.
Dr. Annie Sparrow, deputy director of the Human Rights Program at the Icahn School of Medicine at Mount Sinai, told the committee that the international community's preoccupation with the Islamic State (ISIS) has allowed the situation to worsen. In the last month alone, there have been 35 attacks on hospitals by barrel bombs, she said. On Tuesday, 24 civilians, mostly women and children, were killed in attacks in Douma, according to the Syrian Observatory for Human Rights.
Members of the committee Wednesday expressed their exasperation with U.S. inaction against Assad and their ongoing concern with the threat posed by ISIS, saying attacks could be curbed by implementing a no-fly zone over at least parts of opposition-held Syria, the panel of experts said.
"U.S. policy has to change," Representative Ed Royce of California said in his opening statement. A no-fly zone would mean "Syrians would no longer be forced to choose between staying above ground, where they could be killed by the shrapnel Assad packs inside his barrel bombs, or going below ground, where they are more vulnerable to suffocating from chlorine gas."
Royce said support from other countries to defeat Assad is also necessary and non-military methods of protecting civilians should be considered, including air raid sirens to warn civilians of imminent attacks and sensors that could detect chemical weapons.
Assad has been engaged since 2011 in a deadly battle with assorted opposition groups, as well as ISIS, which now controls more than half of Syria. The country's civil war has displaced 7.6 million people inside Syria, and more than 4 million refugees have fled the country, according to the United Nations refugee agency (UNHCR).
In 2012, President Barack Obama famously said the "red line" for the U.S. in terms of stepping up an offensive against Assad would be if "we started seeing a whole bunch of chemical weapons moving around or being utilized." Russia agreed in 2013 to assist in disarming Assad's chemical arsenal to avoid any U.S. military action.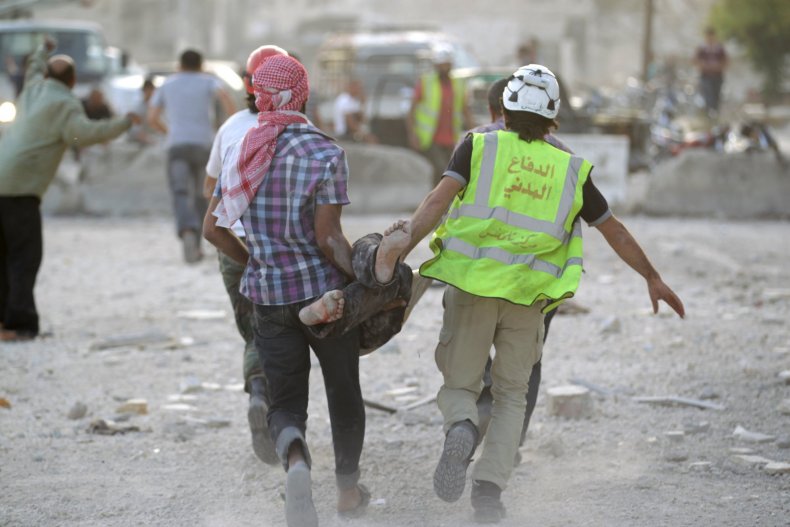 The U.S. is currently engaged with coalition forces in ongoing airstrikes against ISIS, which is costing the government an estimated $9 million a day. On Tuesday, Secretary of State John Kerry said the international community's patience with Assad "was wearing thin," according to Reuters, and that he was discussing the situation in Syria with Russian Foreign Minister Sergei Lavrov, including the possibility of peace talks.
Wednesday's testimony included disturbing video of unconscious children foaming at the mouth in the immediate aftermath of a chemical weapons attack. Dr. Mohamed Tennari, coordinator of Syria's northern Idlib province for the Syrian-American Medical Society, said the children in the video had been effectively trapped in a "gas chamber" when poison gas seeped into the basement of their house.
Representative Eliot Engel of New York said he was left "speechless" by the video.
Barrel bombs and chemical weapons result in "maximum trauma and terror" and are "spectacularly effective in driving the exodus of millions of refugees and compounding this public health crisis," Sparrow said. Up to 5 million Syrians are at risk from explosive weapons, including unexploded weapons, according to May report from humanitarian organization Handicap International.
"I have never seen a more obscene way to kill children," said Sparrow. "Syrian people deserve protection and the United States can provide it."
Royce suggested that Canadian and U.K. air power could drive helicopters carrying barrel bombs out of the sky over Syria. Barrel bombs are rolled out of helicopters and planes and the government is accused of targeting the civilian population instead of rebel fighters.
"I would seem the logical thing to do would be to ground these helicopters," said Royce. "For that to happen, it takes a decisive decision to act."
Royce also accused Assad of working "hand in glove" with ISIS to target the civilian population. Royce's comments echo tweets sent by the U.S. Embassy in Damascus earlier this month that accused Assad of supporting ISIS through strategic airstrikes and said he is "actively seeking to bolster their position."
Assad denied using chlorine gas in barrel bomb attacks against civilians in a series of interviews with Western news outlets, including CBS and the BBC, earlier this year. International rights group Amnesty International said the Syrian government is using the weapons in violation of international law, one year after they were banned by the U.N., in a report published in May.
The international community has given Syria some medical assistance to treat injuries and health complications from barrel bombs, but its response otherwise has been disappointing, Tennari said.
"The international community knows the Assad regime will be using chemical weapons against us," said Tennari. He added that the number one cause of death in Syria is barrel bomb attacks and said Syria needs protection from aerial attacks in the form of a no-fly zone.
Farouq Habib, who works with the Syrian Civil Defense and is Syria program manager with Mayday Rescue, said barrel bombs are "a source of constant panic" among civilians and take dozens of lives every day. "These weapons are most dangerous when inhaled by people in small spaces," he said.
In a somewhat bizarre exchange between former U.S. Ambassador to Syria Robert Ford and Representative Ted Poe of Texas about Assad at the hearing Wednesday, Poe asked, "Why don't we just assassinate him?"
"It's not our policy to assassinate people," Ford said.
Poe later told Ford he didn't mean to suggest the U.S. should assassinate Assad.