How Syria Kills: Syrian Military Used Rockets and Helicopters to Fire Chemical Weapons at Civilians, Report Says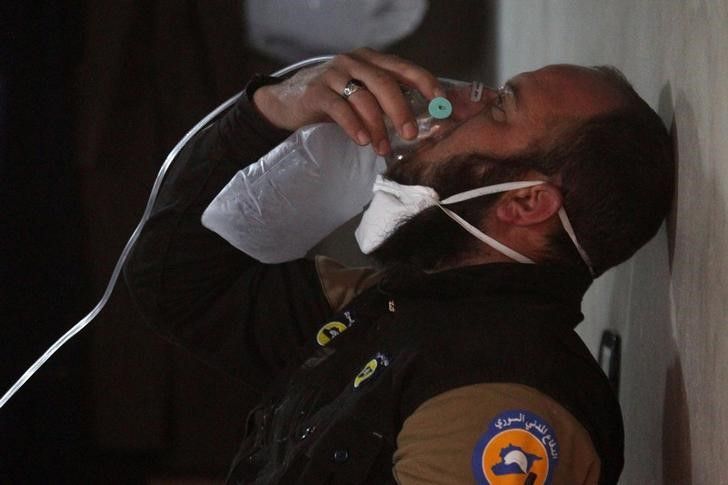 There is new evidence that the Syrian government used nerve agents in a number of chemical attacks, including an April 4 attack that killed more than 90 people, according to Human Rights Watch. The chemical attacks could constitute crimes against humanity, and "are part of a broader pattern of Syrian government forces' use of chemical weapons," Human Rights Watch said.
The group's report published on Monday says that the Syrian government very likely used nerve agents in the April 4 attack on Khan Sheikhoun that prompted the United States to bomb Syria shortly afterward. At least 30 children died in the attack, which witnesses say left people with telltale signs of exposure: pinpoint pupils, foaming at the mouth and paralysis. There is also evidence that nerve agents were used in three additional attacks since December 12, 2016.
Related: Yemen could become the next Syria: It's time the world stepped in
The alleged use of the nerve agents "undermines Syrian and Russian officials' claims that the chemical exposure in Khan Sheikhoun was due to a conventional bomb striking toxic chemicals on the ground," said Human Rights Watch. "It would not be plausible that conventional bombs struck chemical caches repeatedly across the country."
The Syrian government has repeatedly denied using chemical weapons.
Speaking at the United Nations on Monday, Ken Roth, executive director of Human Rights Watch, said that "Syria's use of chemical weapons has become a central part of its military strategy." The group's report also found that the Syrian government is allegedly using improvised ground-launch rockets to deliver chlorine, in addition to using aircraft and helicopters to deliver chemical weapons.
"The [Syrian] government has received the message that these attacks won't be responded to be the international community," said Lama Fakih, deputy director of the Middle East and North Africa division of Human Rights Watch.
While Human Rights Watch did not discover evidence that Russia has used chemical weapons, Russian forces continue to provide support to Syrian government troops. Photos and videos of the remnants of weapons used in the attack "appear to be consistent with the characteristics of a Soviet-made air-dropped chemical bomb specifically designed to deliver sarin," according to the report.
Human Rights Watch says Russia and Iran should pressure the Syrian government to cooperate with investigators and stop using chemical weapons. The group also says that Russia and China should stop using their U.N. Security Council veto power to "block accountability for serious crime in Syria." The latter two countries should support referral of the situation in Syria to the International Criminal Court, Human Rights Watch said.
"The Security Council has already declared that Syria's past use of chemical weapons is a threat to international security," Roth said in a statement Monday. "As that use continues, it is shameful that Russia prevents the council from even demanding Syria cooperate with investigators."