Four months after Dr. Rami opened the doors of his illegal medical clinic in Istanbul, he has yet to find enough doctors to staff it. An Arabic-language poster at the entrance says the clinic provides pediatric care, dentistry and a pregnancy unit. He still hasn't crossed out that last service, despite the fact that his Syrian gynecologist and obstetrician both left Turkey just after the clinic opened in February—traveling across the Aegean Sea to Greece, and then on to Germany.
Rami and his seven colleagues are all refugees from Syria, where dozens of hospitals have been bombed and doctors have been shot at and kidnapped during the past five years of war. But for most refugee doctors in Turkey, the only way to practice medicine is to find employment in an illegal clinic like Rami's. Rami, an eye surgeon who fled his hometown of Deir Ezzor in eastern Syria four years ago and lived in southern Turkey until last year, estimates Syrians have set up about 100 such facilities across the country; there are five in Fatih, Istanbul's historic heart, alone.
In May, when I visited, Rami and his colleagues were putting the final touches on the cramped apartment in Fatih they had transformed into a well-equipped health center. The smell of fresh paint hung in the corridors, and there was a pile of discarded tiles at the bottom of the stairs. Sporadic drilling shook the floor; Rami and his colleagues were busy expanding into the old hairdresser's salon next door.
Rami—who asked Newsweek not to publish his last name out of fear Turkish authorities would arrest him—says his Syrian neurologist left before the clinic even opened. He doesn't blame his fellow doctors for leaving Turkey, usually for Europe. (Turkey is currently hosting some 2.7 million registered Syrian refugees, many of whom are unable to work and live in difficult conditions.) "If Syrian doctors have a chance to go to any other country, they go," he says. "We are unlicensed. At any moment, the municipality can come and close us down. If this happens, I will either return to Syria or take the boat to Europe."
Syria's health care system was once one of the best in the Middle East, and its doctors were among the highest-paid professionals in the country. In exile, however, Syrian physicians struggle to earn a living. If a Syrian doctor wants to work legally in Turkey, he or she has to go through a lengthy bureaucratic vetting process. First, the Turkish Education and Health ministries must approve a doctor's medical certificate—but to do so, they need their Syrian counterparts to confirm its authenticity. The Syrian government rarely responds to such requests, and even if a doctor overcomes this hurdle, he or she then needs to apply for a work permit.
In January, Ankara introduced work permits for Syrians, a move lauded by European Union officials who hoped this would encourage refugees to remain in Turkey rather than make the perilous crossing to Greece. But five months later, just 3,800 Syrians have received permits.
In the meantime, illegal clinics are springing up across Turkey, driven not just by out-of-work doctors seeking employment but also by a growing demand among Syrian refugees for health care services that cater to them in Arabic. While Turkey offers free health care to Syrian refugees, that applies only to the 2.7 million registered with the authorities. Not even the International Organization for Migration (IOM) knows how many unregistered Syrians are in the country; the total is generally thought to be far higher than official numbers suggest. And the World Health Organization warns that even registered Syrians often encounter difficulties in accessing health care.
"They come here because Turkish hospitals don't treat Syrians fairly, and because we speak their language," says Abdullah, the manager of another clinic in Istanbul. (He also asked for his last name to be withheld.) Husna al-Muhamed, a woman lining up to see a Syrian psychologist at Abdullah's clinic, says her 5-year-old has not been able to walk or speak since their home in Aleppo was bombed in February by Russian or Syrian government jets. "I went to a Turkish hospital for help, and they told me to accept my son like this," she tells Newsweek, adding that they wouldn't even try to assist him.
For now, the Turkish state appears to tolerate the many makeshift centers run and owned by Syrians. Officials from the Ministry of Health declined to comment, but Abdullah believes the government permits the clinics to run because they relieve the burden on Turkey's health services. "They turn a blind eye because we only treat Syrians. Refugees treating refugees," he says.
Abdullah and his colleagues say the Turkish government would be better off employing Arabic-speaking doctors to care for refugees, rather than spending money on Arabic translators in hospitals. "Turkey could benefit from Syrian doctors," Abdullah says. (Turkey's health minister has said that the country needs an additional 30,000 doctors to staff its hospitals.) "But they're making it hard for us to work."
One exception to the work permit rule is made for Syrian doctors employed with nonprofit organizations providing medical care to refugees. At Bezmialem University Hospital in Fatih, 10 Syrian doctors and nurses take over from their Turkish colleagues at 5 p.m. every day. By the time they arrive, the corridor is already packed.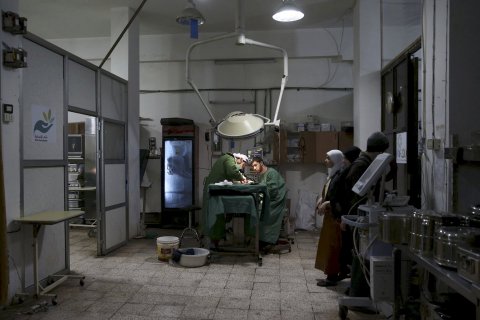 Arwa al-Rajeh, the hospital's gynecologist, used to have her own clinic in Aleppo. When the front line inched closer, she began treating women in her home, but she left when her son narrowly escaped an airstrike. In November, she began working at Bezmialem. "The women here couldn't believe that there was finally a Syrian doctor treating them," she says. "It makes such a difference, the language especially."
But such projects are rare and difficult to establish. Even this small clinic, overseen by Doctors Worldwide and the IOM with funding from the EU, has to reapply for a license every six months. Most Syrian doctors in Turkey therefore end up working unlicensed, either in backstreet clinics or at home.
Although the majority of the doctors in these illegal clinics treat only fellow refugees, some also help Turks who do not have health insurance. The Fatih clinics charge patients a flat fee of 20 liras (about $7)—the price of a takeaway pizza in Turkey. Several neighborhood pharmacists accept prescriptions issued by Rami's clinic and even sell discounted drugs to Syrians. They tell Newsweek they are motivated out of pity or a sense of solidarity with their Syrian "brothers." (Turks can get most prescription drugs on state health insurance.)
Turkey's medical associations worry about the many unregulated doctors. "It's a problem. None of them have had any medical education in the past five years," says Selcuk Erez, the head of the Istanbul branch of the Turkish Medical Association, which represents 80 percent of Turkey's doctors. "I'm sure there are some who work with fake diplomas as well."
Doctors like Rami say there's a simple way to make sure Syrian doctors in Turkey are qualified. "If they wanted to, they could solve this easily. Just test us, have us sit for an exam," says Rami, pulling his certificates and submissions to The BMJ from a folder. "All staff here are real doctors."
Real doctors or not, they can hardly get by on their meager salaries. Rami has spent his life savings on buying secondhand equipment for his clinic. He secretly performs eye operations at a private Turkish hospital to earn money on the side.
Ayman, a doctor who works in Abdullah's clinic, specialized in gastrointestinal endoscopy at a Damascus hospital. His colleagues revere him as a "star doctor" who is among the best in his field, but he does not earn enough to pay his son's kindergarten fees.
With so many barriers facing them, it's no surprise that many Syrian refugee doctors have left Turkey—despite a desperate need for their expertise. "We get paid maybe 20 percent of what a Turkish doctor gets. Most of my colleagues left. They went to Germany, Iraq, Saudi; one works in a textile factory here," Ayman says. "And those that haven't left yet are thinking of running away."