This Syrian Man Has Been Stuck at the Airport for Weeks and Still Can't Leave
A Syrian man claims he has been stranded at a Malaysian airport for more than a month after he was barred from entering various countries.
Hassan al-Kontar, 36, begged for help through videos uploaded via Twitter, where he detailed the struggles of being stuck and living in the main airport of Kuala Lumpur for the past 38 days.
Kontar arrived at Kuala Lumpur International Airport with the intention to travel to Ecuador, a country he believed he was allowed into without a visa. Upon arrival, he was denied entry onto his flight, for which he already purchased a ticket.
In 2017, Kontar went to Malaysia after he was deported from the United Arab Emirates when the civil war in Syria resulted in his losing his work permit. In Malaysia, Kontar overstayed with a three-month travel visa.
From there he flew to Cambodia, where he was denied entry and immediately deported back to Kuala Lumpur on March 7. Upon arriving, Kontar was barred from re-entering the country. He is currently still stranded in the airport terminal's transit lounge, unable to leave.
Kontar washes his clothes in the bathroom and sleeps under staircases in the busy airport. Sometimes dips into his diminishing savings to purchase a meal from the terminal's McDonalds.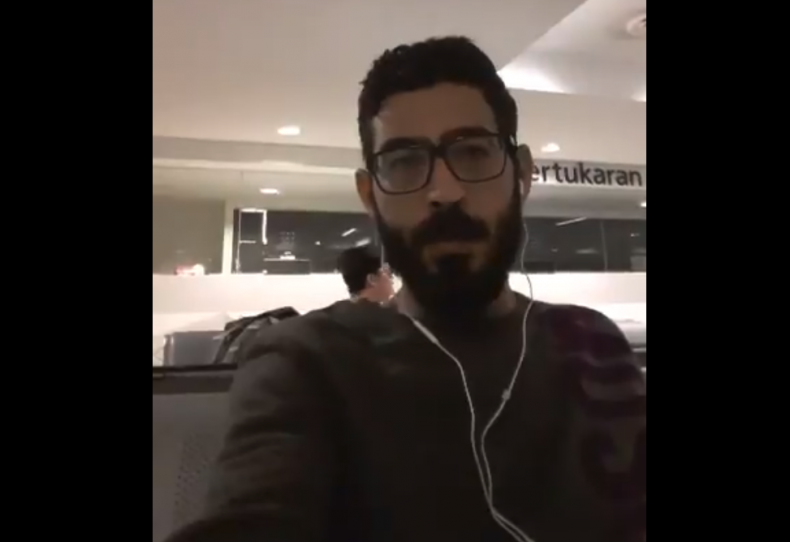 "I feel lonely, weak, unwanted and rejected. No one is accepting me," said in a video uploaded to YouTube.
"I contacted all the departments for the United Nations, and they replied to me with emails stating that they are sorry, and they couldn't help," Kontar said in another video uploaded to Twitter on Saturday.
"Embassies of Arab and non-Arab nations and foreign ministries that are located in Malaysia…. Most of them just ignored the issue. Journalists, news channels, social media activists and public figures…I couldn't reach anyone," the stranded man continued.
He added: "When world organizations tell you that there is no hope, what's the solution? In the end I can't blame anyone. This is our fate. We caused this problem to ourselves. I can't go back to Syria, I am wanted since 2011."
In the same video, Kontar notes that he contacted Guinness World Records asking about the longest time a person has stayed in an airport. He then jokes that he believes he will win the award.
Alongside a list of news organizations, Kontar also tagged various celebrities into his post, such as Tom Hanks, the lead in Steven Spielberg's The Terminal, a 2004 film reminiscent of his current situation, several Game of Thrones stars who have previously called on EU leaders to help Syrian refugees and Canadian Prime Minister Justin Trudeau.
Kontar says he is unable to re-enter Syria because he is wanted for his refusal to serve in the military.
"UNHCR is aware of this case and have reached out to the individual and the authorities," Yante Ismail, a spokesperson in Kuala Lumpur for UNHCR, the U.N. refugee agency, said in a statement.
Charlie Yaxley, a UNHCR spokesperson, told Newsweek they are currently working with the Malaysian government to determine a solution for Kontar.
"Datuk Nur Jazlan bin Mohamed, the deputy home affairs minister, said checks will be carried out to determine his legibility for refugee status. That's something we welcome," he said.