Syrian Refugee Children Risk Becoming 'Lost Generation': Report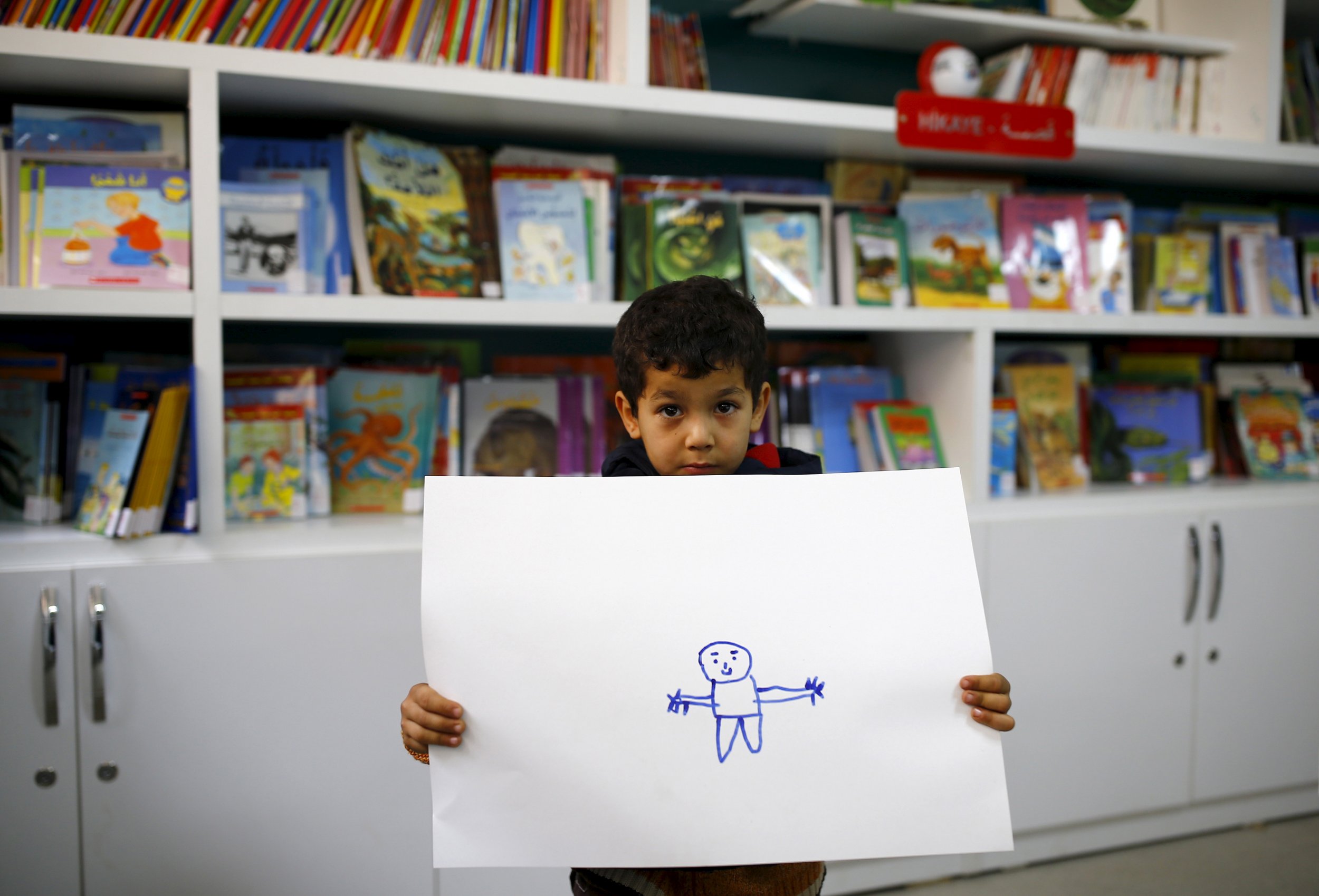 More than 730,000 Syrian refugee children are out of school in Lebanon and Turkey and risk becoming a "lost generation," according to a new report from children's charity Theirworld.
The report, published on Tuesday just weeks before the United Nations General Assembly and two planned high-level summits on the global refugee crisis, criticizes failed promises from the international community to fund refugee education. The London Conference, held in the British capital in February, resulted in more than $12 billion in pledges in a single day to help fund the humanitarian response to the Syria crisis. The conference also aimed to have 1.7 million Syrian children receiving an education, with equal access to girls and boys, by end of 2016/2017 school year.
Yet there's still a funding gap of $1.4 billion for Syrian refugee education and hundreds of thousands of refugee children are out of school in Lebanon and Turkey, according to the report. Without school, children risk having to enter the labor market and work long hours for low pay in often hazardous conditions, and face early marriage and recruitment by armed groups, says Kevin Watkins, executive director of Overseas Development Institute and author of the report.
"The real issue here is that the financing is affordable. The costs of inaction are inestimable in the sense that these are kids who, if they're not in school, will either be forced into work, their parents will make the hazardous journey to Europe, they're vulnerable to recruitment by extremist groups," Watkins tells Newsweek. "The costs of not acting on the commitments that are being made are enormous, whether you're talking peace and security or the interest of the individuals concerned."
There are currently more than 65 million displaced people around the world, the largest number in recorded history; more than half of them are children. The Syrian war has been a major driving factor of the global displacement crisis, and inside the country 2.1 million children are out of school. Refugee children in host communities in Turkey and Lebanon face barriers including poverty, trauma and adapting to a new curriculum in addition to a lack of teachers, schools and classrooms, the report says.
In Lebanon, which has the world's highest per-capita refugee population, $157 million is needed to keep refugee children in the education system and reach those who are out of school in time for the 2016/2017 school year, according to the report. Refugees account for one-third of the pupils in Lebanese public schools, which is roughly equivalent to the U.K. absorbing the entire primary school age population of Denmark, Norway and Sweden combined, the report says.
Less than half of 6- to 14-year-old Syrian refugees, which is around 155,000 children, are out of school in Lebanon, and only 38 percent of the U.N. appeal for education was filled by end of 2015/2016 school year.
Turkey, which has the world's largest refugee population, with 2.6 million registered Syrian refugees, has more than 500,000 children aged 5 to 17 who are out of school. In addition, there is an "epidemic of child labor" in Turkey, the report says.
Host countries need to remove obstacles to refugee education, including regulatory and language barriers, residence insecurity and labour market rules, the report says. There is also "a need to make far greater use of Syrian refugee teachers."
Lack of educational opportunities "is something that these kids will carry with them throughout their lives and will pass on to the next generation," said Watkins. "There are catastrophic short-term consequences, but the long-term consequences are extremely serious." Long-term consequences include a highly marginalized youth population, reduced economic growth and lower living standards, either in their host countries or when, and if, they decide to one day return to Syria.
When asked by Newsweek if there is donor fatigue in the sixth year of Syria's civil war, Watkins said: "The international community doesn't have fatigue when it comes to organizing summits or cranking out communiques with very high-sounding principles and ambitious commitment."
He added: "Really what's missing is political leadership at the international level, the coalition that is actually going to take the commitments made at these summits and turn them into something more than promises."
Looking to the two September summits on refugees and the upcoming General Assembly, Watkins said he wants to see "a pledging conference, not a recycled promises conference."
"Leave the recycled communiques at home," he said. "Arrive with your checkbook and put in place the finance of what you said you were going to do six months ago."