Ration Challenge: Thousands Of Americans Will Spend a Week Living On Same Diet As Syrian Refugees
Starting this Sunday, more than 14,000 people across the country will get a small taste of what it's like to live as a refugee, with thousands planning to take part in the "Ration Challenge"—a global fundraising effort that asks participants to live on the same rations provided to Syrian refugees in Jordan for the duration of World Refugee Week.
From June 16 to June 23, people in the U.S. will join more than 35,000 globally who will be living off "ration packs" meant to reflect the typical meals provided to Syrian refugees living in camps in Jordan, with the proceeds of their fundraising efforts going towards providing food, medicine and education for refugees around the world.
While the Ration Challenge was launched years ago in Australia, this will be its first time running in the U.S. Yet, organizers say they have already seen an overwhelming amount of interest from Americans eager to participate.
"As of today, we have 14,000 people registered in the U.S. and that number is constantly growing," Mary Elizabeth Margolis of Church World Service, which has organized the American arm of the Ration Challenge, said on Thursday.
"This is the first year and so far, in the U.S. we have raised a little over $230,000," Margolis said. "Globally, the total is just shy of $2 million."
Margolis said she believed that many living in the U.S. felt driven to join the Ration Challenge by a need to do "something to help when our government isn't."
"People have been very affected by the images and news coverage that they have seen of displaced people, especially Syrian refugees getting in boats and trying to find safety," Margolis said. "But, at the same time, we currently have a government in the U.S. that has been very anti-refugee and that has enacted policies that limit the abilities of refugees to find safety in the U.S."
"This is a tangible way that people can help," she said. "And, at the same time, it's a way to start a conversation with family and friends that is less political and more about the experience and sharing one piece of what it's like to be a refugee."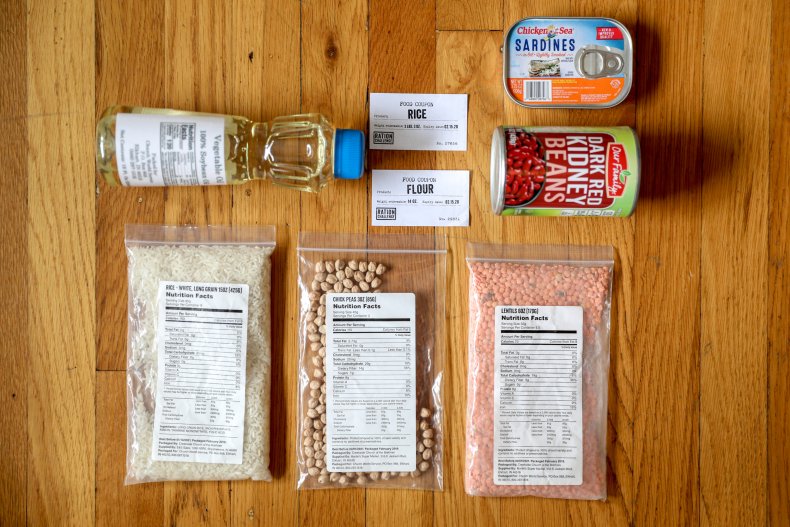 In Focus
Tens of thousands of Americans will be living on the same diet provided to Syrian refugees living in Jordan during World Refugee Week to raise funds for services for refugees around the world.
Launch Slideshow

3 PHOTOS
Among those moved by the plight of refugees is Wendi Taylor, a 38-year-old woman living in Houston, Texas, who, despite being homeless, wanted to join the Ration Challenge to raise funds for "those who have even less than me."
When she first heard about the Ration Challenge, Taylor said she was "sitting on my bedroll in my tent in the woods, scrolling through my newsfeed on Facebook and drinking room temperature instant coffee from a water bottle."
"One of the sponsored posts was for the Ration Challenge. I clicked on it mostly out of curiosity. Then I read about the purpose and the way it worked and decided to try to sign up," she said.
Taylor was surprised to see that to sign up for the challenge and receive the ration box participants are sent, she didn't even need to make an initial donation–she just had to commit to raising funds.
"The fact that they are so trusting actually made me immediately more committed to the cause. I know a little bit of what it's like to have almost nothing–but I can't even begin to imagine what it is like for the refugees," she said.
"The only experience I have ever had that would even come close to that was being rescued by the national guard during Hurricane Harvey and spending three weeks in a Red Cross shelter, where food was not a problem by the way," she explained. "That total dependency on others and complete instability in your life is absolutely terrifying."
Taylor said the experience of surviving Hurricane Harvey, which tore through Houston and southeast Texas in 2017, as well as being homeless have given her a great deal of "compassion for those who have it even worse than me."
"I think it's easy to forget about those who struggle just to survive for someone who lives in a nice house, drives a nice car, and has a well-paying job. But I don't have those things, so I pay attention to those who have even less than me and realize the struggle and heartache that they face," she said.
The Ration Challenge pack that participants like Taylor will be living on include exactly the same food in around the same quantities that are distributed to refugees by Act for Peace, the organization that first launched the Ration Challenge in 2014.
Included in the ration packs, which are meant to last a week, are 15 oz of rice, 6 oz of lentils, 3 oz of dried chickpeas, 3.75 oz of canned sardines, 15 oz of canned kidney beans and 12 oz of vegetable oil. Vegetarians are given the option to sub fish with tofu.
Participants are also allowed to use two food "coupons" for additional rice and flour and can earn food rewards for meeting funding or promotion goals.
Thirty percent of the money raised in the U.S. from the challenge will go towards providing food, medicine and education for refugees living in Jordan, Margolis said, while the rest will go towards the Church World Service's efforts to support displaced people around the world, including those arriving in America.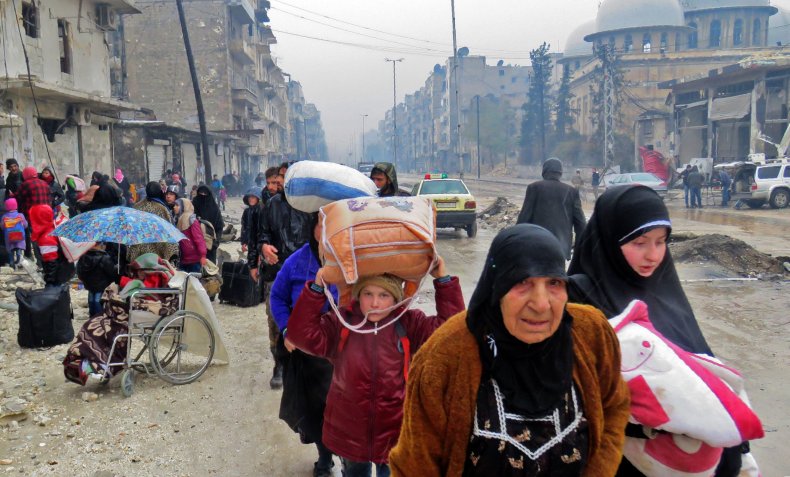 Eleanor Halbauer, a 42-year-old woman from Athens, Ohio, who works as the manager of a cafe, said that while she does not "have a lot of disposable income," she wanted to join the Ration Challenge to do what she could to help refugees in some way.
While she said she knows that "what I'm doing can't compare" to what refugees face, "I like the idea behind the ration challenge in that it helps people gain perspective on the reality of what people in refugee camps go through."
"I think that too often people forget that refugees are people seeking refuge," she said. "They have no home, very little in the way of choice. If I can help others gain perspective on the way and raise money for these people in need then all the better."
"I know that what I'm doing can't compare, and any time I think of it as difficult I remember that I have access to clean water, I have a safe warm bed and roof over my head. My home wasn't bombed. I can live on beans and rice for a week. I can learn to not be squeamish about sardines," Halbauer said. "I can do that because this is a choice for me, but it is not a choice for the people that I'm doing this for."
The Ration Challenge was initially started in 2014 by two Australians, Ben Littlejohn and Kaz McGrath, who wanted to find a way to support refugees around the world after visiting a Burmese refugee camp at the Thai-Burma border.
In order to help people get insight into what life can be like at refugee camps, Littlejohn and McGrath decided to ask Australians to try surviving on the rations given to refugees for a week, getting more than 100 people to participate in the project.
Five years later the Ration Challenge has attracted tens of thousands of participants and has raised more than $7 million in support of services for refugees.
In addition to the U.S. and Australia, the challenge will also be taking place in the U.K. and New Zealand. While the official Ration Challenge is taking place over World Refugee Week, Margolis said anyone wishing to participate during a future week can still sign up on the website.