How Syrian Refugees in Europe Are Helping Those At Home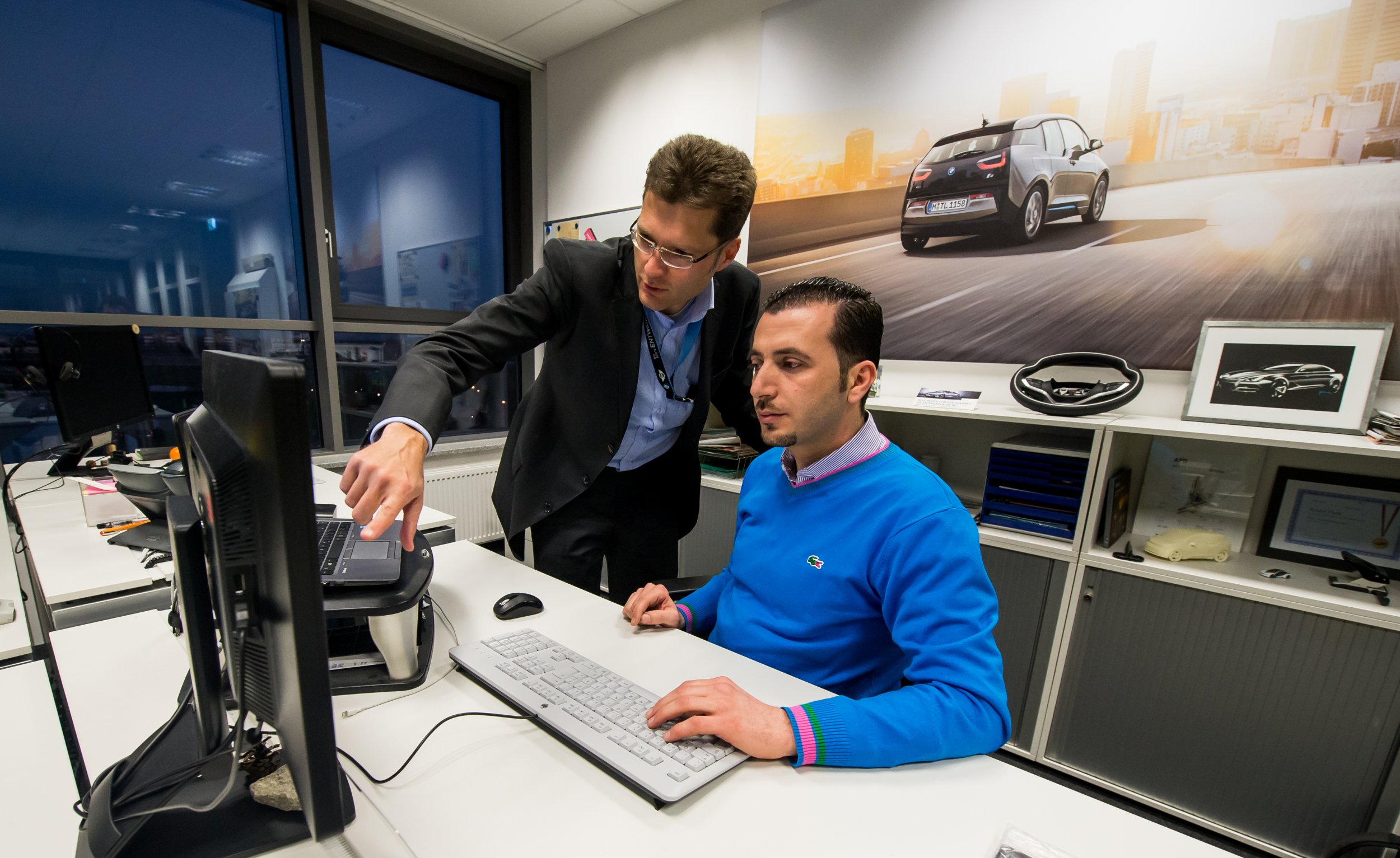 Ahmad Kobah was 17 when he fled the Syrian city of Aleppo to seek a new life in Europe. When he set off in August 2014, he took $1,600 in cash—enough, he thought, to cover his two main expenses: his airfare from Syria to Turkey and a boat crossing to Greece. "It was a difficult journey," Kobah says. "But I had to leave Syria to avoid military service." By the time he got to Greece, Kobah had only a couple of hundred dollars left and needed more to make it any farther.
Kobah had five more borders to cross before he reached Germany, where he planned to claim asylum. His parents, who remained in war-torn Aleppo, waiting to see how their son fared, sent $2,660 via Western Union, which he used to buy food, train tickets, mobile phone credit and the occasional hostel bed when he tired of sleeping outdoors. Finally, on September 24, 2014, he made it to Karlsruhe, in southwest Germany, and applied for asylum, which he received.
Kobah is one of hundreds of thousands of Syrian refugees who have received money sent by friends and family. As Syria's human capital—its people—has departed the country, so too has much of its financial capital. But money also flows in the other direction, to family members still living in the war-torn country—and there are signs that as the millions of Syrian refugees begin to settle in Europe and in other Middle Eastern countries, they are increasingly sending money back to Syria. In 2014, according to the International Fund for Agricultural Development, a U.N. agency that aims to eradicate rural poverty, remittances from Europe to Syria amounted to $84 million. The IFAD does not have a number for 2015, though it estimates that it will be 8 to 12 percent higher than the 2014 total.
Western Union has noticed the growing desire among Syrian refugees to send money home, says Pia De Lima, a spokeswoman for the company, and offers commission-free transfers for 300 euros ($336) or less from Austria or Germany to Syria.
The only banks in Syria with the capacity to receive money from overseas are in the government-held capital, Damascus, and Aleppo, which is currently split between government forces and rebels. Western Union has yet to roll out online transfers to or from Syria, so for people who don't live in those two cities, the only option is to use an informal means of transferring money, also known as the hawala system.
Hawala, which means "transfer" or "trust" in Arabic, is an ancient practice that involves the informal passing of money between partners in the transfer business. In its simplest form, a refugee or Syrian émigré will go to a hawaladar, as the person is known, in a country like Germany and hand over cash. In return, he or she will receive a code to send to the intended recipient in Syria. Once the code has arrived—via text message or email—that person goes to the hawaladar's partner in Syria and is given the money—minus a small commission. This fee varies, but it is generally less than that charged by official transfer services such as Western Union.
The hawala system is particularly popular in countries with weak financial infrastructure. The most successful hawala service is the Somali transfer company Dahabshiil, which began in 1970 and now operates in 144 countries. In 2013, it won an injunction stopping Barclays—the last major U.K. bank serving Somalia—from cutting off its services to Dahabshiil, which could have forced the company to close. Barclays had become worried that money launderers and violent extremists were using Dahabshiil to evade detection by authorities. Though this was never proved, Spanish officials revealed in February 2015 that a Pakistani-run hawala network of 250 to 300 shops in Spain was sending money to the Islamic State militant group (ISIS) and Nusra Front fighters in Syria and Iraq.
For people who use hawaladars—many of whom are also smugglers—there's no guarantee their money will reach its intended target. As well as offering passage to Europe, many of the smugglers promise refugees that they can facilitate cash transfers between Europe and Syria. But there's no way for refugees or other migrants to tell—apart from word-of-mouth—whether they are reliable, says Khaled Kheet, a Syrian refugee.
Kheet, who has lived in a small village near the Dutch city of Arnhem since he arrived in the Netherlands in August 2014, is a member of several Facebook groups for refugees. "Every month, someone asks, 'Hello, please tell me how I can send $200 to my family in Syria.'" But everyone says it's impossible [unless they live in Damascus or Aleppo]," Kheet says. The Facebook groups' members try to warn people away from the smugglers who often post on the groups' pages, offering their services. "Ninety-nine percent of the time, the smugglers will cheat you," Kheet says. Group administrators often ban the smugglers.
The impact of money sent by migrants to their home countries can be huge. In 2014, migrants living in Europe sent home $109.4 billion. To put that into perspective, the amount the EU and its 28 member states spent on official development assistance in 2014 was $61.5 billion. In many developing countries, according to the IFAD, remittances are the primary source of direct investment and development. Unlike international aid—which government officials can misappropriate or spend on grandiose projects—remittances go directly to the people who need help.
Afghanistan is one war-torn country that has greatly benefited from remittances. It has seen waves of migration since the 1970s. In some countries, the Afghan diaspora is well-established and generates considerable wealth. In 2007, the IFAD estimated that remittances to Afghanistan in 2006 amounted to $2.5 billion, or 29.6 percent of the country's gross domestic product at the time.
More Syrians became refugees in 2015 than any other national group, but the country receives comparatively meager remittances. In part, that's because many of the asylum seekers are still trapped at the borders and in refugee camps, or are waiting for papers that grant them the right to work and earn money. The allowances that European governments give them to live off—when he arrived in Germany in September 2014, Kobah received $261 a month from the government—leave most with very little to send home.
Most European countries that have agreed to take Syrian refugees have backlogs of asylum applications; consequently, large numbers of Syrian refugees are still waiting for the right to work. In April, German Chancellor Angela Merkel announced that her government would create 100,000 new "working opportunities" for refugees and ease access to apprenticeships.
The Syrian refugee crisis is relatively recent: Civil war broke out in 2011, but it wasn't until May 2012 that the number of people arriving in Europe each month surpassed 1,000. If most of the millions of Syrians spread across the Middle East and Europe eventually find work, they have the potential to collectively earn hundreds of millions of dollars.
That transition has begun for Kobah's family, whose members now have the right to stay in Germany. His parents and his sister arrived there in December 2015. His father recently finished a German-language course and obtained legal permission to work; he is hoping to secure a job as a heating engineer. His mother, who also has the right to work, has just begun learning German to improve her job prospects. Although they have been in Germany for five months, the Kobahs hope that they will soon be able to start earning money again to help their family back home.
"Now in Syria, everything is so expensive," Kobah says. "My grandmother, grandfather and aunts need money for food."