'I Was a Syrian War Reporter at 15, Now I'm Working With Angelina Jolie To Help Children'
Up until the age of 8, I had a normal, happy childhood in Syria. It was a simple life with my family and Syria was beautiful. It had rich resources. Then, in 2011, the war began. Life became difficult; every day was a struggle. But as a child, what can you do? It was hard to deal with war, but we had to. We couldn't run away because we were living under siege in eastern Ghouta.
The whole country was living through bombings, missiles and chemical warfare. In Ghouta, we experienced chemical attacks that killed babies, children and adults in the most brutal way. It is a hard, ugly death. My family and I spent a lot of time in a bomb shelter, praying we would not be buried alive there. President Bashar al-Assad's regime also prevented food, water, medical supplies, and all necessities from coming into the area where I lived. None of us had anything we needed.
Education was a problem. The road going to school became dangerous because of the threat of bombs. My school was bombed many times. It would be fixed and then bombed again. A shelter underground was created for children to have lessons in, because it was safer than above ground.
We spent around two years having classes in the shelter, but students didn't like it. There was no WiFi and it was hard for the children, so we moved back into the school above ground. Education is more valuable than anything. There was so much trauma from all the bombing, death, and destruction, but we didn't want to lose our education because of the war, so we continued to attend school.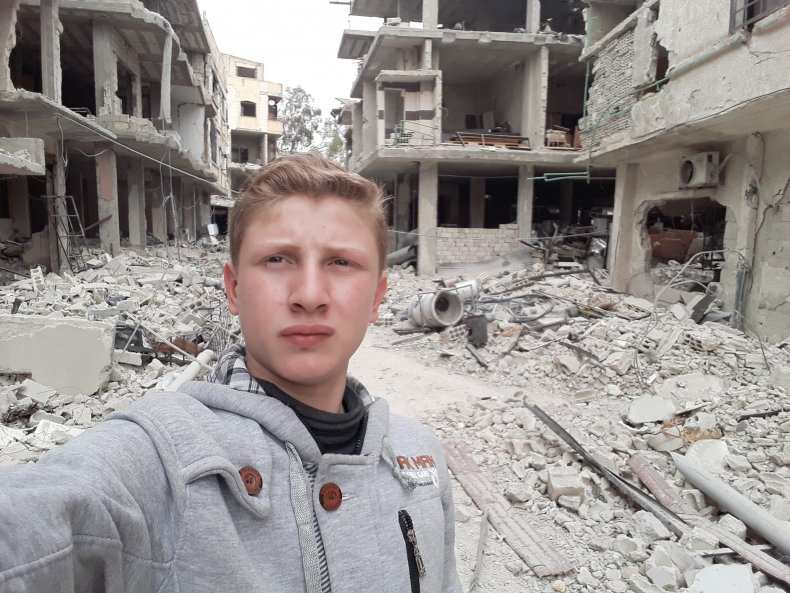 My father was killed in a bombing in 2015 when I was 13, but we had to continue to deal with life in Syria. I think, when you see and experience things as a child, you want to do something useful. My brother is a journalist so I became interested in his work, and after talking to my family, I realized I could share the suffering of my friends, and what was happening in Syria, with the world.
We decided we had to tell others the truth of what we were experiencing, so I started taking selfie videos, my brother devised a way to get WiFi and we began to share them with the world through social media.
In one of my early videos, I was out on the road in Ghouta talking about the Assad regime. Suddenly a bomb exploded behind me. I was scared and I wanted to stop the video and run away, but I continued. I shared that video on my social media and, because of the bomb exploding behind me, it got the attention of people around the world. When I started I just shared the suffering of children; people who are my friends. Now, I share the stories of many people in Syria.
I became one of the youngest people reporting on a war in the world and I'm really proud of the fact that I've managed to get the truth of the Syrian tragedy out to people everywhere. Others need to see what is happening in Syria with their own eyes.
In 2018, I was able to move to Turkey as a refugee. When I arrived, I cried. I was safe, but life was hard. The language, people and environment was so different. It's like living in the future for me, it is nothing like Syria.
When I moved here, I decided to put learning Turkish to one side so I could learn English. I felt it was the language I needed to be able to help people. Unfortunately, because of that I lost my education. I can't speak Turkish so I couldn't go to school here.
But I am still trying to effect change from my home here in Turkey. I have people in Syria sharing videos with me and I was in Syria two months ago with my brother so I documented what I saw while I was there, which I will be sharing soon. It was emotional to see my country and people. Everything is different. People are different, children are out of school. It's hard to see.
Now people have started watching me, I'm trying to develop my work so I can get my message to the world and do what I can to help. But I wasn't expecting everything that has happened since. I never expected to meet Angelina Jolie.
Angelina is a great person. I was affected by her because she also works with children and to help them. She inspires me. It was amazing talking to Angelina and working with her and Amnesty International on a book about children's rights. We had two conversations and spent time together on Zoom, and I read a recent article where Angelina talked about me and my work in Syria.
I felt a little shy when I saw that someone like Angelina Jolie was talking about me. I am a child of war, so I wasn't expecting that. But the more well known I become, the more I can help with children who are suffering. So I do want to thank Angelina for mentioning me.
My biggest hope is to return to a peaceful Syria, to help rebuild and make our country strong again. I want to study and go to university and I want to continue my life with my friends in Syria. But it's hard as a refugee without a passport. I wanted to be a professional football player, but the war took that from me, so for now, I want to find a way to continue my education and help other young people speak up, so they can change their lives.
A lot of children and young people throughout the world have no idea that they even have rights. Many live in awful circumstances, such as those living in tents in Syria. But if they are able to learn how to speak up for themselves, I believe it can make them stronger and give them hope.
Even after the war ends in Syria I want to continue reporting. There is still suffering in places like Libya and Yemen. War isn't just happening in my country. It is not just my people suffering, that is happening all over the world. So I'd like to continue sharing my videos and experiences. I want to help people. I have seen war, I don't want other children in the world to experience what I did.
Muhammad Najem began to document the armed conflict in Syria in 2017. Know Your Rights and Claim Them is a collaboration between Amnesty International, Angelina Jolie and Geraldine Van Bueren, and will be available in the U.S. from October online and in all good bookshops. You can follow Muhammad on Twitter @muhammadnajem20 and find out more about his work muhammadnajem.com.
All views expressed in this article are the author's own.
As told to Jenny Haward.