Syrian War Criminals Will Be Punished for Civilian Suffering, U.N. Official Warns
War crimes are being committed in eastern Ghouta, a suburb of Syria's capital Damascus, and the United Nations is compiling dossiers to prosecute war criminals for these heinous acts, a U.N. official announced Friday.
"Civilians are being pounded into submission or death," Zeid Ra'ad Al Hussein, the U.N. High Commissioner for Human Rights, told the Human Rights Council in Geneva, Switzerland, during a debate on the situation in eastern Ghouta.
"The perpetrators of these crimes must know they are being identified; that dossiers are being built up with a view to their prosecution; and that they will be held accountable for what they have done," he continued.
Over the last several weeks, human rights advocates have decried the deteriorating human rights situation in eastern Ghouta, where nearly 400,000 civilians are trapped as the city is pummeled with air strikes. Meanwhile, Syrian leader Bashar al-Assad's attempts to reclaim the city from rebel factions and whole neighborhoods have been razed to the ground. Hundreds have been reportedly killed since mid-February.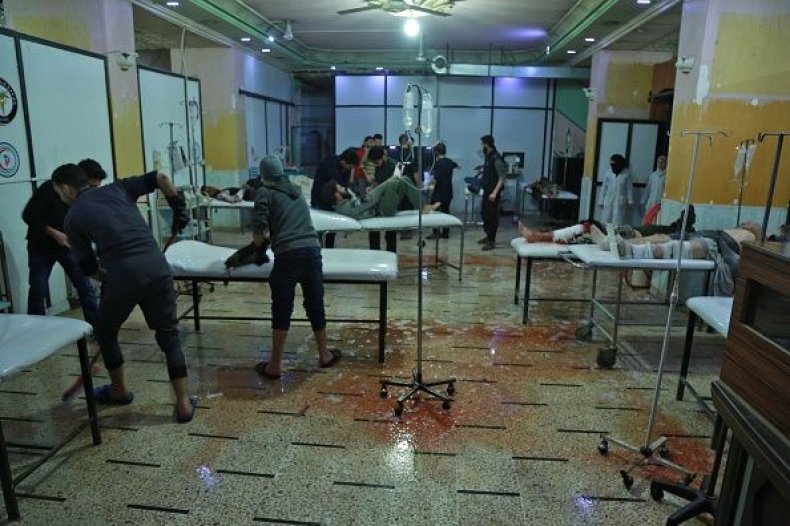 Some human rights experts say the conditions in Syria resemble those of some of the most notorious conflicts of the 1990s, namely the atrocities in the former Yugoslavia and in Rwanda. Likewise, it took years for the international community to intervene when civilians were trapped and living under constant sniper fire in the Bosnian city of Sarajevo. Following these crimes, many United Nations members pledged that they would never again allow such bloodletting on their watch.
In 2005, the U.N. General Assembly announced that governments have a responsibility to protect their citizens from genocide, war crimes, ethnic cleansing and crimes against humanity.
"The concept of the responsibility to protect drew inspiration of Francis Deng's idea of 'State sovereignty as a responsibility' and affirmed the notion that sovereignty is not just protection from outside interference – rather is a matter of states having positive responsibilities for their population's welfare, and to assist each other," the United Nations Office on Genocide Prevention states.
For many, the situation in Syria is a disappointing reminder that the international community isn't always ready to act when civilians are suffering. Pundits have been penning op-eds for years asking when the international community's refrain "never again" will be put into policy.
"We're saying 'never again' as we watch a genocide unfold in real time in Syria," human rights advocate Kristin Wright wrote in 2014.
"Syria's long war has reached its Srebrenica moment," Roy Gutman, co-editor of a book on war crimes and who reported from Bosnia during the wars, wrote on Friday.
Zeid noted that some high-profile war criminals are being brought to justice. Bosnian Serb General Ratko Mladic, nicknamed the butcher of Bosnia, was extradited to the Hague in 2011 and was convicted of genocide and crimes against humanity late last year. He is currently serving a life sentence.
Likewise, a former colonel from El Salvador, Inocente Orlando Montano, was extradited to Spain to face charges for the 1989 massacre of six Jesuit priests and two others.
"The wheels of justice may be slow, but they do grind," Zeid said, issuing a warning to people in Syria committing war crimes or crimes against humanity.