Syria's Assad Makes Rare Public Appearance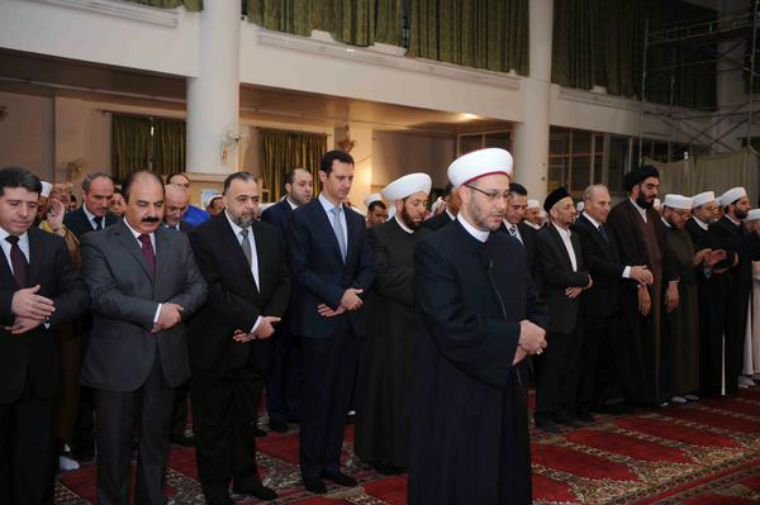 Syrian President Bashar al-Assad made a rare public appearance on Thursday, when he was seen at a mosque in the Syrian capital of Damascus, attending prayers for the Muslim holiday of Eid al-Adha, state media has reported.
A photo was posted to the Syrian president's social media accounts, showing him praying alongside Syrian Prime Minister Wael Halaqi and Grand Mufti Ahmed Badreddin Hassoun.
"President Assad led Eid al-Adha prayers at the Al-Adel mosque in Damascus, with senior officials from the [ruling Baath] party, the state, and a number of Muslim religious leaders and civilians," SANA state news agency reported.
Assad issued a statement to SANA after the prayers, in which he condemned the Islamists fighting against the regime and said that the country has not experienced a true Eid for "more than four years."
"Happy Eid Adha...to every Syrian who faces the will to kill and destroy with the will to live, survive, work and produce," he said. "To every fighter on the fire line facing terrorism and the terrorists, the murderers and the criminals...to the martyrs' families...to our injured heroes...to all of these great people who have entrenched that will in us, as Syrians."
The Al Adel Mosque, in northwestern Damascus, is situated just 5.2 miles (8.5 kilometers) from Damascus's southern Al Kadam district where ISIS clashed with Syrian rebels in late August, according to activists, the closest that Islamist militants has got to the heart of Damascus.
The mosque is also just a few miles from the Syrian-Palestinian Yarmouk refugee camp that ISIS overran earlier this year. They were later ousted by rebel fighters within the camp but the clashes in the Damascus suburbs highlight how close opposition forces are to Assad's seat of power.
Assad has given interviews to international media outlets from within the confines of his Damascus presidential palace since the beginning of the Syrian civil war, but has rarely made appearances in public. He has has only been photographed in public on religious holidays this yearin January and July at Damascus mosques to mark both the Prophet Mohammad's birthday and Eid al-Fitr respectively.