Update| Syrian President Bashar al-Assad has returned one of France's highest honors, branding the country a "slave" of the United States for launching joint strikes against his regime.
The Syrian government announced the decision to hand back the Légion d'honneur in a strongly worded statement, condemning strikes by France, the U.S. and the U.K. against the Syrian military over another alleged chemical attack against civilians in Ghouta, near Damascus.
"It is no honor for President Assad to wear a decoration attributed by a slave country and follower of the United States that supports terrorists," a statement from the Syrian government said, according to France 24.
Related: Russia tells U.S. that risk of clash over Syria is real and cannot rule out war
Although intended as a snub, the statement came four days after a source in the French government told Reuters that it had already begun the official procedure to strip Assad of the award, given to him in 2001. In fact, when asked by Newsweek about Syria's gesture, a spokeswoman for the award's chancellery said on Friday that "the process of revoking Bashar al-Assad's award has been starting for a few months"
The Légion d'honneur was introduced by Napoleon in 1802 to reward military valor or exceptional service to France, though in the modern era around 3,000 people a year receive it and the range of recipients has become much more varied.
French President Jacques Chirac awarded Assad the highest grade of the Légion d'honneur, the Grand Croix, shortly after the Syrian autocrat succeeded his father in power and at a time when France sought to "rekindle an old friendship" with Damascus.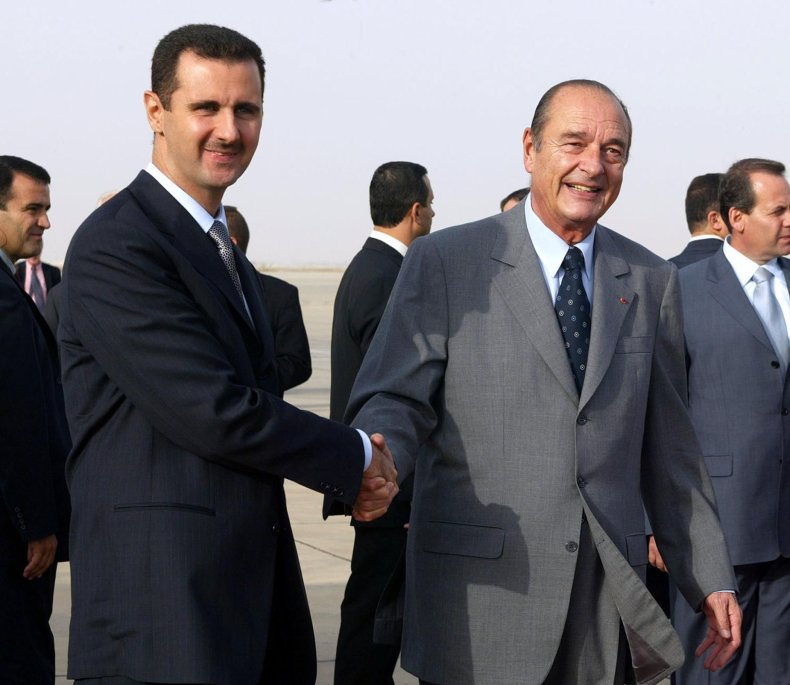 Only a French president can determine who the Légion d'honneur goes to and President Emmanuel Macron has recently said that he seeks to reform the process.
Under Macron, France has already stripped one foreigner, film producer Harvey Weinstein, of the award, after numerous allegations of sexual assault were made against him. The list of controversial recipients of France's high honor include Saudi Arabia's previous crown prince, Mohammed bin Nayef, deposed Romanian autocrat Nicolae Ceausescu and ousted Tunisian dictator Zine el Abidine ben Ali.
During Macron's first year in office the number of Légion d'honneur awards granted already appears to have reduced. He announced only 101 on France's national holiday, Bastille Day, which is around five times less than in previous years.
This article has been updated to include the latest comment from the Great Chancellery of the Order of the Legion of Honor.