Syria's Civil War Comes to Ukraine as Rival Sides Sign Up to Fight Abroad
The violence of Syria's civil war, about to enter its 11th year, may now unfold hundreds of miles and a continent away, as fighters for and against the Syrian government are signing up to join the fight on opposing sides of the deadly conflict in Eastern Europe.
As the Kremlin's war against Kyiv entered its third week, Russian Defense Minister Sergei Shoigu informed President Vladimir Putin during a Security Council meeting Friday that Moscow has "receive a huge number of applications from all sorts of volunteers from different countries who would like to come to the Lugansk and Donetsk People's Republics in order to participate in what they consider to be a liberation movement."
"The majority of requests came from the Middle East," Shoigu said, "as we have received over 16,000 of them."
He added that he felt Moscow should "respond positively" as "these requests are not for money, but at the true desire of these people," according to the Kremlin readout, citing their experience in the fight against the Islamic State militant group (ISIS), which Russia fought against with support from Syria and its fellow ally, Iran.
Putin appeared open to the proposal, which he saw as an answer to Ukraine's calls to recruit tens of thousands of foreign fighters into its own ranks against Russia's intervention on behalf of the two breakaway states.
"As for the mercenaries from all over the world being sent to Ukraine, we see that they do not conceal it, the Western sponsors of Ukraine, the Ukrainian regime, do not hide it, they do it openly, neglecting all norms of international law," Putin said.
"That's why if you see that there are people who are willing to come as volunteers, especially not for money, and help people residing in Donbass, well, we need to meet them halfway and assist them in moving to the combat zone," he added.
Kremlin spokesperson Dmitry Peskov confirmed Putin was weighing the offer, noting to reporters that Shoigu spoke "in particular about those who sent their requests from the Middle East, from Syria," according to the state-run Tass Russian News Agency. At the same time, he said he did "not have any information" as to whether the plan had been put into action.
A senior Pentagon official also noted Thursday's developments, saying that the U.S. was "watching" such developments, telling reporters that U.S. officials "haven't seen indications that their recruiting efforts have borne fruit and resulted in the actual arrival of foreign fighters from that part of the world."
"We said we believed they were moving in this direction," the official added, noting earlier assessments, "and of course, now they're publicly acknowledging it and putting a number on it."
Also on Thursday, the Russian Defense Ministry's official Zvezda TV outlet aired footage purporting to show armed Syrians donning fatigues, waving Russian flags and holding "Z" signs that have come to signify support of Moscow's war effort in what the channel said was a rally of veterans who "want to stand up for Russia the same way it stood up for Syria."
This manifestation was one of many to take place across government-held cities in Syria in recent days, as civilians also gathered to express support for Russia as it claims to pursue extremists in Ukraine.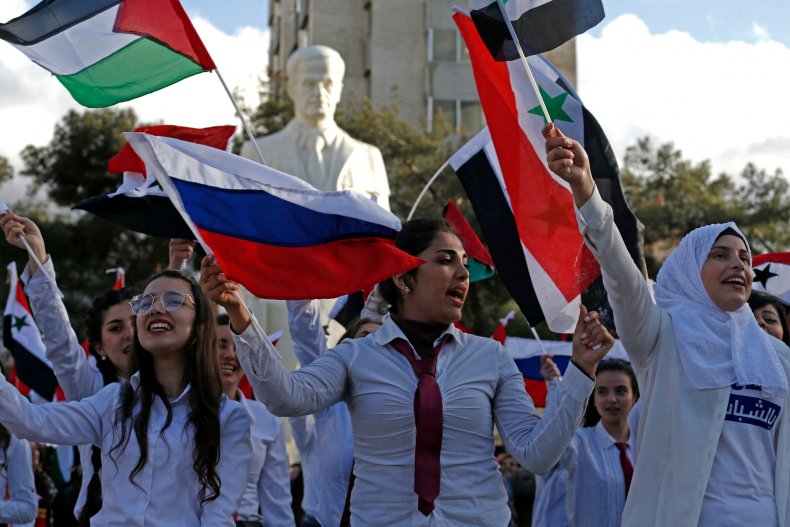 Some, however, were less enthusiastic about the prospect of Syrians leaving their nation in order to fight in a foreign war, even for Russia.
One Syrian politician, who asked not to be named, said there was no information available as to whether any Syrian Arab Army troops or veterans had actually signed up to fight in such a conflict, telling Newsweek that "the country is still at war with international terrorism in Idlib and northern Syria as well as in Israel."
"We in Syria have enough on our plate," the politician added, "and we don't think Russia is in danger or in need of more manpower."
Another source within Syria, who also requested anonymity, emphasized the fact that the Syrian Arab Army would not be sending regular troops to fight, rather it would be volunteers.
"I don't think the Syrian Arab Army is going to send anyone anywhere or intervene in anything [with regard to Ukraine], same with all official authorities," the source said.
The situation is similar to the one that occurred in Libya in recent years, the source noted, when Syrians deployed alongside Russia's Wagner private military company to fight.
"It was vets who signed contracts, just like how things happen in the U.S.," the source said. "These vets were civilians when they did this. Under Syria's law, this is allowed. A few years ago Syria passed a law opening the door for military contractors, so that's a very important point to be made clear."
And this source too could not confirm that any recruits that have signed up have actually deployed. So far, the source said, "it's just pieces of papers in some local offices that work with Wagner, not the Russian government." One of those offices handling the process in Syria is the Suqaylabiyah branch of the Syrian National Defense pro-government militia.
But the source expected many more to put their names down given the dire conditions in Syria face in the midst of ongoing conflict, economic crisis and international sanctions.
"After Putin's announcement, I think we will soon hear of people signing contracts," the source said. "Many want to go and many have been asking around. They see it as a chance to build a future, some people for the money, others think they can start a life there."
The source believed Russia may be able to garner up to 50,000 fighters — if they're willing to pay, or at least offer citizenship to the separatist Donetsk and Luhansk People's Republics now recognized by Moscow.
Meanwhile, Syria's own internal strife remains far from resolved, as the uprising and subsequent crackdown that sparked the conflict approaches its 11th anniversary on Tuesday. Little ground has been gained in recent years by any of the multiple factions still at war.
President Bashar al-Assad, who came to power shortly after Putin more than two decades ago, controls the majority of Syria's territory. His government won back that control with the help of Russia and Iran. He faced down both ISIS and rebels backed by Western powers and their regional partners, including Turkey, which continues to deploy troops and assist opposition groups across the northern border, especially in Idlib, where the last two ISIS leaders were killed during U.S. raids.
The U.S. has largely ceased backing insurgents to oust Assad, but continues to impose sweeping sanctions against him over allegations of war crimes. Since 2015, around the same time that Moscow intervened directly on Damascus' behalf, the Pentagon has supported a Kurdish-led formation known as the Syrian Democratic Forces, which holds up to a third of the country in its northeast, where it opposes both the rebels and the government, despite repeated attempts to reconcile with the latter.
The Syrian Democratic Forces issued a statement last week rejecting what they called "false news" spread by "media affiliated with the Turkish occupier" claiming "that our forces had sent a number of their fighters to the war in Ukraine."
"We confirm that this information is false and comes in the context of the desperate attempts of the Turkish occupation authorities to harm our forces," the Syrian Democratic Forces said.
Turkey has been accused of sending Syrian rebels to fight foreign wars both in Libya, where they faced Russian and Syrian contractors, and in Nagorno-Karabakh, where they fought alongside Azerbaijan against Armenia and the unrecognized Artsakh Republic over the disputed region of Nagorno-Karabakh in fall 2020. Ankara has denied the claims, but the alleged practice has continued to elicit international criticism, including from its ally Washington.
Another U.S.-backed unit in Syria, the rebel Maghawir al-Thawra, which is active in a 55-kilometer zone declared off-limits by the Pentagon to other powers in the southern desert, also issued a statement last week, in which they dispelled "false news" that claimed it sent "a number of our forces to participate in the Ukraine war." However, along with many anti-government factions, the group has expressed contempt for Moscow's campaign against Kyiv.
And while Russian flags could be seen waving across much of government-held Syria, the outposts of Turkey-backed opposition control have been adorned with pro-Ukraine regalia. Reports persist, mostly in Russian official and non-official outlets, that scores of Syrian militants had recently arrived in Ukraine.
The Syrian politician with whom Newsweek spoke said information received from those in opposition-held areas "confirmed to us that about 2,500 were already shipped there by Turkey for an average salary of $1,500."
"These are from the so-called 'Syrian National Army' or 'Free Syria Army,' and they were sent to Libya and Azerbaijan as well," the politician said. "In general, the U.K. and Ukrainian government made a huge mistake by opening up the way for mercenaries to fight in Ukraine."
The politician argued that, rather than believing in this cause, such fighters may ultimately be seeking refugee status in Europe.
"Moreover, like in Libya, most Syrian rebels who went there for Turkey ended up in Italy," the politician said. "They wanted to go to Europe. Many of them will escape from Poland to Germany now."
There has been no verifiable indication as of yet of any mass movement from these factions to join the conflict, but many have reportedly expressed interest, including at least one famed Syrian rebel.
Suheil Mahmoud Muhammad, better known as "Abu TOW" for his claimed 146 hits against Russia-built tanks and aircraft using U.S.-made TOW missiles in Syria, told Newsweek his motivation was to take on the same war machine that dropped bombs on his own country.
"I want to destroy more tanks and equipment of Russia, which spreads destruction all over the world and kills harmless and innocent people who demand freedom," Muhammad said. "The simplest example is my family and my people."
And while he has previously disclosed that he was making inquiries with the Ukrainian embassy in Turkey, he told Newsweek that he has yet to be summoned in any official capacity. But Muhammad said he has "been ready since the first day the butcher Putin decided to invade Ukraine, and ready to confront Russia in the streets of Ukraine."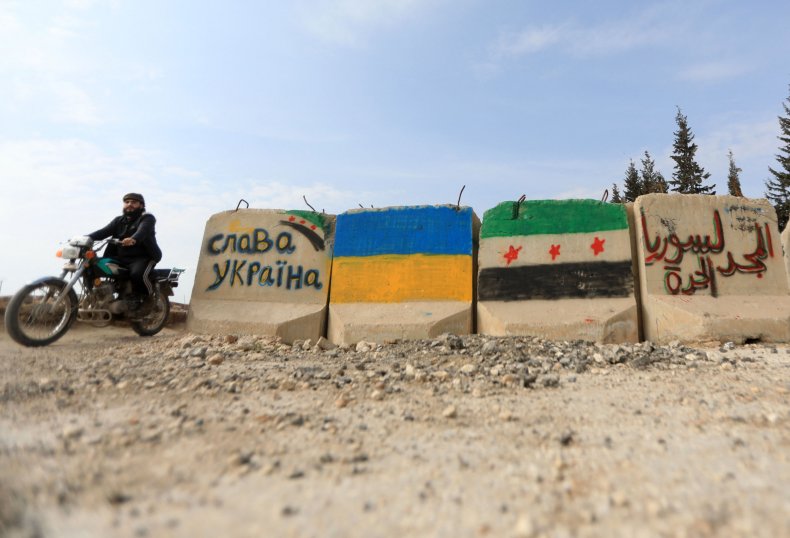 Other Syria-focused monitors shed a light on a wider movement gaining momentum among those who have fought both for and against Damascus.
One independent civil society group, Syrians for Truth and Justice, reported last week that both pro-government and opposition factions were actively signing up to join the fight in Ukraine. The March 4 report cited unnamed Syrian rebels saying registrations were taking place in Turkey-controlled areas, but noted that Ankara had made clear it would not officially support any transfers.
On Tuesday, the United Kingdom-based, opposition-tied Syrian Observatory for Human Rights confirmed that active registrations were occurring.
"There is a process of registering names for those wishing to go to Ukraine and participate in the military operations taking place there," the organization said, "whether by the National Army factions or by mercenaries loyal to Russia."
"But until this moment no one has left," the organization added, "and the jihadi fighters are of Chechen nationality from those who are in Idlib."
That same day, Syria's ambassador to Russia, Riad Haddad, noted the potential dangers of Ukraine accepting such international fighters, saying that it could create a similar situation to the one that exists in rebel-held Idlib.
"It is necessary to realize this looming danger that seeks to turn Ukraine into a large European Idlib," Haddad told TASS, "and that it constitutes a threat to Russian, European and even global security."
"Through such actions," he added, "Kyiv, with the support of the West, allows terrorists to infiltrate Europe and gives them freedom of action there."
Chechens also appear to be divided in their loyalties, as others from the majority-Muslim southern Russian republic in the Caucasus have entered the conflict in Ukraine on behalf of Moscow and its local ally, Ramzan Kadyrov.
Further on the sidelines, other groups that took part in Syria's civil war have also issued statements on the situation in Ukraine.
In a video shared with Newsweek, Iraq's Hezbollah al-Nujaba Movement spokesperson Nasr al-Shammary commemorated his group's efforts against militants in the region as part of the "Wounded Resistance Day."
"Today, the Western world has opened the doors [for] those who want to fight in Ukraine," Shammary said.
He accused the West of having "double standards" due to its opposition to the entrance of foreign Iran-aligned "Axis of Resistance" fighters such as Hezbollah al-Nujaba Movement and others from as far Afghanistan and Pakistan into the fight against ISIS.
Lebanon's Hezbollah has blamed the U.S. for pushing Ukraine to war and then failing to back it, with Secretary-General Hassan Nasrallah claiming during his Wounded Resistance Day address on Tuesday that the U.S. embassy in Beirut had coerced the Lebanese Foreign Ministry into issuing a harsh condemnation against Russia.
So far, none of these groups, unlike those in Syria itself, have expressed any intentions to export fighters to Ukraine, nor has Iran sought to get closely involved, even as its officials have also argued that the U.S. and its allies were ultimately at fault for the outbreak of the war.
As for those who have already signed up to fight for Kyiv, Ukrainian Foreign Minister Dmytro Kuleba on Sunday placed the number at 20,000 from 52 different nations, without disclosing the countries of origin.
Asked Thursday about whether President Joe Biden's administration was concerned about the flood of foreign fighters and arms into Ukraine's war playing out in a similar fashion as it did in Syria, State Department spokesperson Ned Price declined to address the question directly.
"What we see is the Ukrainian people, the Ukrainian military standing up against an aggressor, standing up against an invading army that has sought to rewrite international borders, that has sought to remove Ukraine's sovereign rights, and really its sovereign identity," Price said.
"So right now we are supporting the Ukrainian government," he added. "We're supporting the Ukrainian people in their ability to do just that."