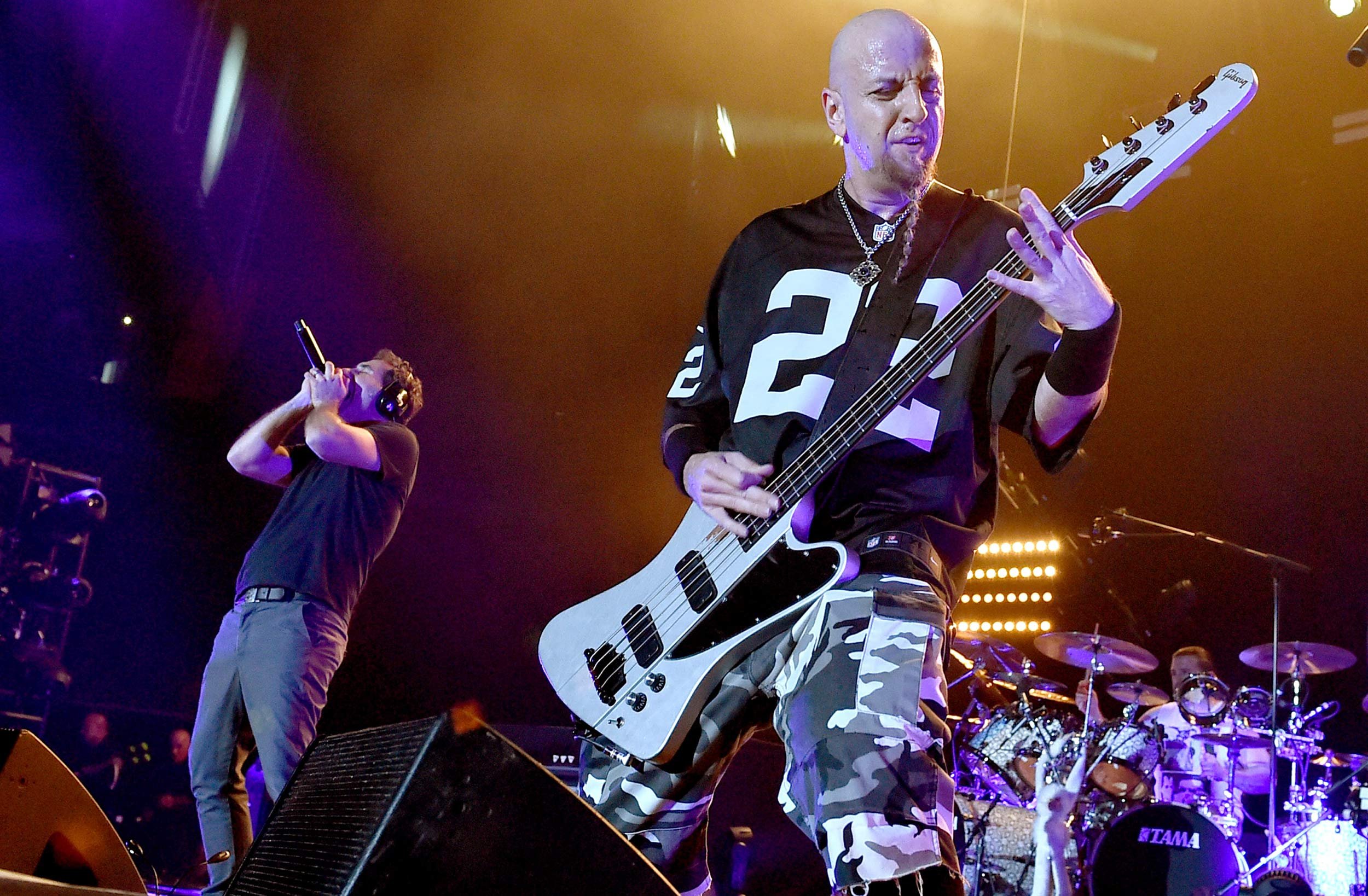 Once they get onstage, wherever they are in the world, metal band System of a Down commits to giving their fans an experience they won't forget.
But their shows this month have been slightly different because they're steeped in history: System of a Down's four members, all Armenian-Americans, embarked on their #WakeUpTheSouls tour earlier this month to commemorate the 100th anniversary of the Armenian genocide. They will play the tour's final show in Republic Square in Yerevan, Armenia's capital, on Thursday, which will be free.
Between 1915 and 1923, one and a half million Armenians living in what was the Ottoman Empire were massacred, or died from disease and starvation. While many countries have recognized the events as genocide, many do not; President Barack Obama has chosen not to formally call it genocide, even though he recognized it as a senator.
This anniversary, there are signs of change and increased recognition. Last week, Pope Francis called it the first genocide of the 20th century, a statement rejected by the Turkish government, which accused him of inciting hatred. The European Parliament called on Turkey last week to recognize the genocide and urged the country to "come to terms with its past," while Germany intends to use the term on Friday. Israel is still referring to it as "national tragedy," not a genocide, but one member of the Israeli delegation who will visit Yerevan on Friday said it's time for the country to recognize the genocide, The Associated Press reports.
"Obviously the cause is very important to us. The commemoration is a monumental thing for Armenians to have to deal with. But once you get onstage you have to forget everything except just playing the show," John Dolmayan, System of a Down's drummer, said from Moscow, where the band played its penultimate night of the tour on Tuesday.
System of a Down's last album, Hypnotize, was released in 2005. Since then, they've moved on to separate projects, but have left a legacy of multi-platinum selling albums and iconic singles like "Toxicity" and "Chop Suey"—278 million views on YouTube and counting—characterized by their babbling, slightly absurdist lyrics and pummeling sound. Later this year, the band will play a few shows in South America.
During each two-hour show of the #WakeUpTheSouls tour, which began in Inglewood, California, and jumped from London to Brussels, Cologne and Amsterdam, a series of short films about genocide, genocide denial and human rights abuses have been screened for the audience. System of a Down wants to educate its audience—the band's Web store offers a T-shirt printed with a quote from Adolf Hitler: "Who after all speaks today of the annihilation of the Armenians?"—but it knows that a lot of people are just there to enjoy the music.
"You can't make someone be interested in something if they're not," Dolmayan said of the films and the talk of genocide, "so we try not to be too preachy about it."
Plans for the tour started around two years ago, and the band has never played in Armenia; for them, the 100-year commemoration is "massive." But a single show in Armenia meant playing to a country with a deep knowledge of the atrocities inflicted, so the idea came about to go to other places.
"We essentially wanted to hit every continent, but as we started to put the two together, the logistics of it and the amount of time we wanted to have, it was logistically not possible," said Dolmayan.
The tour nearly took them to Turkey, the country that now shoulders the blame for the genocide, which would have been another first; System of a Down once had the opportunity to open for thrash metal band Slayer, but was advised against going there. The band reached out to the Turkish foreign ministry, but never heard back.
System of a Down, Dolmayan says, would do well in Turkey and look forward to playing there one day. The band has a huge fan base in the country, but Dolmayan said that several times he's had to take to Facebook to stop people from lashing out at Turks who post on his page. It does nothing to bridge the gap between Turks and Armenians and strips away the common bond of being a System fan, he says.
"I believe that we're the only rock band that needs permission to play in Turkey," he said. The Turkish Foreign Ministry did not return a request for comment.
Most of Dolmayan's family was wiped out during the genocide, and many took asylum in Lebanon. During a period of conflict and upheaval in the 1970s, his parents left Lebanon and were granted political asylum in Canada, but the cold weather prompted a move from Toronto to Los Angeles when he was a child. His family didn't talk much about the genocide, but every April it would be discussed at home. California, which has the largest population of Armenians in the U.S., has formally recognized the genocide, as have 42 other states.
"You kind of assume that everybody knows about it, but the truth of the matter is when we got signed, most people, especially in a lot of Western countries, had no idea what Armenians were. It was an education for them," said Dolmayan.
The show in Armenia will be Dolmayan's third visit to his native country, but it might take slightly longer to visit his ancestral lands, which are located in what is now eastern Turkey.
"It would be nice go and see those one day, but right now it's going to be very difficult because I'm probably not allowed in the country," he said.