Tributes are pouring in for renowned toy creator T. Mark Taylor who has died. He was 80-years-old.
The artist and toy designer for Mattel was well known for creating toys for the He-Man and the Masters of the Universe franchise as well as the Teenage Mutant Ninja Turtles.
The iconic He-Man toy went on to inspire the animated series beloved by children in the 1980s.
Taylor's family confirmed to The Associated Press that he died due to congestive heart failure over the weekend at his home in Southern California.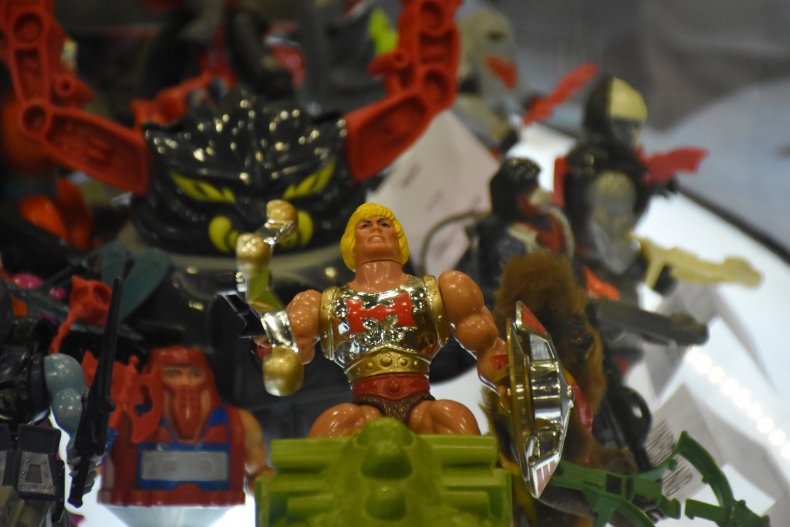 According to The New York Times, Mattel sold more than 70 million units from its Masters of the Universe collection within two and a half years of their release in 1982.
Taylor is survived by his wife of 50 years, designer Rebecca Salari-Taylor of Ranchos Palos Verdes who led the tributes on social media.
"I felt him say goodbye to this world as I held him in my arms for one final loving kiss," Salari-Taylor wrote in a Facebook post, per AP.
On Twitter, several people are paying tribute to the artist and the impact he had on their childhoods.
"T. Mark Taylor designed a big part of my childhood. RIP a true master of the universe," tweeted novelist Adam Christopher.
Cartoonist Kevin McShane said: "We at @lustyhorde tabled next to He-Man creator Mark Taylor at @ThePowerCon a few years ago. He was kind and gracious to everyone who came to pay homage. I was drawing custom MOTU characters at the show, so I did one of him. RIP."
"RIP Mark Taylor, @MastersOfficial He-Man & Skeletor creator... what a legacy! #80sChild," said activist Michael B. Puskar.
Game Critics editor Brad Gallaway tweeted: "Just saw that Mark Taylor, designer of He-Man, Skeletor and much more in the MOTU line and elsewhere, has passed away. Never met the man, but he sure had an influence on my life and I'm grateful for his work. RIP Mark Taylor."
Twitter account LandOfThe80s thanked Taylor for the "joy" he brought to children and fans of his toys.
"He-Man creator Mark Taylor has passed away at the age of 80. His creations for the Masters of the Universe series provided joy to so many over the years. RIP. #80s #80stoys #motu #heman #rip," they tweeted.
While Toys That Made Us thanked a "legend."
"Rest In Peace to an absolute LEGEND, Mark Taylor. Thank you for He-Man and for your work on the TMNT toy line. Most of all, thanks for the memories."
Podcaster Eddie Edmends tweeted: "Most people won't know Mark Taylor . He had a heavy hand in He-man and Ninja Turtles toys . While it's sad to lose Mark it is amazing he left us at Christmas as this white bearded man's work made so many children happy at Christmas. RIP Mark."