T-Pain Encourages Twitch Streamers to Use His New Beats With His 'Blessing'
After a wave of DMCA claims hit Twitch earlier in the month, streamers have been scrambling to find musical content that they can legally play on the platform. Playing a copyrighted song owned by a music company can lead to a streamer's clips or even their whole channel being removed. Because of this, a selection of musicians and lyricists have been offering their services or catalogues to content creators.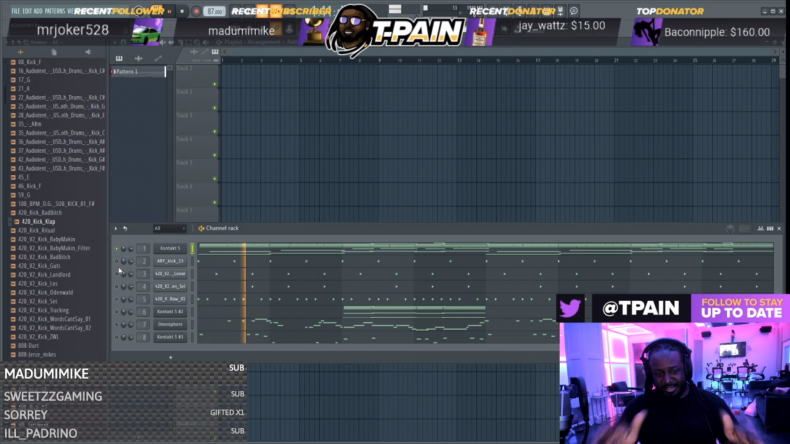 Faheem Rasheed Najm, better known as the performing artist T-Pain, has been live streaming on Twitch since 2014 and is no stranger to the gaming space. Alongside DeadMau5 and Snoop Dogg, Najm was one of the early adopters of the gaming space's transition to live streamed content. While winning first place on the first season of The Masked Singer and continuing to release music, Najm keeps himself busy by streaming from his home, playing video game or making music.
Two hours into his regular Monday night stream, where he concocts and makes beats, Najm announced that he would be letting streamers use these sounds on their channels. "Anyone y'all want to use on your streams, you've got my mother f---- blessing," Najm said. "I'm making beats people are going to be using on their streams."
According to Najm, a website is in the works and will include all of the music he's made in the past two or three years. His latest release, "Get Up" was released earlier this week, with all proceeds from the track going to the Crime Survivors Safety and Justice foundation. Any one of Najm's original hits, like "Bartender" or "Buy U A Drank" can't be played without fear of DMCA claims. As he puts it, those songs "have other people's money involved and the labels will come after you."
The response from the reddit and Twitch community has been overwhelmingly positive. T-Pain holds the top spot on the LiveStreamsFails reddit, with over 9,000 upvotes in under 12 hours. "In this age where everyone wants to copyright a single word, allowing people to use his music property like this is really generous," wrote one user. "T-Pain is the GOAT" wrote another.
Najm himself responded on the post, writing "Thanx guys. This is gonna be fire for everybody."
Other artists have been giving their express permission for streamers to use their content. Rapper 21 Savage, who owns his own master recordings, allowed streamer TrainWrecksTV to use his songs without fear of label interception or a claim.
Newsweek has reached out to Najm and his management for comment.