Ta-Nehisi Coates Reminds Mitch McConnell He Was Alive During 'Campaign of Terror' Against Black Americans
Author Ta-Nehisi Coates hit back at Republican Senate Majority Leader Mitch McConnell in a House hearing about slavery reparations Wednesday, after the Kentucky senator described reparations as not being a "good idea."
McConnell told reporters Tuesday that black Americans should not receive benefits for "something that happened 150 years ago"—which drew a fiery response from Coates at a House Judiciary Committee hearing.
Coates, the author of the acclaimed 2014 article "The Case for Reparations," received a round of applause as he and actor Danny Glover laid out the case for black Americans to receive benefits from a government which oversaw U.S. slavery for several hundred years.
"And so, for a century after the Civil War, black people were subjected to a relentless campaign of terror—a campaign that extended well into the lifetime of Majority Leader McConnell," Coates testified.
"We grant that Mr. McConnell was not alive for Appomattox. But he was alive for the electrocution of George Stinney. He was alive for the blinding of Isaac Woodard. He was alive to witness kleptocracy in his native Alabama and a regime premised on electoral theft. Majority Leader McConnell cited civil rights legislation yesterday—as well he should, because he was alive to witness the harassment, jailing, and betrayal of those responsible for that legislation by a government sworn to protect them."
Coates and Glover were testifying on slavery reparations regarding the H.R. 40 "Path to Restorative Justice" legislation. Representative Sheila Jackson Lee, a Democrat from Texas, first introduced the bill in January to study and develop a commission to study reparation proposals and address the "fundamental injustice, cruelty, brutality, and inhumanity of slavery in the United States and the 13 American colonies between 1619 and 1865."

McConnell argued against reparations a day before the hearing, saying, "we've tried to deal with our original sin of slavery by fighting a civil war, by passing landmark civil rights legislation. We elected an African-American president."
The GOP senator continued, "I think we're always a work in progress in this country, but no one currently alive was responsible for that, and I don't think we should be trying to figure out how to compensate for it. First of all, it would be pretty hard to figure out who to compensate... No, I don't think reparations are a good idea."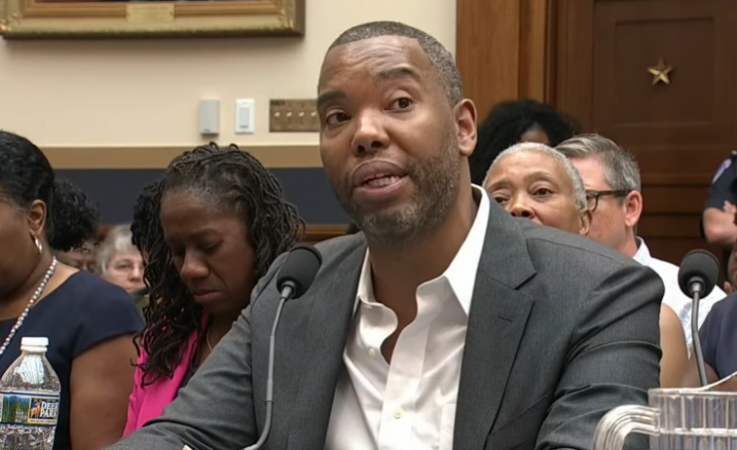 Coates responded by continuing to mention incidents of racism or bigotry which occurred during the 77-year-old Kentucky Republican's lifetime.
"He was alive for the red-lining of Chicago and the looting of black homeowners," Coates added. "And that is the thing about Senator McConnell's 'something.' It was 150 years ago and it was right now."
Coates detailed the massive and undeniable economic impact slavery had on U.S. history, which used "torture, rape and child trafficking" in order to force African American slaves to become "assets."
"It is impossible to imagine America without the inheritance of slavery," Coates said. "By 1836, more than 600 million or almost half of the economic activity in the United States derived directly or indirectly from the cotton produced by the million odd slaves. By the time the enslaved were emancipated, they comprised the largest single asset in America—$3 billion in 1860—more than all the other assets in the country combined."
Democratic Senator and 2020 candidate Cory Booker also spoke in favor of slavery reparations on Wednesday saying, "As a nation, we have yet to truly acknowledge and grapple with the racism and white supremacy that tainted this country's founding and continues to cause persistent and deep racial disparities and inequality."
Several 2020 presidential candidates including California Senator Kamala Harris, former Texas congressman Beto O'Rourke and Booker have embraced slavery reparations and pledged to enact legislation guaranteeing reparations should they be voted into the White House next November.
"When I am elected president, I will sign that bill," Harris said of H.R. 40 at an April event hosted by Al Sharpton's National Action Network.
The slew of Democratic candidates signing on for reparations has not been without its critics, particularly among conservatives who have openly mocked the idea and question who exactly who receive such benefits today. Life, Liberty & Levin host Mark Levin claimed it should be members of the Democratic Party alone who pay out reparations for their historical role in facilitating slavery.
"But we do know one entity that's been in this country during the course of slavery and we do know one entity that promoted slavery," the Fox News host argued in February. "We do know one entity that fought on the wrong side of the Civil War with respect to slavery. We do know one entity that supported the [Ku Klux] Klan. We do know one entity that supported 'separate but equal,' and we do know one entity that was terrorizing civil rights workers in the South—and that's the Democrat Party."
Ta-Nehisi Coates Reminds Mitch McConnell He Was Alive During 'Campaign of Terror' Against Black Americans | U.S.