Tortilla Shortage: Taco Bell Forced to Reduce Menu Selection After Supply Issue
Fans of Taco Bell are being warned to prepare for disappointment after a major tortilla shortage has resulted in a severely reduced menu.
It is reported that a supplier issue means stores nationwide do not have enough 10-inch tortillas, so the fast food chain is unable to make a significant number of items from the menu, including its burritos, quesadillas and other favorites.
A Taco Bell branch in Huntsville, Alabama, has a sign warning customers that they currently cannot sell a host of items due to the tortilla shortage, including their breakfast and lunch burritos and quesadillas, Quesaritos, XXL Burritos, $5 Chalupa and Nacho fry boxes, reported WAAY. It's sister station WKTV is also reporting similar shortages impacting Taco Bell menus in New York.
Posts on the Taco Bell subreddit suggested that the tortilla shortage may be affecting other states across the U.S. A picture posted the website shows a sign warning that there is a "city wide outage" of tortilla in Atlanta, Georgia.
One Reddit user, who claims to be an employee, posted: "The manufacturer just had a sudden shortage. We ordered 6 cases and got 3, so by Sunday evening we were using 12 inch shells for everything. By midnight, there were maybe 4 packs of 12 inch shells left.
"Please, anyone, don't be mad at your Taco Bell. We can't control when manufacturers have problems. Like with the change in chips. It frustrates us just as much as it does you."
Another user also described the "tortillapocalypse" which is happening at the Taco Bell where they work.
"There's a warehouse shortage (nationwide, I believe) of 10" tortillas, which, if you don't know, is like half the menu. So what this means is: no burritos, quesadillas, Quesaritos, grillers, etc.
"We don't know how long this is going to last, but I do know that we can replace some items in the $5 boxes (Cravings and Nacho Fries) with Chalupas or another item. I hope this ends soon, cause at my restaurant, we're down to our last box."
In a statement, Taco Bell confirmed that some stores are experiencing a shortage, but did not reveal the scale or when it will be resolved.
A spokesperson confirmed to Newsweek: "While some Taco Bell restaurants are experiencing supplier shortages, we are working diligently to replenish the supply of our tortillas (used for products like quesadillas and burritos) in those restaurants and encourage fans to try any of our other delicious menu items like the Power Menu Bowl or Cheesy Gordita Crunch in the meantime. We apologize for any inconvenience this might cause and appreciate our customers' patience."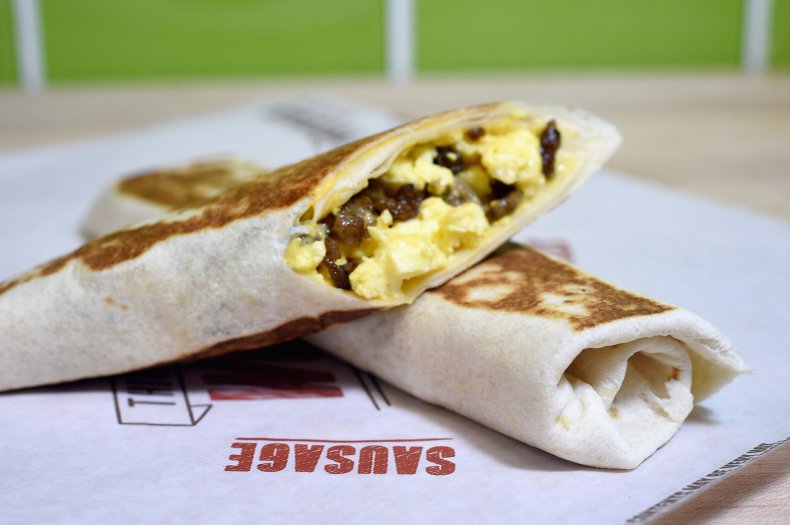 This article was updated to include a statement from Taco Bell.