Taco Bell Triplelupa: Where to Buy the New Chalupa, Launch Date, Flavors, Prices
Taco Bell is adding the Triplelupa—the fast-food chain's longest ever shell and first-ever tear-away item—to its menu.
The Triplelupa is a twist on the Chalupa, as it combines three mini Chalupas of three different flavors into one long tear-away dish. Taco Bell's Triplelupa will be available to purchase for $3.59 on March 12 for a limited time and will be served at participating restaurants.
Taco Bell's Triplelupa features double the amount of beef of a regular Chalupa and features a Nacho Cheese flavor on one end, Chipotle on the other end, and Cheesy Chipotle—which is a combination of the two—in the middle.
The 9.25-inch shell can be torn in three, so Taco Bell guests could order one each to sample all three flavors, or share with their friends.
Taco Bell introduced the Chalupa to its menu in 1999 and has since reinvented the dish by changing up its shape, form, and ingredients ever since. In 2000, Taco Bell created the Baja Chalupa, the Double Chalupa arrived in 2017, and 2019 saw the Toasted Cheddar Chalupa.
Other Chalupas that have been featured on the Taco Bell menu include a Bacon Club Chalupa, Steak Chalupa, XXL Chalupa, Quesalupa, Breakfast Chalupa, and the Naked Chicken Chalupa.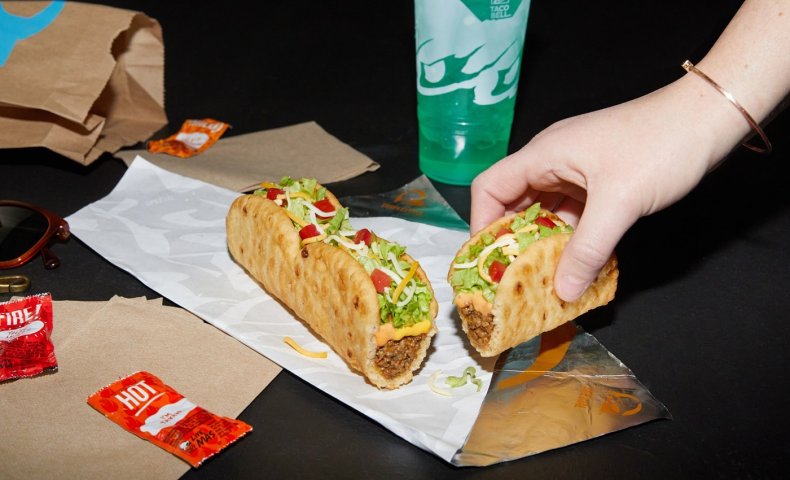 The Triplelupa is the latest addition to Taco Bell's Chalupa repertoire and it has been a long time coming. It was first tested back in 2018 and then again in 2019, before now being launched nationwide, albeit for a limited time.
Kristine Futalan, Associate Manager of Research and Development at Taco Bell and lead product developer behind the Triplelupa, said: "At Taco Bell, we recognize and love the fandom that the Chalupa has cultivated over the years, and it's why we want to bring our fans an all-new flavor and shell experience with the Triplelupa.
"The Triplelupa's nationwide launch gives us the opportunity to celebrate the transformation of this beloved menu item, and we can't wait for everyone to taste this latest innovation."
Additionally, Taco Bell is celebrating the launch with a TikTok partnership and contest. Keep an eye out on Taco Bell's social media, where it will be setting its followers a TikTok challenge that could end up in a national TV commercial.
Tracee Larocca, Senior Vice President of Brand Engagement at Taco Bell, said: "When I look back at our history with social trends, I'm proud of the fact that we are always leading the industry and pushing boundaries. Whether it's being the first on new platforms, or breaking records on others, Taco Bell is constantly at the forefront of online trends.
"The most natural next step for us would be to partner with a brand like TikTok, one with reinvention at their core, in order to bring the Triplelupa campaign to life."