Taco Bell World Series Promotion: How to Get a Free Doritos Locos Taco Today
Taco Bell is offering free tacos nationwide today, October 30. The free food giveaway is part of Taco Bell's "Steal a Base, Steal a Taco" campaign, and last night, during the game between the Houston Astros and Washington Nationals, the first base of the 2019 World Series was stolen. Trea Turner, Washington Nationals shortstop, stole a base during Game 1 of the series.
How to get a free Taco Bell taco?
Head to your local Taco Bell on October 30, 2019, between 2 p.m. and 6 p.m. local time to claim one free Nacho Cheese Doritos Locos Taco per person, while stocks last. The Taco would normally cost around $1.69 but will be free between these hours.
Or, order online or on the Taco Bell app to claim your free taco at any point today with no additional fee for pick up. You can also opt for delivery for a fee.
Taco Bell locations across the U.S. are offering free tacos but check with your local restaurant to make sure it's participating.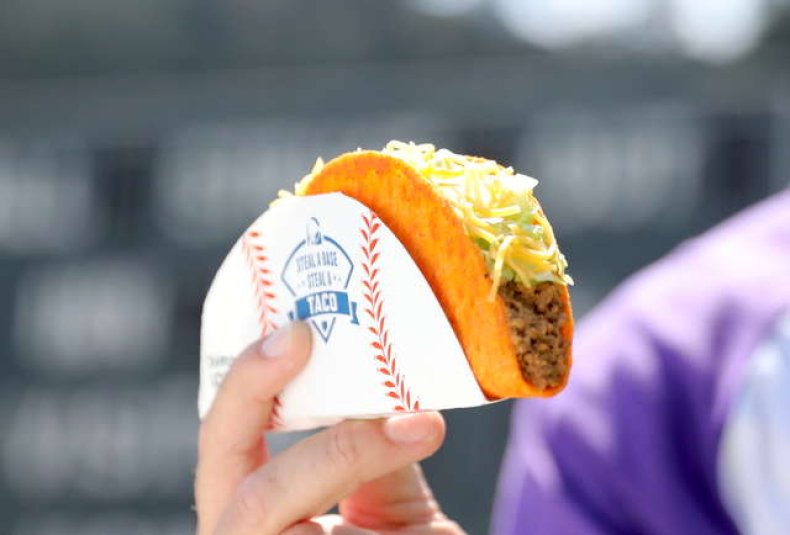 Why is Taco Bell giving away free tacos?
As part of its "Steal a Base, Steal a Taco" campaign, if a base is stolen by any player for either team during any game of the 2019 World Series championship, Taco Bell says it will offer every person in the U.S. a free taco. The campaign is running in all 50 states and Washington DC.
One person can claim one free taco during the World Series 2019, no matter how many bases are stolen.
Trea Turner, the "Taco Hero" responsible for winning every person in the U.S. a free taco tweeted: "Big win last night...and big win for America because we're all getting free tacos! Swing by @TacoBell on Oct 30th to steal your free Doritos Locos Tacos!"
According to MLB, eight players have now won the U.S. free tacos by stealing a base. The first baseball player to be hailed a "Taco Hero" was Jacoby Ellsbury, who stole a base for Red Sox in Fenway Park in 2007. Other Taco Heroes include Jason Bartlett, a Rays player (2008), Ángel Pagán, Giants (2012), Lorenzo Cain, Royals (2015), Francisco Lindor, Indians (2016), Cameron Maybin, Astros (2017), Mookie Betts, Red Sox, (2018).
Taco Bell was established in 1954 by Glen Bell who created Bell's Drive-In and Taco Tia. By 1967, there were 100 restaurants in the U.S., and in 1970, this number grew to 325. In 1978, Glen Bell sold Taco Bell to PepsiCo Inc. There are now thousands of Taco Bell locations world wide.