Tactical Engagement: Bristol Palin, Levi Johnston Make an Art of Tabloid War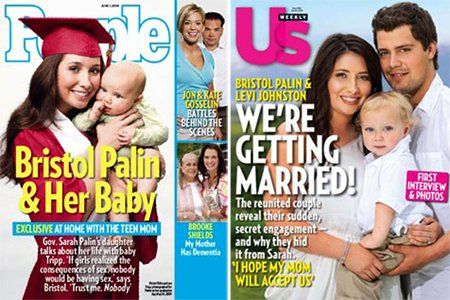 Like Thucydides, diligently recording the ups and downs of Athenian and Spartan conflict, modern scribes have worked their pens into a frenzy over the War of 2010: Bristol Palin vs. Levi Johnston. But within that bitter battle—now an all-out redneck fracas—is another conflict. Witness the sparring between Us Weekly and People.
Deliberately pitting the rival "fabloids" against each other isn't a new stratagem: check out Ali Fedotowsky, whose tweaked versions of her Bachelorette experience gave People and Us two vastly different cover stories, each hinting at different outcomes. But no one has ping-ponged "exclusives" with more underhanded aplomb, it seems, than the Bristol-Levi apparatus—and they're finally catching heat for it. Their relationship timeline in cover language:
June 2009: The Single-Lady Phase. A fresh-faced Bristol first appears apart from the rest of the Palin family on the June 1 cover of People, wearing a cap and gown and holding her son. The cover lines tout her agenda—"If girls realized the consequences of having sex, nobody would be having sex. Trust me. Nobody." Inside, she details her recovery from her public "failed engagement" to Johnston. Little does she know, it won't be her last.
July 14, 2010: And We're Back! Despite Playgirl, an unfortunate nut sponsorship, and a year-long public feud with Mama Grizzly, "Ricky Hollywood" is still Bristol's main man. Us breaks the news: They're getting married! Splashing an exclusive Holy Trinity-style photo on the cover, the magazine fills its pages with details of their upcoming wedding. Us executive editor Caroline Schaefer told NBC News, "[Bristol] wants to wear a Carolina Herrera gown … in white. She would like Levi and little Tripp to wear camo vests." Reports immediately surface that the magazine paid $100,000 for the story, but an Us rep denies it, saying the couple approached them. Reportedly, the rest of the Palin family found out about the engagement from the tabloid cover, with its leading deck, "I Hope My Mom Will Accept Us." Meanwhile People, touting its own exclusive photos and story, merely gets that the couple is back together for Tripp's sake—no hint of engagement in their feature story. The magazine relegates the news to the right-hand off-lead space, choosing "Carrie's Dream Wedding" for the cover story.
July 17, 2010: Hackles Go Up. Two days after the dueling features hit stands, Page Six drops a report that Bristol and Levi deliberately duped the rival mags, saying Palin hid her engagement ring during the People interview and shoot.
Aug. 4, 2010: Then, Two Issues Later, It's Over. They're off—this time, a People exclusive. Us Weekly ignores news of the disintegrated relationship completely—nothing on the cover, nothing on the Web site—while People runs with the dish. Quoth Bristol inside: "The final straw was him flying to Hollywood for what he told me was to see some hunting show but come to find out it was that music video mocking my family. He's just obsessed with the limelight and I got played," she says, "through tears." Still not good enough to net the cover—that honor goes to bonafide American political royalty, with the same headline as two weeks prior: "Chelsea's Dream Wedding."
But don't expect the roller coaster to stop here. As Johnston's attorney Rex Butler said in an interview with The Washington Post Wednesday: "These young folk have a lot of pressure on them right now. All you have to do is watch that [WEtv reality] show Bridezillas—it's on and off, on and off, depending on the pressures." Bristol, bridezilla? Burn. We'll grant them a few more news cycles to work it out—but if they do, will anyone believe them?