Taddeo Says She's More Democrat, more Anti-Socialist Than Opponents in Race for Florida Governor
Along her journey from Miami business owner to state senator representing a Trump district and now in an uphill run for governor in Florida, Annette Taddeo uses her life story as sword and shield to let people know who she is and what she isn't.
That story, of an air force pilot father who was kidnapped from the family farm by FARC guerrillas in Colombia, comes up time and again in interviews with Taddeo, as she explains why the tried and true, but newly potent "socialism" attacks from Republicans against Democrats won't work against her.
She made the distinction crystal clear in the announcement video for her candidacy in the Democratic primary for governor, calling the kidnappers a "Marxist terrorist group."
She has reams of criticism ready for current Governor Ron DeSantis, yet said during her announcement that she doesn't disagree with her primary opponents Representative Charlie Crist and Florida agriculture commissioner Nikki Fried in many policy areas.
But she did draw clear distinctions with them in an interview with Newsweek.
"We have to fight back," Taddeo said of the socialism charges. "My big message here is you can't simply say 'I'm a capitalist.' That's such a typical response that some Democrats say."
The comment was a veiled swipe at Fried, who in her announcement video proclaimed "I'm a capitalist. Let me say that again. Yo soy capitalista."
Taddeo said pushback against false claims from Republicans must be hard, and it "works better when it's a personal message." She added that the FARC terrorist group "was financed by the Castro brothers" in Cuba.
She's betting her background and experiences will be the key to defeating DeSantis if she's able to win the primary.
"On the socialism front, the fact that she is a daughter of a kidnapping victim by the FARC guerillas means it will be tough to make the socialism charge stick on her," a Florida Democrat, who has not taken sides in the primary, told Newsweek.
Taddeo also notes that she's a lifelong Democrat, whereas Crist is a former Republican and Fried has campaigned for Republican candidates in the past.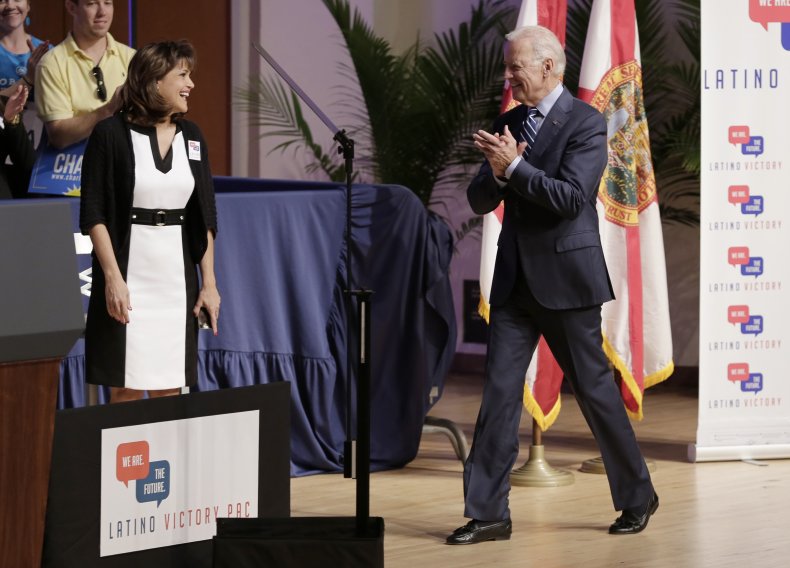 But Taddeo is also dwarfed in name recognition by Crist, who is a well-known figure among Florida Democrats having served as governor from 2007 to 2011. Fried, who is the only elected Democrat statewide in red-tinged Florida, is expected to be able to out-raise Taddeo as well.
Fernand Amandi, a plugged-in veteran Florida pollster who served as the top consultant for Obama's Latino vote program during both campaigns, said the most positive aspect of Taddeo's candidacy is that the party will have someone to bring their message on the governor's race to Spanish-dominant voters throughout the state who are pivotal every election season.
"None of the other candidates running have that," he told Newsweek.
But he said Taddeo's biggest hurdle is that she's "virtually unknown" statewide.
"We're less than 10 months from the primary election in an environment where it doesn't seem any of the Democratic candidates are raising significant amounts of money," he said, "so she's going to have a very hard time getting her message out across the state in the primary behind two candidates with near-universal name ID."
But Taddeo says she's "not concerned" about being considered behind her opponents at this point. She pointed to last governor's race in 2018, in which "the underdogs on both sides of the aisle were successful," Democrat Andrew Gillum and Republican Ron DeSantis.
"Anybody who thinks we don't have a shot is ignoring history," she added.
Taddeo, who runs a translation services company that was named one of the top 100 small businesses in Florida, said she decided to run after doing a listening tour around the state and fielding calls from people asking her to enter the race, which got stronger and more frequent as the weeks and months went by.
She saves her harshest criticism for DeSantis, targeting his actions during the height of the COVID-19 pandemic. She said his decisions against mask-wearing and vaccine mandates negatively affected business, and ultimately persuaded her to run.
"People woke up and smelled the café con leche and see that now he wants to punish businesses," she said. "The governor has no right to tell me how to run my business and what I need to do to keep my employees and customers safe. He already did it to the cruise ships, now he wants to do it to all private businesses."
"I just can't believe it," she added. "This is what Maduro does in Venezuela."
Taddeo, who represents a Cuban-American majority district that Donald Trump won, has not been shy about criticizing her own party's Latino voter outreach efforts, which she says often come too late in the cycle.
But she argues that the coalition needed to win in Florida can't just be among Latino voters, but also must include African American voters, whom she says would be energized by a Democratic ticket featuring two women of color at the top: Representative Val Demings, who is Black, and is running to unseat Senator Marco Rubio, and herself.
If Taddeo wins, she insists she won't just be a rubber stamp for President Biden. As recently as July, she told Newsweek Biden should come to Miami to address the Cuban street protests, which he did not do.
She said she hopes the far-reaching infrastructure bill will be passed soon, and said Biden's promises on immigration reforms also need to happen. But she stressed that she disagreed with the administration's policy of deporting newly arrived Haitians, who are part of a vibrant Caribbean community in south Florida.
"What's happening with Haitians and deportations is wrong and I will say that," she said. "I am supportive of the president, but I also will be critical when need be. I wish there were Republicans who had the guts to do that, but instead we are a state with a governor acting like the authoritarian regimes he warns against."