Is Tahini Safe? More Brands Recalled Over Salmonella Outbreak Link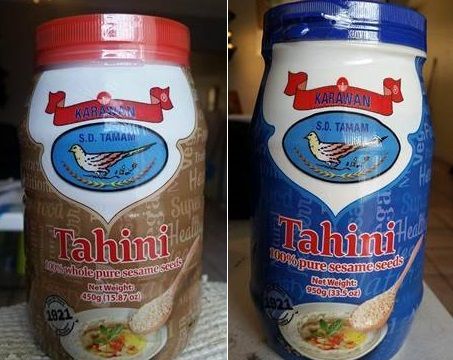 Officials investigating a potential outbreak of salmonella linked to tahini products have announced that another brand of the paste be recalled for safety reasons.
The U.S. Food and Drug Administration (FDA) said that Brodt Zenatti Holdings LLC of Jupiter, Florida, is now expanding its current recall to include SoCo brand tahini sold in 135-ounce containers, after having previously recalled its bulk Karawan brand tahini sold in 16-ounce jars and 39-pound buckets, over fears of a possible salmonella contamination.
The FDA are advising people to avoid eating any product which is labeled Karawan Tahini, El-Karawan Tahini, or Soco Tahini, and to check if they have any of these products already in their homes and discard it.
Restaurants and other retailers which may have purchased these tahini products in bulk are being urged to throw the recalled product out if they have it in stock and sanitize any surfaces the tahini may have come into contact with.
The FDA are working alongside the Centers for Disease Control and Prevention (CDC) and other health and regulatory officials to investigate the possible salmonella outbreak linked to tahini products.
On May 15, an outbreak of Salmonella Concord was linked to Brodt Zenatti Holdings Karawan Tahini and Halva brand of tahini imported from Israel.
The FDA warned restaurants and retailers not to eat, sell, or serve tahini labeled Karawan Tahini or El-Karawan Tahini, or any other food item made with this tahini, such as hummus.
There have been four reported illnesses linked to salmonella across three states (Massachusetts, New York and Texas) including one hospitalization. No deaths have been reported in connection to the outbreak.
"The investigation is ongoing and additional information will be provided as it becomes available," the FDA said in a statement.
In most cases, a person who has been exposed to salmonella will experience diarrhea, fever, and abdominal cramps after around 12 to 72 hours. The illness usually lasts around four to seven days, and in some cases requires hospital treatment.
Children under five, the elderly and those with weakened immune systems are more likely to suffer extreme infections. According to the FDA, around 400 people die each year from acute salmonellosis.
The FDA said the current salmonella outbreak is not related to a previous one that occurred earlier this year which resulted in the recall of Achdut, Soom, S&F, and Pepperwood brand tahini and Soom brand Chocolate Sweet Tahini Halva Spread and left at least eight people ill.