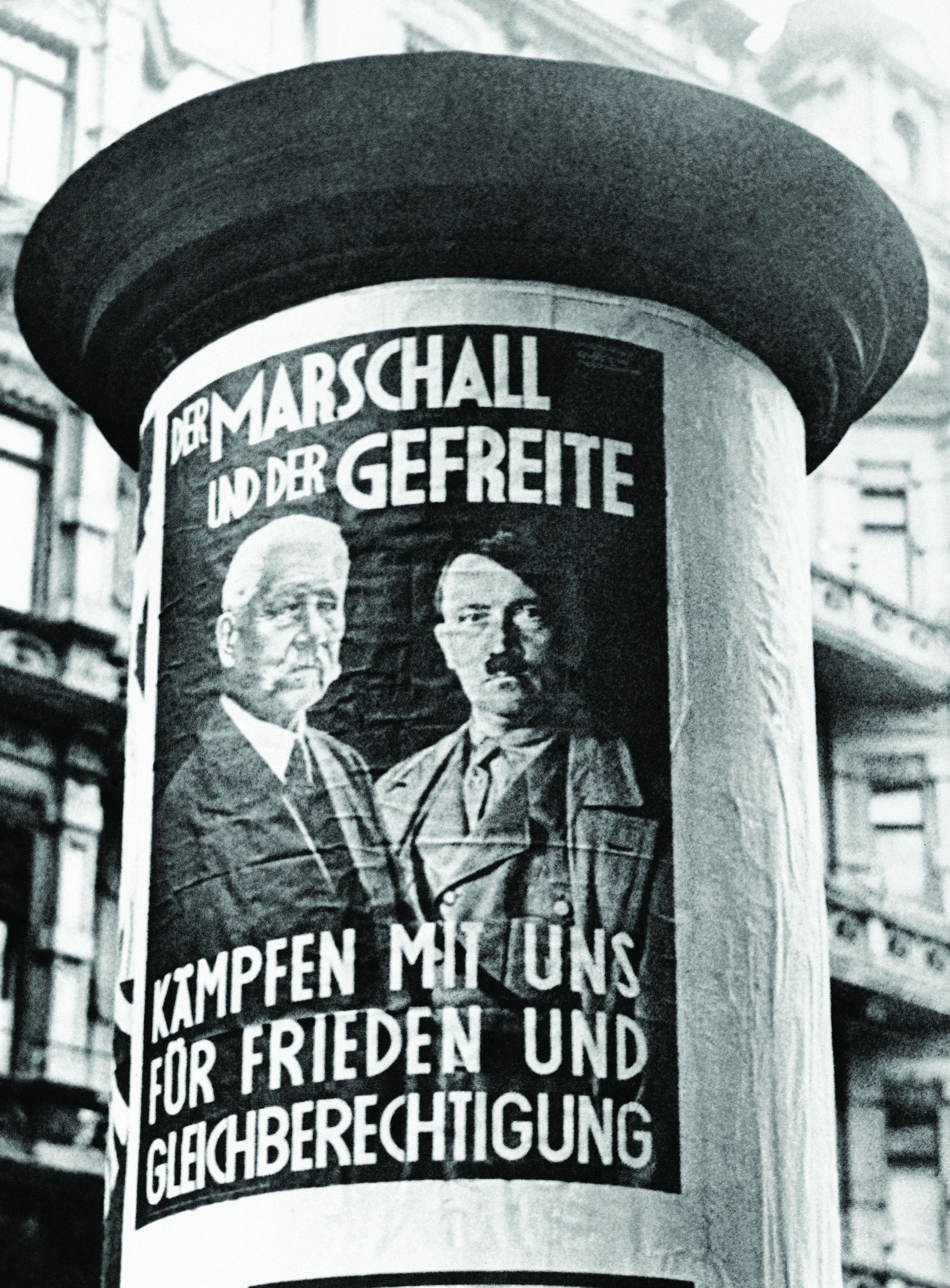 This article, and others about about one of history's most frightening figures and the rise of 21st century neo-Nazis, is featured in Newsweek's Special Edition: Hitler— The Evolution of Evil. This article is from the Newsweek archives and was originally published on November 19, 1933, by Newsweek Staff.
"Today I thank my millions of German countrymen from an overflowing heart," declared Adolf Hitler in a victory message Monday. The Chancellor had reason to be thankful. In Sunday's election and plebiscite the German people gave him a 100 percent Nazi Reichstag and overwhelmingly endorsed his domestic and foreign policies. "A farce," foreigners called this poll. "A miracle," Nazis replied. Farce or miracle, it brought the greatest turnout of voters in German history. Less than two million of the 45 million eligible voters failed to appear at the voting booths. Nearly 40 million voters approved the Nazi Reichstag slate. More than 40,500,000 voters approved Hitler's policies, notably his recent withdrawal from the League of Nations and the Disarmament Conference.
Germany never saw an election campaign as feverish as that which preceded Sunday's balloting. Other countries chortled over this election and plebiscite, declaring that neither would indicate public sentiment, but the Nazis took both very seriously and spun every wheel in their magnificent propaganda machine to make the returns impressive. For a week before the election all non-political public meetings were prohibited, while hundreds of political gatherings were held every day. Posters showing Hitler and President Paul von Hindenburg side by side glared from every billboard. Businessmen, university professors and Nazi labor leaders demanded public support for Hitler. So did former Crown Prince Wilhelm. Hitler himself made 15 speeches.
His most important was made last Friday and was broadcast throughout Germany and many other countries. According to the Nazis, Friday's ceremonies were "the greatest demonstration the world has ever seen." At 1 o'clock in the afternoon whistles shrieked, traffic halted and the entire people observed a minute of silence. A few minutes later Hitler began the speech to which every citizen had been ordered to listen before radios in homes, schools, offices and factories. All through Germany, work was stopped for an hour, so that no one need miss the Chancellor's utterances.
Standing on a dynamo in a huge Berlin factory, and facing a battery of microphones, Hitler, dressed in his brown Nazi uniform, harangued an audience of workmen perched on beams and machines. His theme was peace, national honor and equality with other countries. "Germans are not bootblacks for other nations," he shouted, "no—either equal rights or the world will not see us again at any international conference." Next day, while other countries were observing Armistice Day, President von Hindenburg, Germany's idol, complimented Hitler's "courageous, strong and positive leadership," and appealed to all Germans "to show tomorrow your national unity and your cooperation with the government."
As soon as the voter had cast his ballot Sunday, he was sold a 2-cent aluminum button marked "JA, 1933": "Yes, 1933," signifying that he had been to the polls. Nazis intimated that it would go hard with any voter found without a button when the polls closed. They also intimated that anyone who voted against the government in the election or the plebiscite was a traitor.
Considering the courage required, it is surprising that more than 7 percent of the voters cast anti-Hitler ballots in the former and more than 6 percent in the latter. Badgered by rumors of secretly numbered and watermarked ballots, which would reveal voters' identities, suspicious Germans were not reassured when election returns were issued through the Ministry of Propaganda.
Entering the polling place, the voter was handed two ballots. On one was a list of Nazi candidates for the Reichstag—that and nothing more, for all other parties have been killed or compelled to commit suicide. If he did not choose to vote for Nazi candidates by marking a cross in a circle, he either left the ballot blank or marked it incorrectly. On the second ballot was this question: "Dost thou, German man or German woman, approve of the policy of the Reich Government, and art thou ready to acknowledge this policy as the expression of thy own viewpoint and will, and solemnly to pledge thyself to it?" This he or she would mark "Yes" or "No," if he did not wish to invalidate it. Probably most of those who cast invalid ballots did so purposely.
This article was excerpted from Newsweek's Special Edition: Hitler— The Evolution of Evil. For more on Hitler's reign and the parallel rise of extremism today, pick up a copy today.