Taiwan Attacks China over 'Dollar Diplomacy' with Former Ally Dominican Republic
The Dominican Republic severed its diplomatic ties with Taiwan on Tuesday, forging an allegiance with China and sparking anger in Taipei.
The Caribbean nation's chancellor, Miguel Vargas, signed an agreement in Beijing with the country's top diplomat, State Councilor Wang Yi, recognizing "that there is but one China in the world," according to the state-controlled news outlet Xinhua.
The move signals an end to the ties the Dominican Republic forged 77 years ago with Taiwan—the self-ruled island where the Chinese Nationalist Party established a government in 1949 after losing the civil war to the Chinese Communist Party. Beijing considers the island a breakaway province and eyes reunification.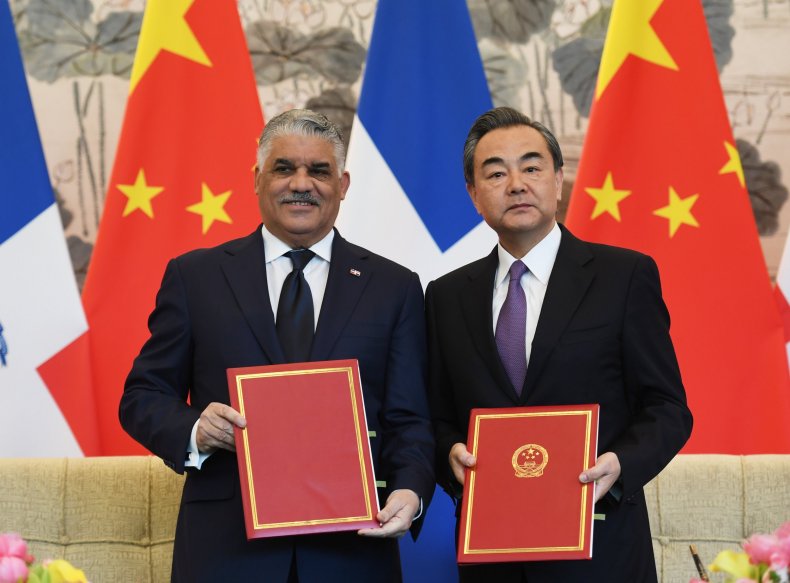 Taipei reacted angrily at the move. In a statement, the Taiwanese foreign ministry said it was "deeply upset" at China and that it would immediately cease all projects and assistance to the Caribbean nation since it accepted Beijing's "false promises of investment and aid."
"We strongly condemn China's objectionable decision to use dollar diplomacy to convert Taiwan's diplomatic allies," the statement read. "Beijing's attempts at foreign policy have only served to drive a wedge between the people on both sides of the Taiwan Strait, erode mutual trust, and further harm the feelings of the people of Taiwan."
A foreign ministry source in Taipei told Reuters that China offered $3.1 billion in aid and investment projects, an offer Taiwan could not match. The Chinese foreign ministry denied that any funding was attached to the decision, but said that now that relations were established, bilateral cooperation would follow.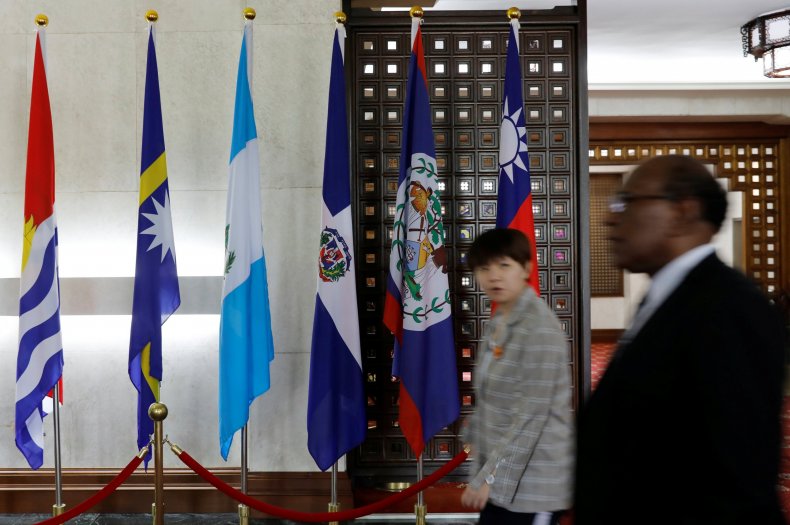 Taiwan now only counts 19 diplomatic relations with foreign governments, mostly island states in the Pacific (Kiribati, Nauru, the Solomon Islands, Tuvalu, the Marshall Islands and Palau) and small countries in Latin America and the Caribbean (Belize, El Salvador, Nicaragua, St Kitts and Nevis, St Vincent & the Grenadines, Guatemala, Paraguay, Honduras and Saint Lucia).
Taiwan also only counts two allies in Africa, Burkina Faso and Swaziland, and only one in Europe, the Holy See. The latter is rumored to be considering a switch in its pursuit of better relations with China, as The New York Times indicated earlier this year, mostly depending on a deal on the appointment of bishops.
China, who won over Panama from Taiwan last year, warned Taipei's remaining allies in March that recognizing Beijing as the "one China" was the "general and irresistible trend."
"Upholding the 'one China' principle and not having official contacts with Taiwan has already become one of the international norms for countries to follow," Wang said, quoted in Reuters.
Burkina Faso foreign minister Alpha Barry told Bloomberg last year his country had received "outrageous proposals" from China, but that it would not reconsider its relationship to Taiwan.