Taiwan Calls for Democracy in Hong Kong as Anti-China Forces on Both Islands Face Down Beijing
Taiwan's foreign minister has come out in support of pro-democracy protesters in Hong Kong as unrest in the territory continues following weekend protests marred by violence.
In a tweet sent Monday, Joseph Wu said it was time for Hong Kong residents to be granted universal suffrage and full control over choosing their representatives.
Wu's message of support for pro-democracy activists in Hong Kong came amid perhaps the most intense resistance against Communist Party rule from Beijing since control of the semi-autonomous territory was passed from British to Chinese rule in 1997.
The ongoing unrest in Hong Kong stems from a proposed bill that would have allowed the extradition of criminals from Hong Kong to mainland China. Opponents feared this would enable Beijing to target political opponents in the territory and undermine the "one country, two systems" agreement reached before control of Hong Kong was handed back to China. This system affords Hong Kong residents greater personal and political freedoms than those living on the mainland.
Weeks of protests have rocked the city, pitting millions of citizens against Beijing-backed police. At times, demonstrations have broken down into running battles, with riot police firing tear gas and rubber bullets. And on Sunday, suspected pro-government criminal gangs stormed a subway station in the northwest of the territory and attacked passengers suspected of pro-democracy sympathies.
For their part, activists have also stormed and ransacked the city's legislative headquarters and defaced the China Liaison Office in the city center.
"It is sad to see the rule of law eroding and the divide between the people and the government widening in Hong Kong," Wu wrote. "The way forward is genuine democratic elections, not violence in the streets and MTR stations. The freedom and human rights of the people must be protected."
Though the government eventually shelved the extradition proposal after protracted demonstrations, it did not commit to its full withdrawal. Activists have since demanded a total cancellation of the bill, the resignation of Chief Executive Carrie Lam and universal suffrage.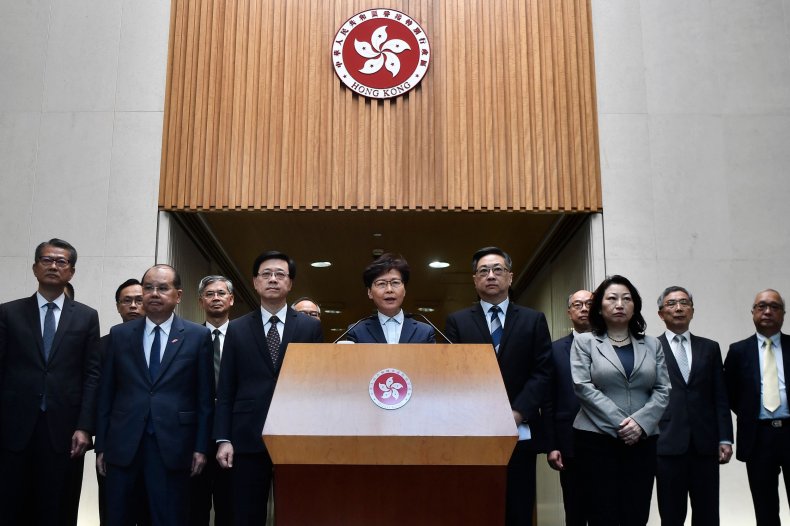 Hong Kong citizens can currently vote for their chief executive, but the candidates are carefully vetted and chosen by the Communist Party in Beijing.
The protests are the biggest domestic challenge to Chinese President Xi Jinping since the 2014 pro-democracy Umbrella Movement—which also took place in Hong Kong—dissipated.
As protesters ran wild in Hong Kong's legislative building, defacing lawmaker portraits and openly flying British flags, many wondered how Xi—now president for life and unquestioned leader of the Communist Party—would respond.
Xi—and by extension the Communist Party—rarely appears weak. He has successfully raised China's profile on the world stage and prosecuted a far-reaching domestic purge of powerful officials believed to be corrupt or untrustworthy, while securing a host of important government portfolios and consolidating a team of supporters at the upper levels of the party.
The president has also overseen a colossal crackdown on Chinese Muslims suspected of disloyalty in the western Xinjiang province, where more than 1 million people have been detained in re-education camps in what has been described as a "cultural genocide."
But the strongman president has not been able to solve all of China's problems. Hong Kong and Taiwan represent dual thorns in Xi's side. The continued political and personal freedoms on both islands inherently pose a challenge to Beijing's assertion that liberty is neither required nor desirable in a prosperous and stable nation.
Taiwan, of course, poses a different challenge than Hong Kong. Beijing considers the island—officially called the Republic of China and independent for more than 70 years—part of China. Under its "One-China" policy, the Communist Party has retained its commitment to reabsorbing the nation, whether through diplomatic or military means.
Taiwan has benefited from U.S. support, with lawmakers in Washington keen to restrain Communist China and protect a valuable strategic, democratic ally in East Asia with weapons deals and regional military deployments.
Under Xi, China has been ramping up diplomatic efforts to bring Taiwan to heel. Beijing has pressured several nations to switch allegiance from Taiwan to China, according to Taipei, by using so-called "dollar diplomacy" to secure their support. In May, for example, both the Dominican Republic and Burkina Faso threw their lot in with Beijing.
China has also tried to isolate Taiwan from global diplomatic bodies. Beijing has blocked Taiwan from attending the annual meeting of the World Health Organization's decision making body for the last two years, even refusing to allow representatives to attend as observers.
Major multinational corporations are also under pressure over how they describe Taiwan. Earlier this year, for example, Beijing warned at least 44 airlines not to list Taiwan and China as separate countries on their websites and gave them a deadline to comply, CNN reported.
Wu sent his pro-democracy tweets while accompanying President Tsai Ing-wen on a trip to visit diplomatic allies in the Caribbean. To the chagrin of Beijing, Tsai stopped off in the U.S. on her way to and from the meetings.
President Donald Trump's anti-China stance offers hope in Taiwan that the U.S. may offer stauncher support for the island. A recent $2.2 billion weapons deal—which will include 108 M1A2 Abrams tanks, 1,240 TOW anti-tank missiles and 250 stinger anti-aircraft missiles—lends credence to this theory. Beijing is clearly worried too, and has been warning the U.S. not to meddle in what it considers to be a domestic affair.
Tsai's ruling Democratic Progressive Party—which refuses to recognize the "One China" policy—has been quick to voice its support for Hong Kong's anti-China demonstrators. "The Hong Kong government has been unwilling to listen to Hong Kong people's calls for democracy," party spokesperson Lee Yen-jong said in a statement, according to The Straits Times. "This is a main cause of increasing social disturbance there."
Taiwan is even reportedly considering offering asylum to Hong Kong protesters sought by the authorities after the storming of the LegCo building earlier this month.
Chinese officials have largely avoided commenting on the unrest in Hong Kong, leaving most of the talking to state-backed media organizations which have blamed foreign influence for the chaos.
But Chinese Foreign Ministry spokesperson Geng Shuang addressed comments to lawmakers in Taiwan on Tuesday, warning them not to get involved, The Straits Times said.
"I just want to remind some people on the island not to make irresponsible remarks about Hong Kong affairs in order to promote their own existence and to attract the world's attention," Geng said. "These little tricks are doomed to be unsuccessful."