Taiwan's Offer of Amnesty for Hong Kong Protesters Draws Fire from Mainland China
As demonstrations continue in Hong Kong, Taiwan's offer to provide political amnesty to protestors has angered officials in Beijing.
Protests have rocked the streets of city since June, when the Hong Kong government announced it was considering a bill that would allow residents accused of crimes to be extradited to mainland China.
In July, President Tsai Ing-wen implied Taiwan would consider asylum on humanitarian grounds to "friends from Hong Kong."
Taiwan's Act Governing Relations With Hong Kong And Macau stipulates "necessary assistance shall be provided to Hong Kong or Macau residents whose safety and liberty are immediately threatened for political reasons."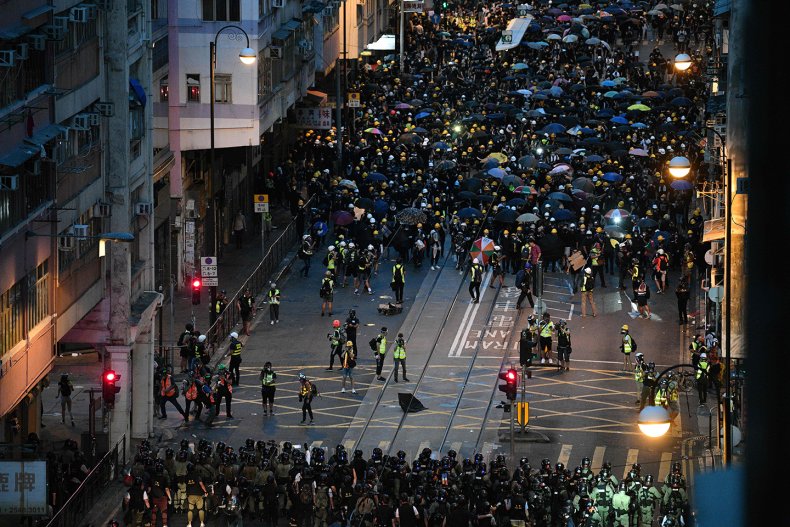 On Monday, Ma Xiaoguang, a spokesman for the Chinese Cabinet's Taiwan Affairs Office, criticized the offer.
"By turning a blind eye to the facts and confusing right and wrong, the DPP [Taiwan's ruling Democratic Progressive Party] authority has not only helped cover up the criminalities of a small number of violent radicals in Hong Kong, encourage their acts of messing up Hong Kong, but also announced protection for them," Ma said, according to Chinese news agency Xinhua. "Such acts will make Taiwan a 'haven sheltering criminals.'"
The South China Morning Post reports that applications to relocate to Taiwan from Hong Kong have increased by 45 percent since the protests began. Hong Kong residents require a visa to visit Taiwan, and can stay for up to a month, and can also apply to stay for another month once they land.
Although the extradition bill has been shelved by Hong Kong's government, the protests continue. Police have reportedly made 700 arrests since June. Protesters currently demand protections for those arrested, as well as increased accountability from the police and protections for pro-democracy activities.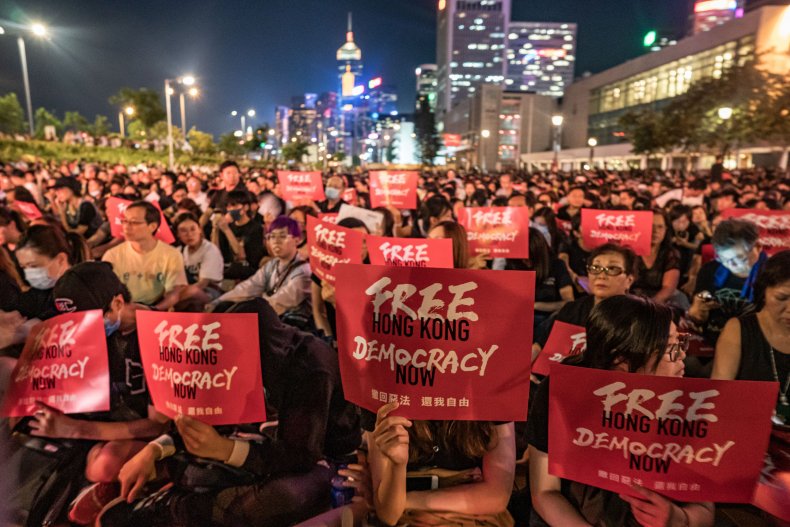 Taiwan occupies a unique place in the East Asian political ecosystem: Established after the mainland fell to the Communist Party, Taiwan operates as a self-ruled territory with a democratically elected government. But Beijing considers it part of China, and it has diplomatic relations with less than 20 countries. Taiwan is not officially recognized as a country by the U.S. or the United Nations.
According to recent polls, the Taiwanese people are fairly divided between wanting greater independence and wanting to closer align with China. The ruling Democratic Progressive Party embraces the former view and has been vocal about threats to free expression from the mainland.
Hong Kong is protected by the Basic Law, which guarantees the island's right to establish its own government. Critics, however, claim that mainland China is already limiting that freedom.
Last week, China's paramilitary People's Armed Police held trainings in Shenzen, just across the border from Hong Kong, which has some concerned that a larger military crackdown could eventuate.
Correction: An initial version of this story referred to Taiwan as a semi-autonomous territory. It is a self-governing nation.