China's Fighter Jets, Bombers, Drones Flood Skies Near Taiwan: State Media
Chinese aircraft have been dispatched into the skies near Taiwan as regional tensions mount following the visit by U.S. House Speaker Nancy Pelosi to the self-governing island.
Chinese state media outlet CCTV reported that the Eastern Theater Command Air Force and the Eastern Theater Naval Air Force had sent "hundreds of fighters, bombers and other multi-type fighters to the airspace" in the northern, southwest and southeast of the island on Thursday.
The missions included exercises in joint reconnaissance, aerial assault, support cover and other tasks, the outlet said, according to a translation. In addition, more than 10 destroyers and frigates were deployed in the waters around Taiwan.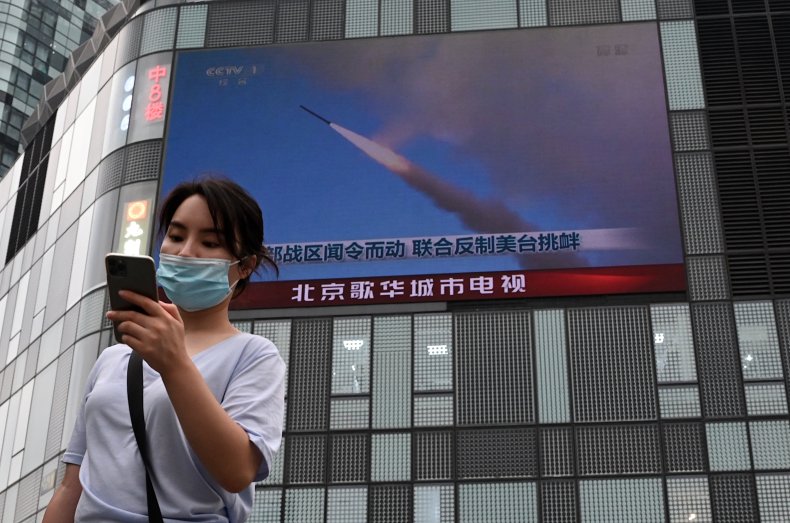 The operations included working with "friendly and neighboring forces to conduct reconnaissance and guidance," the outlet reported.
Taiwan condemned China's launch of ballistic missiles into waters around the island, accusing Beijing of "following the example of North Korea." Pyongyang is an ally of China, and has been accused of igniting tensions in recent months by repeatedly holding missile tests.
Taipei's statement also called for Beijing to "exercise self-restraint" and urged other countries "to speak up in support of a democratic Taiwan."
Meanwhile, Chinese Foreign Minister Wang Yi defended the exercises and said Beijing could "not allow its core interests to be hurt".
China sees Taiwan as a breakaway province, and although it's not officially recognized by the U.S., Washington maintains a strong relationship with the island. Pelosi is the most senior U.S. figure to visit Taiwan in 25 years.
Steve Tsang, director of the China Institute at London's School of African and Oriental Studies (SOAS), said the exercises were a demonstration by China to "blockade Taiwan" and potentially put a choke-hold to the global supply chain for the island's critical products like semiconductors.
He told Newsweek that it would also give the U.S. and Taiwanese intelligence communities a good opportunity to examine China's capacity to mount such an operation and what can be done to counter it.
"The fact that China needs to mount such a show of force and capabilities reflect (President) Xi's poor grasp of U.S. politics and commitment to Taiwan," he told Newsweek.
He said that the Chinese threats that preceded the House Speaker's arrival "ensured that Pelosi would persist in the visit," and as such, necessitated a demonstration of Chinese force.
"This miscalculation is an important lesson to highlight, as no party will want a war between the USA and China over Taiwan, but miscalculation can result in unintended escalation," Tsang added.