Taiwan Deploys 15 More Helicopters Amid Tensions with China
Taiwan has deployed 15 Apache attack helicopters amid increasing tensions with China, according to local reports.
The English-language newspaper South China Morning Post reported that a new squadron of Apache helicopters was commissioned at Taiwan's northern Longtan Air Base on Tuesday, increasing its number to a total of 29 aircraft for the 601st Brigade.
Taiwan's decision to incorporate more helicopters follows strained ties between Beijing and Taipei. The former halted talks due to Taipei's refusal to endorse the reunification of China known as the 1992 Consensus. The Chinese government also increased its military presence by conducting air and naval drills near Taiwan, further ratcheting up pressure on Taipei.
Taiwanese President Tsai Ing-wen described the commissioning of new helicopters as "an important milestone" for Taiwan's "multiple deterrence," to be prepared if an invasion were to occur. "By stationing the two squadrons in Longtan, the military aims to allow the brigade to intercept an enemy's landing corps that could make inroads into Taiwan from the north coast," an unnamed military source told the South China Morning Post.
Despite the tense Beijing-Taipei relationship, Timothy Heath, a senior international defense research analyst at the Rand Corp., told Newsweek the military deployment "probably had little to do with any political or diplomatic developments. The Taiwan military received the first group of helicopters in 2014 and required several years of training before they could be proficient in operating the aircraft. It seems the Taiwan military has completed the required training."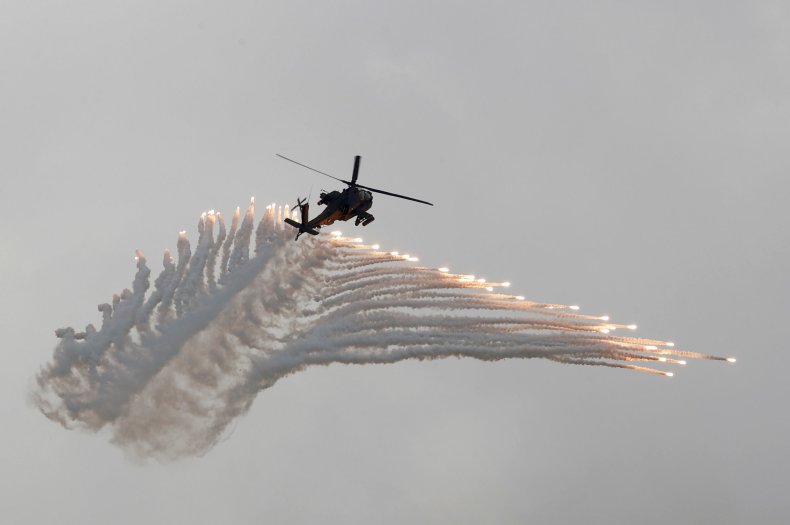 Relations between China and Taiwan have frayed since Tsai became president of Taiwan in 2016. China regards Taiwan as a province, although the island has been governed independently since 1949.
Tsai has refused to acknowledge the 1992 Consensus. As a result, Beijing is suspicious that the Taiwanese leader hopes to advocate for formal independence, although Tsai has said she is committed to maintaining the status quo, according to Reuters.
Chinese President Xi Jinping harshly rebuked Taipei for its stance against reunification in March, when he said "any actions and tricks to split China are doomed to failure and will meet with the people's condemnation and the punishment of history. The Chinese people share a common belief that it is never allowed and it is absolutely impossible to separate any inch of our great country's territory from China."
But the Chinese president took a more placating tone when he met former Taiwanese Premier Lien Chan last week. "We have the confidence and ability to keep a firm hold on the correct direction, work for the peaceful development of cross-strait relations and advance the process toward the peaceful reunification of China," Xi said.
Tensions between China and the United States have recently increased over America's position on Taiwan. The U.S. is required by the 1979 Taiwan Relations Act to sell defensive weapons to Taiwan and provided more than $25 billion in arms to the island between 2007 and 2018. The Trump administration's diplomatic overtures toward Taiwan, including the approval of $1.42 billion in arms sales last year and promotion of diplomatic relations between the Washington and Taipei, have drawn criticism from China.