Magnitude 6.4 Earthquake Rattles Taiwan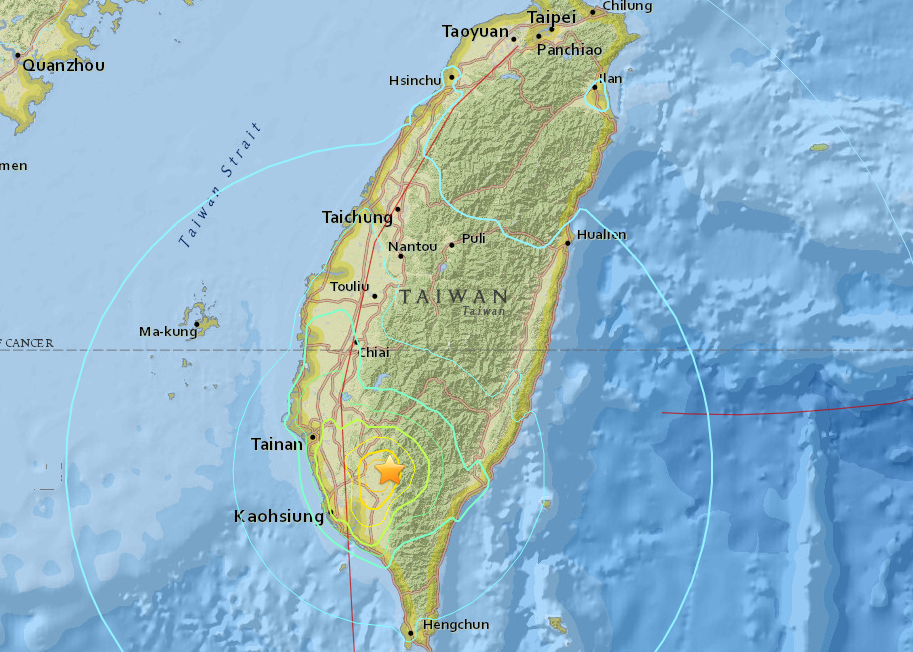 Updated | A magnitude 6.4 earthquake has struck southern Taiwan, according to the United States Geoglogical Survey (USGS).
The quake occurred 16 miles south of the city of Yujing and arond 400 miles east of Hong Kong, according to USGS. It struck at a shallow depth of 6.2 miles, according to USGS. The earthquake was of "severe" intensity, according to a USGS ShakeMap, which ranks the level of perceived shaking during an earthquake.
Emeli Drakfors, a 22-year-old from Sweden living and studying in Kaohsiung, southern Taiwan, says the earthquake "really freaked me out." Kaohsiung is about 31 miles south of Tainan, the city close to the earthquake's epicenter.
"It's the second earthquake I experienced since I got here, but this one was a lot stronger than the first one," Drakfors tells Newsweek via Twitter. She says the earthquake lasted for about a minute or so and her building, where she lives on the eighth floor, "was rocking from side to side after the quake ended."
She adds: "The lights were blinking and the Internet in our flat was acting up for a while afterwards, A lot of my friends woke up from it, it was around 4am here when it happened."
The Taiwanese government said there's no tsunami warning related to the quake, Drakfors says. There have been no reports of injuries.
A public alert posted on Google warning people about safety hazards after earthquakes said to "expect aftershocks hour, days, or weeks after the main quake." Reuters reported that Taiwan's Central Weather Bureau also measured a second quake of 4.3 magnitude centered in Tainan.
This article has been updated with information from Emeli Drakfors.