Taiwan Fights Off Chinese Invasion In Mock Warfare Drills
Taiwan will simulate taking on an invading force in war games next week amid its increasing tensions with China.
Taipei will conduct exercises in which it will repair a major air base and use civilian operated drones, Reuters reported.
The annual Han Kuang drills, which start on April 30, make no mention of China, only "offensive forces invading Taiwan" and will include a live-fire field training exercise and "enemy elimination on beaches."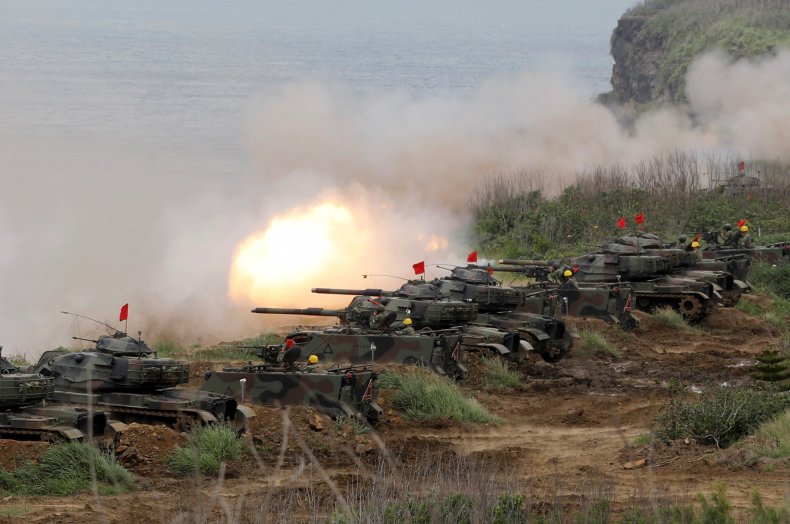 Drones will aid with battlefield surveillance, building companies with runway repairs for the Ching Chuan Kang airbase and there will be air defense drills and exercises with the navy. Live fire drills will take place between June 4 and June 8 in what will be the first time civilian forces will work with other government branches.
"Civilian resources will also be integrated into this exercise to support military operations," Taiwan's defense ministry said.
In January, Taiwan held a military drill at the Port of Hualien using reconnaissance planes and F-16 fighter jets.
China's claim on Taiwan, which has autonomy, has become more vociferous after the election of Tsai Ing-Wen as president, from the pro-independence Democratic Progressive Party.
China has breached Taiwan's sea and air borders over the last year during its increased military maneuvers. On April 18, it undertook live-fire military exercises.
Chieh Chung, from the Taipei-based think tank, the National Policy Foundation, said Beijing's actions were part of its mind games with its neighbor.
"What is worth noticing is that over the past one or two years, Beijing has regularly taken advantage of these cheap, routine, small-sized, regional drills to serve its purpose of psychological warfare against Taiwan," he told Channel News Asia.
The U.S. recognizes Beijing's One China policy but has stated it would defend the island against any Chinese invasion and equipped it with American-made weapons.
In a survey conducted in January by the Taiwan Foundation for Democracy, 68 percent of people said they would join the army or find other means of resistance should China invade.
Some 55 percent of people said they would go to war for Taiwan's independence while 91 percent said they preferred the status quo, whereby it kept its de facto sovereign status.
Only 1.5 percent of people believed Taiwan should be reunited with the mainland, the National Interest reported.