On Taiwan, Moral Courage from the Czech Republic | Opinion
Individual acts of moral and civic courage, whether on the local or international level, are indispensable to the struggle against tyranny. Today, democratic Taiwan faces such a struggle, as mainland China threatens to subvert its freedom as it did in Hong Kong or even launch a military assault. Earlier this month, president of the Czech senate Milos Vystrcil stood up to the Chinese Communist Party's threats by visiting Taiwan with a 90-member delegation. Voicing solidarity with the Taiwanese people, Vystrcil drew upon the tradition of moral dissent that inspired Charter 77, when Czech dissidents like Jan Patocka and Václav Havel initiated public acts of moral defiance in the face of communist oppression.
The Global Times, a Chinese nationalist tabloid, accused Vystrcil of being a "rule-breaker"—a label he should proudly embrace. China threatened economic revenge, canceling a 5 million Czech Crown (188,000 Euro) deal with piano manufacturer Petrof. Another Czech politician, European Parliament member Tomás Zdechovský, stepped up and arranged for the pianos to be purchased by a Czech billionaire and donated to public schools.
These actions ought to inspire a Western public grown cynical after decades of accomodationism. But thanks to today's bureaucratized, collectivized international human rights politics, other European leaders have not followed Vystrcil's lead. In the Czech Republic itself, Vystrcil's visit was criticized by the parties comprising the parliamentary majority and by China-friendly president Milos Zeman.
The majority of EU responses to China's egregious human rights atrocities and pandemic malfeasance have been soft—waffling between talk of "partnership" and "systematic" rivalry amid fears of losing business. European leaders hide behind the unpopularity of U.S. president Donald Trump to avoid adopting a morally coherent policy on China. They would rather risk having the Chinese Communist Party indirectly control their Huawei 5G networks than cooperate with the United States to prevent Chinese cyber-hegemony.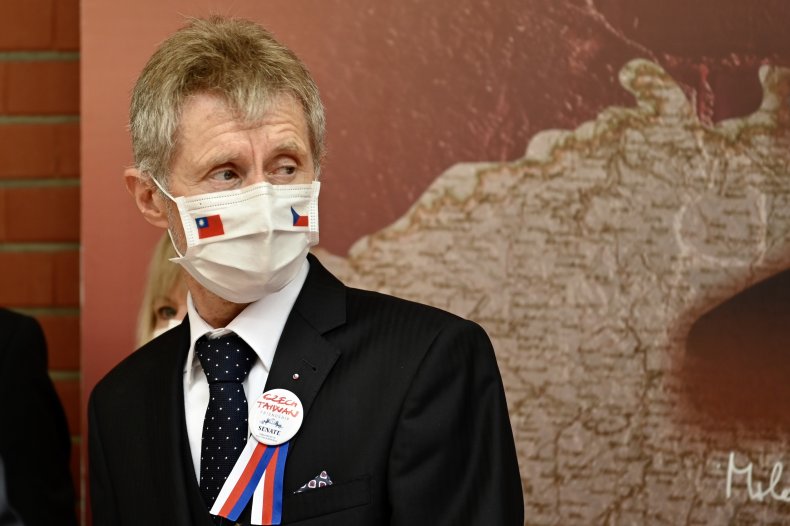 But human rights need not take a back seat to Europe's economic interests. EU-wide, Chinese investment accounts for less than four percent of total foreign direct investment, trailing Hong Kong and Singapore. As a case in point, many Western observers thought Norway's trade relations with China would suffer when dissident Liu Xiaobo was invited to receive the Nobel Peace Prize in Oslo in December 2010. China complained loudly, refused to allow Liu to collect the prize, and threatened Norway with financial repercussions. Yet in the same month, one of China's largest oil companies concluded a drilling contract with Norway's Statoil. It was a clear signal that diplomatic tensions would not stop business.
European nations have also used international institutions to offer principled resistance to China's totalitarianism in the past. In 1997, Denmark insisted on sponsoring a UN Human Rights Commission resolution condemning Chinese human rights abuses. France and other European states refused to back the measure, preferring "dialogue." China threatened retaliation. But Denmark's courage energized the human rights movement and brought honor to its citizens.
Today, leaders are less willing to risk dissonance within the EU. An alliance of democratic states should defend its members when they uphold the alliance's principles; German foreign minister Heiko Maas, denouncing Beijing's threats after Vystrcil's visit, assured Czech leaders that "we as Europeans act in close cooperation." But the irony is that Vystrcil's initiative was independent of EU, and even Czech, policy. Multilateralism, designed to counter nationalism, can sometimes squelch moral action while advancing a national interest, like Germany's auto market cloaked in "Europe."
When states surrender their moral freedom in hope of consensus in international organizations, the cause of human rights is threatened. The EU must understand that standing up to Beijing is a matter of defending common Transatlantic principles and norms. The Chinese state, for its part, must understand that upholding these principles and norms, which are in the interests of people everywhere, is a condition for participation in our shared future.
China promotes multilateral organizations, knowing that without common adherence to human rights standards, they only breed moral hypocrisy and bureaucratic paralysis. Today, more often than not, they inhibit direct responses to foreign aggression and domestic oppression. The UN Human Rights Council, and the Universal Period Review Process have become showcases for China's corrupt propaganda and deception.
What China can't abide are brave leaders in democratic countries who understand and demonstrate that morality lies in the individual conscience and in universally valid principles, not in the state or in intergovernmental formations. Such leaders are the key to freedom in our common future.
Dr. Aaron Rhodes is president of the Forum for Religious Freedom Europe. Dr. Jianli Yang is founder and president of Citizen Power Initiatives for China.
The views expressed in this article are the writers' own.