Taiwan Train Derails: Driver Warned Passengers Repairs Needed Twice Before Deadly Crash
A train in Taiwan derailed on Sunday afternoon, killing at least 18 people—eight of them belonging to a single family—and injuring a further 187, as authorities tried to determine what caused the accident.
The train was travelling in Yilan County, northeastern Taiwan, between Taiwan's capital Taipei and the eastern county of Taitung. The entire train derailed at about 5 p.m. local time, with five of the eight carriages overturning. A total of 366 passengers were on the train.
The worst casualties occurred in the carriages that flipped onto their side. The family that lost eight of its members were returning from a wedding in New Taipei City that weekend, according to The New York Times.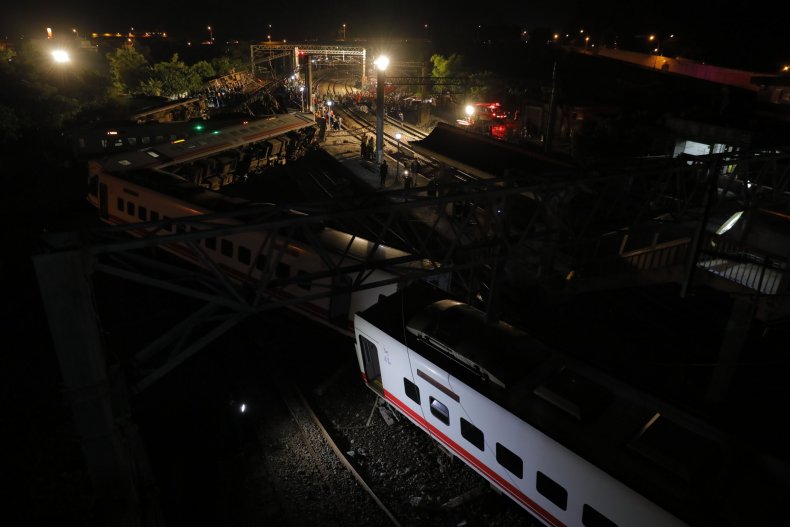 It is Taiwan's worst rail accident since 1991 when two trains collided, killing 30 people and injuring 112, according to AFP. Taiwan's president has called for a swift investigation.
"At this time of great sadness, the people of Taiwan are standing together with those affected by the train accident in Yilan," Tsai Ing-wen, president of Taiwan, wrote on Twitter Monday morning. "My government is sparing no efforts in helping the families of the victims in all possible ways."
"Everyone is concerned about the cause of the incident and I've asked prosecutors to clarify the situation…and the cause soon," Tsai told reporters on Monday at Xinma railway station, near the wreckage, according to Channel News Asia. "At this difficult time, let us all pray for the injured and hope the deceased can rest in peace."
While the cause remains unknown, many passengers described the train going unusually fast and even being told during the journey, when the train was momentarily brought to a stop two times, that there were problems that needed repairs.
Transport ministry officials confirmed on Monday that they were treating speed as a possible factor. They also revealed that 20 minutes before the train derailed, the driver reported that the air pressure in the train's brakes was "too low," according to CNN.
"The train stopped twice and we were told that there were problems that needed repair, but the train restarted not long after," one passenger told reporters, according toChannel News Asia. "We felt that the speed was too fast; then there was a crashing sound, and we flew off [the seats]," she said.
Passenger Henry Tseng, who suffered eye injuries, told Reuters, "The train was going very fast. I thought to myself: Why was it not slowing down on a curve? I hit a wall when the car started to flip. Around five to six people were thrown out of the carriage door… There's no time to think what happened. Everyone was in a rush to get out."