Taiwan Prepares for China Attack With Tanks, Warships and Fighter Jets as Tensions Spike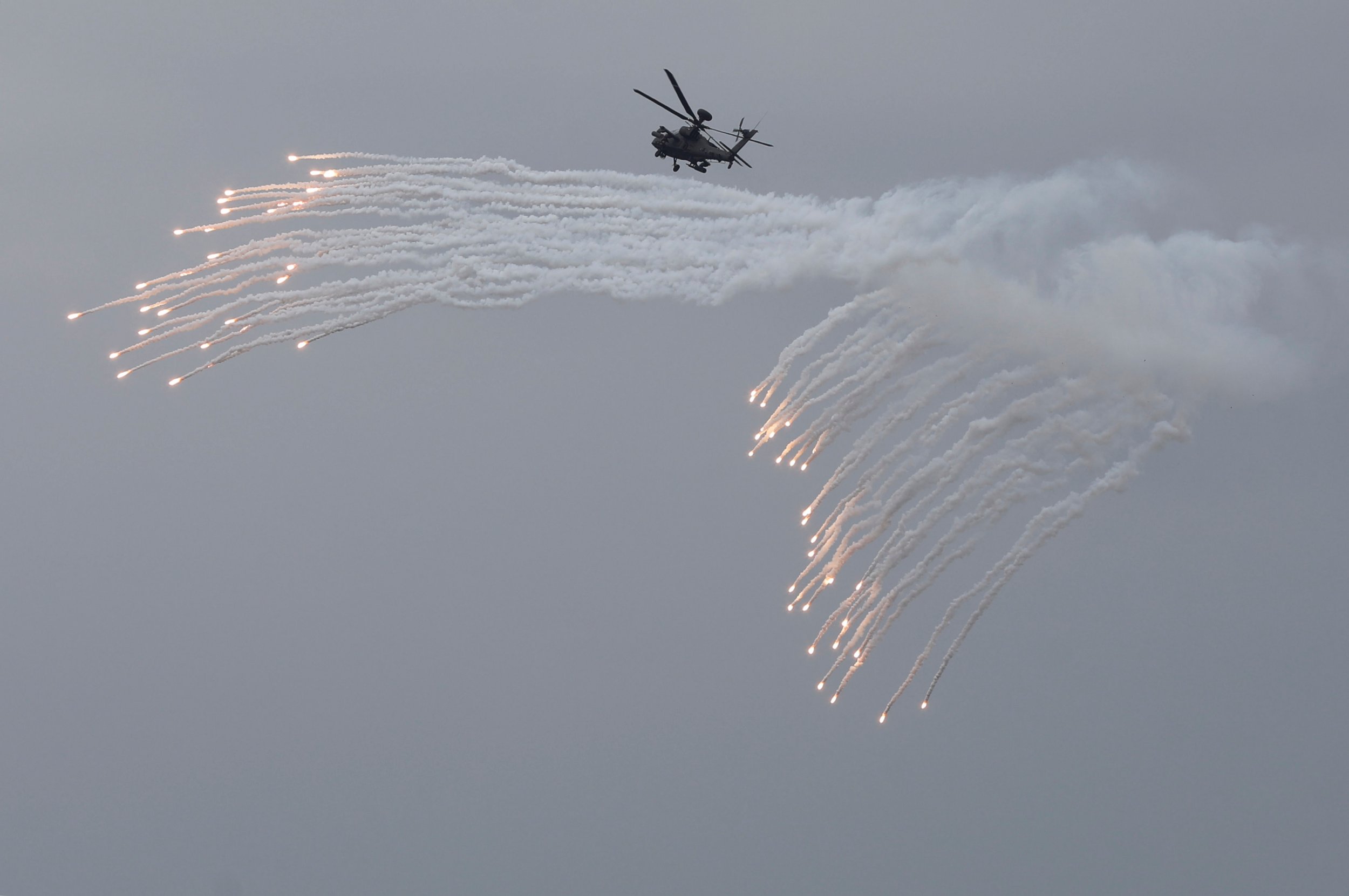 Amid heightened tensions with Beijing, Taiwan rehearsed what its armed forces would do if attacked by China in elaborate, live-fire war games.
The games took place Thursday on the Penghu Islands, situated in the 100-mile-wide strait between Taiwan and China, and included rocket artillery, tanks, warships and fighter jets.
Taiwan President Tsai Ing-wen wore a camouflage helmet and flak jacket as she watched over the drills.
"When Taiwan shows its determination to take the road of defensive autonomy, it is putting on a display to the world of our determination to protect our home and land," she said at a military base in Penghu, according to Agence France-Presse.
The preparations also included attack helicopters firing missiles and jet fighters dropping bombs, AFP reported. Photos of the war games showed missiles blasting off from trucks and flying across fields, and soliders jumping from black helicopters.
While the Taiwanese war games come during a time of deteriorating relations with China, the South China Sea has also been the site of recent tension between China and the U.S.
A U.S. Navy warship sailed within 12 miles of an artificial island built by China, causing China to lodge "stern representations" with the U.S., Reuters reported on Thursday. The incident was the first such challenge to China in the geopolitically important body of water since President Trump took office, according to Reuters.
The relationship between China and Taiwan has long been fraught. China sees the island as a province, while some people on Taiwan—a territory with its own democratically elected government—believe the island should be completely independent, according to the Council on Foreign Relations.
The U.S. is Taiwan's only ally, and it works to support Taiwan without angering China. President Trump spoke on the telephone with Taiwan President Ing-Wen after he was elected, a controversial move considering it was the first time since 1979 that the leaders of the two countries had spoken.
The Taiwanese live-fire war games were preceded by computer-aided war games earlier in the month. Taiwan's defense minister said in April that the military was switching its defensive strategy toward "multiple deterrence," which means having the ability to attack and defend simultaneously and to stop enemy forces from entering Taiwan by air, land or sea, according to The China Post.