Take the Knee Spreads to Congress: Black Caucus Member Kneels as Trump Continues to Slam NFL
A Democratic member of the Congressional Black Caucus knelt in the House on Monday in a show of solidarity with NFL players, who have enraged President Donald Trump by taking a knee during the national anthem before matches.
Sheila Jackson Lee, the representative for Texas's 18th Congressional District, also accused President Trump of racism for calling players who protested during the national anthem "sons of bitches."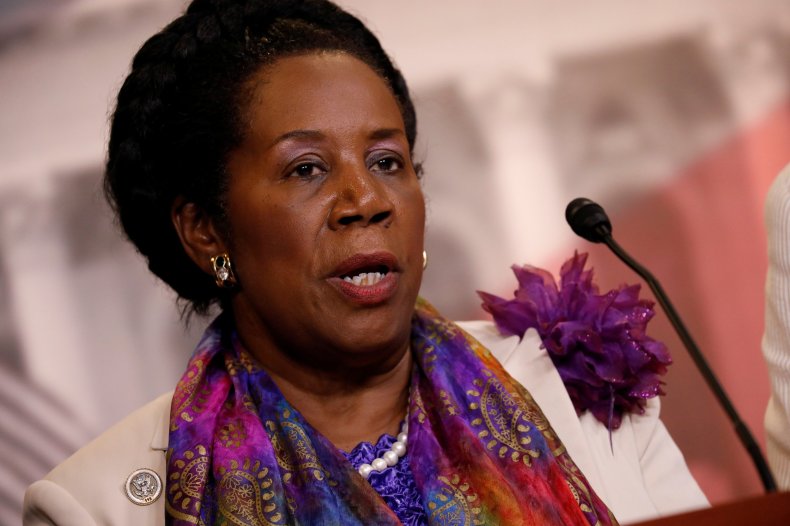 Trump launched his tirade against the NFL at an Alabama rally on Friday. "Wouldn't you love to see one of these NFL owners, when somebody disrespects our flag, to say, 'Get that son of a bitch off the field right now, out. He's fired.'"
The controversy over taking a knee during the national anthem started when former San Francisco 49ers quarterback Colin Kaepernick began kneeling in the 2016 preseason. Kaepernick, currently out of contract, said that the gesture was meant to protest against police killings of African Americans.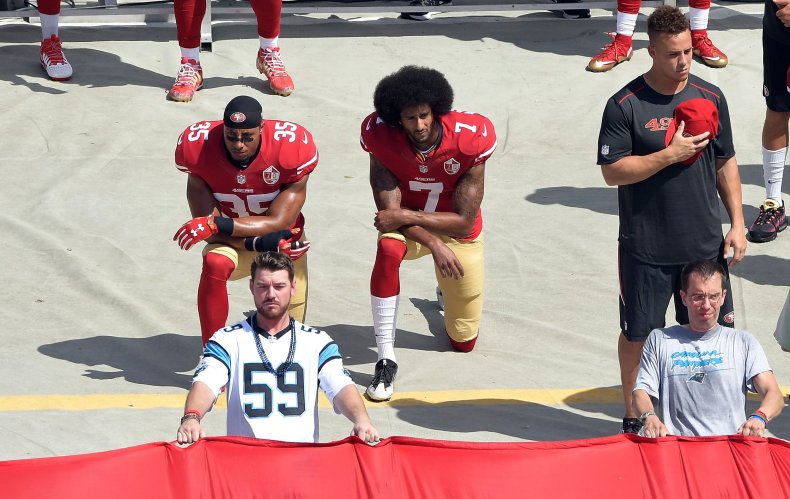 "There is no basis in the First Amendment that says you cannot kneel on the national anthem or in front of the flag," said Jackson Lee. She added that the Congressional Black Caucus would remain in solidarity with the NFL players who chose to kneel and that racism is "going to be under our knee."
"I kneel in honor of them. I kneel in front of the flag and on this floor. I kneel in honor of the First Amendment. I kneel because the flag is a symbol for freedom. I kneel because I'm going to stand against racism. I kneel because I'm going to stand with those young men and I'll stand with our soldiers and I'll stand with America—because I kneel," said Jackson Lee.
Trump's comments on Friday sparked widespread protests by NFL players and teams on Sunday. Three teams—the Tennessee Titans, Seattle Seahawks and Pittsburgh Steelers—stayed largely in their locker rooms during the national anthem at their respective games, though Pittsburgh offensive tackle Alejandro Villanueva, a former U.S. Army Ranger who served in Afghanistan, stood at the edge of the field and sung the anthem.
The entire Dallas Cowboys team, including owner Jerry Jones, linked arms and knelt briefly on the field on Monday night, but the gesture took place before the anthem started.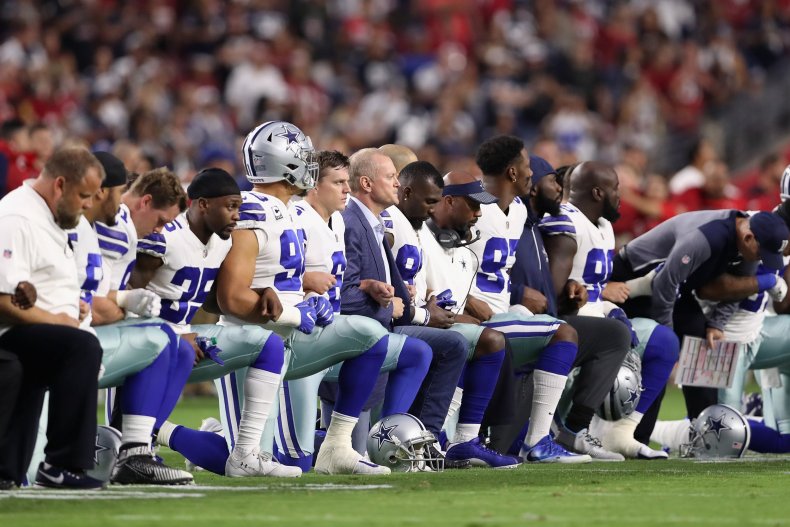 The president has denied that his comments on the NFL were race related but continued his barrage of criticism against the league on Tuesday. Trump said that the booing heard when the Cowboys took the knee before Monday's match was the "loudest I have ever heard."
But he added that the fact that the Cowboys stood for the anthem was "big progress."