'Take On Me' Trends As Donald Trump Shares Animated Video Reminiscent of '80s Hit Music Video
President Donald Trump is usually animated on Twitter, but tonight, he actually became a cartoon. The President tweeted a short black-and-white animated video in the style of the classic video from a-ha, "Take on Me."
Instead of using the beloved song from the 1980s, the short clip is overdubbed with Trump's voice.
"Treat the word, 'impossible,' as nothing more than motivation and to make a real and lasting difference," he says. Scenes show Trump's inauguration, the President dancing and his hair being mussed by an unseen hand, presumably belonging to Jimmy Fallon.
Within two hours, the video had received more than 1 million views.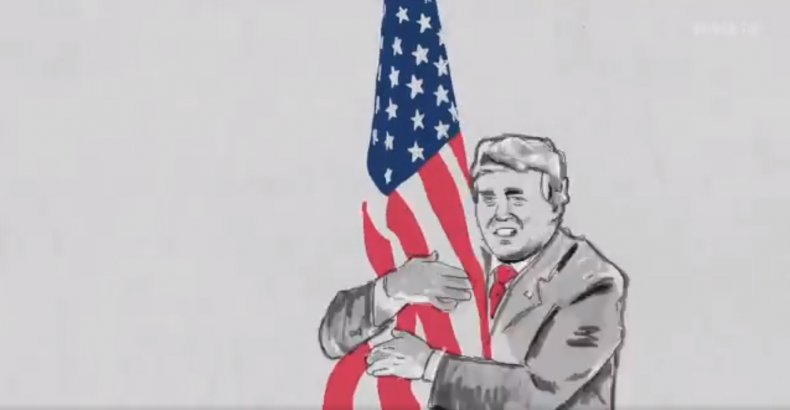 The message in the video seems clear. "The more that a broken system tells you that you're wrong," Trump's voice says, "the more certain you should be that you must keep pushing ahead. You must keep pushing forward." The end of the clip says simply, "Keep America Great."
Twitter was quick to weigh in on the video, mostly in shock and surprise.
Others commented on the source material. @VaclavRomanov tweeted, "This remake of Take On Me by a-ha is awful."
@Sabrina_Giles was also confused by the sudden resurgence of a-ha.
Others were already grabbing screen captures and retweeting them.
Brian Tallerico of rogerebert.com kept his comment concise.
But some were pleased with the video, saying the video achieved its intended purpose.
Trump's videos have brought him criticism before. On September 18, Trump tweeted an edited video that inaccurately accused Minnesota Democratic Representative Ilhan Omar of dancing on the 18th anniversary of 9/11. Trump tweeted, "The new face of the Democrat Party!" along with the video, which was edited together by comedian Terrence K. Williams.
Fortune reported that the footage of Omar was actually taken September 13 at events for the Congressional Black Caucus Foundation Legislative Conference.
Omar asked Twitter to remove the post. "The President of the United States is continuing to spread lies that put my life at risk," she tweeted. "What is Twitter doing to combat this misinformation?"
As the call for impeachment proceedings gains momentum and more information comes out about Trump's phone calls with foreign leaders, the beleaguered President seems to be sending his detractors the message that he is untouchable.
Released in 1985, the original video by Norwegian band, a-ha, was a staple of MTV's early days. With its rotoscoped animation and catchy tune, "Take On Me" became the band's biggest hit. It reached number one on the Billboard charts on the strength of this video. The band will be touring this fall.