Take the Quiz: What We Don't Know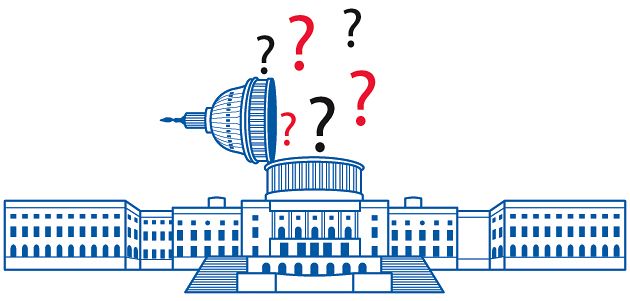 The U.S. citizenship test is composed of 100 questions across five categories: American government, systems of government, rights and responsibilities, American history, and integrated civics. Ten questions from the 100 are chosen randomly for the test-taker. To pass, one must get at least six right. In its poll of 1,000 people, the Daily Beast rotated the questions. Beyond the topline—62 percent of Americans passed, 38 percent failed—there are huge discrepancies in the kinds of civic knowledge Americans collectively possess. The following is a look at some of the questions and the percentage of people who got them right and wrong.
When was the Declaration of Independence adopted?
July 4, 1776.
Correct: 67%
Incorrect: 33%
What happened at the Constitutional Convention?
The Constitution was written, or the Founding Fathers wrote the Constitution.
Correct: 35%
Incorrect: 65%
The Federalist Papers supported the passage of the U.S. Constitution.
Name one of the writers.
James Madison, Alexander Hamilton, John Jay, or Publius.
Correct: 12%
Incorrect: 88%
Who was president during World War I?
Woodrow Wilson.
Correct: 20%
Incorrect: 80%
Who did the United States fight in World War II?
Japan, Germany, and Italy.
Correct: 60%
Incorrect: 40%
During the Cold War, what was the main concern of the United States?
Communism.
Correct: 27%
Incorrect: 73%
What did Susan B. Anthony do?
Fought for women's rights or fought for civil rights.
Correct: 41%
Incorrect: 59%
What did Martin Luther King, Jr. do?
Fought for civil rights or worked for equality for all Americans.
Correct: 77%
Incorrect: 23%
Who is in charge of the executive branch?
The president.
Correct: 73%
Incorrect: 27%
We elect a U.S. senator for how many years?
Six.
Correct: 39%
Incorrect: 61%
The House of Representatives has how many voting members?
435.
Correct: 14%
Incorrect: 86%
If both the president and the vice president can no longer serve, who becomes president?
The speaker of the House.
Correct: 58%
Incorrect: 42%
Under our Constitution, some powers belong to the federal government. What is one power of the federal government?
To print money, to declare war, to create an army, or to make treaties.
Correct: 19%
Incorrect: 81%
How many justices are on the Supreme Court?
Nine.
Correct: 37%
Incorrect: 63%
What do we call the first 10 amendments to the Constitution?
The Bill of Rights.
Correct: 57%
Incorrect: 43%
What is the supreme law of the land?
The Constitution.
Correct: 30%
Incorrect: 70%
How many amendments does the Constitution have?
27.
Correct: 6%
Incorrect: 94%
What is the name of the vice president of the United States now?
Joe Biden.
Correct: 71%
Incorrect: 29%
What is the name of the speaker of the House of Representatives now?
John Boehner.
Correct: 41%
Incorrect: 59%
What is the economic system in the United States?
Capitalist or market economy.
Correct: 33%
Incorrect: 67%