'Take This Seriously': Florida Gov. Ron DeSantis Slams Biden Admin's Gas Shortage Response
Florida Governor Ron DeSantis said Tuesday night that the Biden administration is not taking the gas shortages and the Colonial Pipeline ransomware attacks seriously.
DeSantis made the comments while appearing as a guest on a segment of Fox News' Hannity. In response to host, Sean Hannity's prompt to his guest saying, "Let's start with the state of emergency and the gas shortage, Governor," DeSantis replied that "this is something that's a very serious attack on critical infrastructure in our country."
"This pipeline actually doesn't touch Florida, but it does feed into many of our gas stations. So we declared a state of emergency. We're lifting restrictions to be able to get more fuel in the pumps," DeSantis added.
Florida is one of four states on the East Coast of the U.S. to declare a state of emergency in response to the Colonial Pipeline gas crisis as of Tuesday night, the others being Georgia, North Carolina and Virginia. But as DeSantis alluded to, it is the only one to declare a state of emergency that does not come into geographical contact with the Colonial Pipeline.
"The Biden administration needs to take this seriously," DeSantis said. "Their initial response is, 'Oh, this is a private pipeline,' and just shrug their shoulders. This is important infrastructure for our country, and it could impact our economy greatly if they don't respond."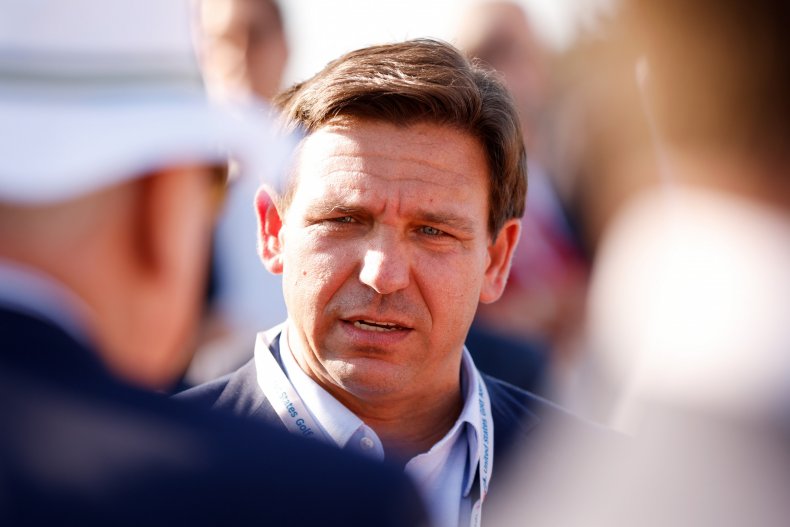 DeSantis may have been referring to President Biden's reluctance to publicly instruct Colonial Pipeline, a privately owned company, in how to respond to the cyberattacks. Biden made remarks during a White House briefing on Monday that referred to Colonial Pipeline as a "private entity," which is "privately owned and managed," and that "private entities are making their own determination on cybersecurity."
In the same briefing, however, Biden also remarked that "My administration...takes this very seriously. We have efforts underway with the FBI and DOJ—Department of Justice—to disrupt and prosecute ransomware criminals. And my administration will be pursuing a global effort of ransomware attacks by transnational criminals who often use global money-laundering networks to carry them out."
DeSantis could also have been referring to President Biden's refusal to say unequivocally that he believes the Russian government to be involved with the malware attack on the Colonial pipeline. Monday, before he met with Russian President Putin who said the Russians "categorically don't accept any accusations," regarding the cyberattack, President Biden said, "so far there is no evidence, based on our intelligence people, that Russia is involved," besides the ransomware being located in Russia.
Gov. DeSantis' proactive stance in declaring a state of emergency in Florida, and publically highlighting any potential problems that could come up for citizens is a departure from the attitude taken by many other East Coast governors today. Governor Kay Ivey of Alabama, for instance, did not declare a state of emergency but took to Twitter defuse the situation, saying: "Please do not fill up your car unless you need to and do not fill multiple containers. Overreacting creates more of a shortage. Please use common sense and patience! #alpolitics"
Newsweek reached out to Gov. DeSantis' team for comment and will update this story with any response.