Takeaways From the Georgia Special Election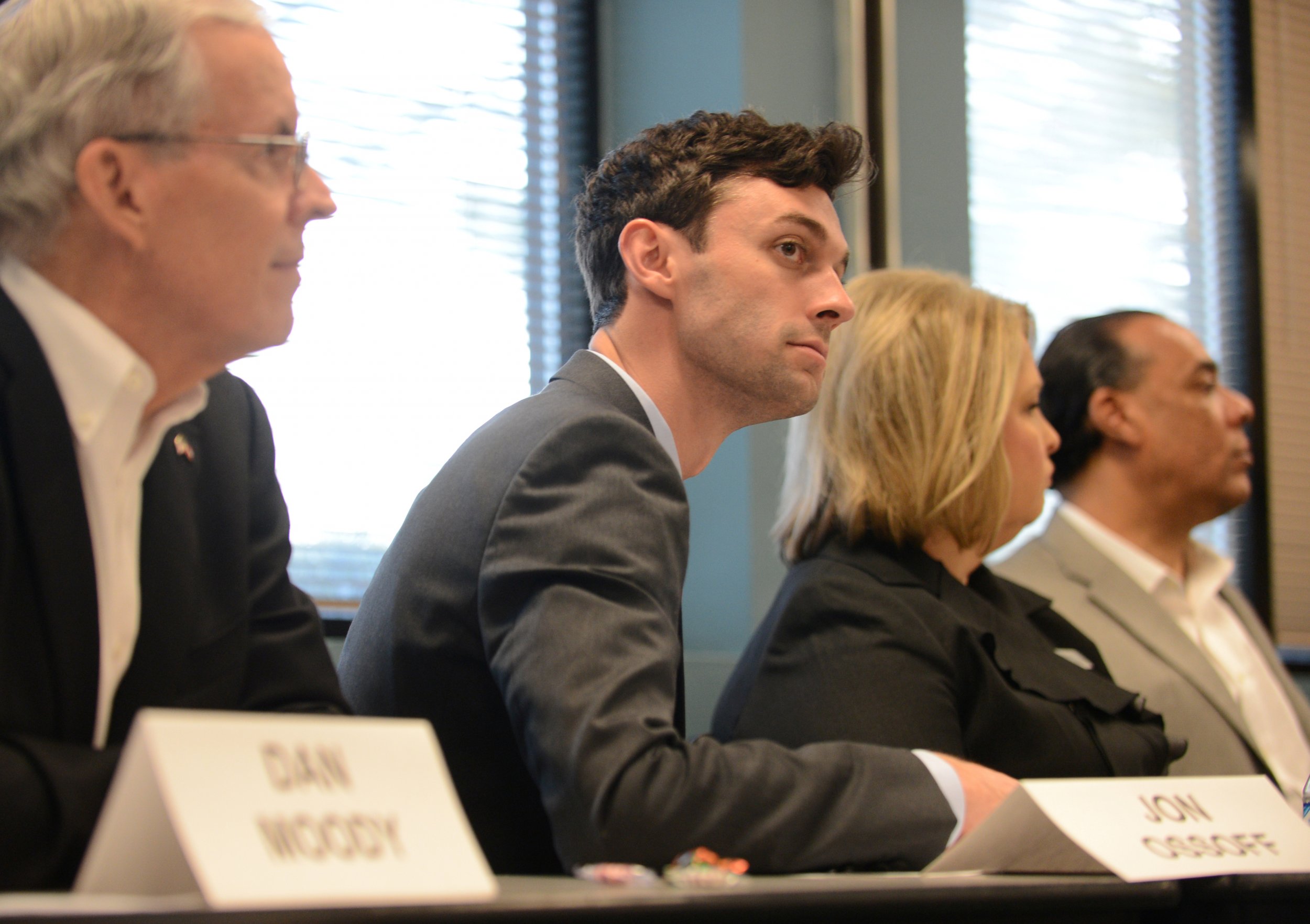 Democrat Jon Ossoff won the vote count in the Georgia special election to fill the House seat formerly held by Department of Health and Human Services Secretary Tom Price—but it wasn't exactly a "win." At 48.1 percent support, Ossoff on Tuesday narrowly missed garnering the 50-plus percent of the vote he would have needed to avoid a June runoff in the suburban Atlanta district. Now, instead of facing a fragmented field of 11 Republicans, he'll be going one-on-one against Karen Handel, Georgia's former secretary of state. Defeating that Republican will be a much steeper climb in the traditionally GOP-held district, especially with her party—and even President Donald Trump—on high alert over potentially losing the seat.
Related: Jon Ossoff surpasses rivals in Georgia House race but still faces a runoff
Nonetheless, that Ossoff, a 30-year-old political neophyte, ran as strongly as he did—and still has a decent chance of flipping the 6th District seat in June—says a lot about the current political environment. Here are three takeaways from Tuesday night's results:
This Race Is All About Trump
As much as Ossoff would like to frame himself as a local candidate focused on local issues, the national overtones in the race are unavoidable—and they are what fueled the outpouring of Democratic support for Ossoff's campaign. Anti-Trump voices in the district and from around the country came out in force for the young Democrat: not because of his platform, specifically, but because of the message his victory would deliver. "I was shocked on election night," 64-year-old Ossoff volunteer Christina Ferguson told NPR over the weekend. "I never thought that Trump was a viable candidate. I thought that the country would wake up at some point."
Despite the district's long-standing Republican lean, Trump's populist, often divisive rhetoric didn't play so well among its affluent, relatively diverse, center-right voting population. Even as Price cruised to a double-digit re-election victory in November, Trump defeated Democrat Hillary Clinton there by one a bit more than a percentage point. That had Democrats thinking they had a legitimate shot to snag the open seat when Trump tapped Price to be his health secretary—as long as they could turn it into a referendum on the new president. Progressive groups and donors helped Ossoff raise an eye-popping $8.3 million, the vast majority from outside Georgia. Winning the seat, which Republicans have held since the 1970s, wouldn't make much of dent in the GOP's control of Congress, but it would be a symbolic blow to the party and a signal that anti-Trump forces are mobilized—and powerful.
The president seemed to recognize the stakes, taking to Twitter in recent days to attack Ossoff and urge Republicans to vote. Early Wednesday morning, he took partial credit for keeping the Democrat under 50 percent. "Despite major outside money, FAKE media support and eleven Republican candidates, BIG 'R' win with runoff in Georgia. Glad to be of help!" Trump tweeted.
Democrats Eyeing Big Turnout in 2018—If They Can Keep the Grassroots Engaged
There's a pretty simple formula for predicting election outcomes in American politics: Higher turnout equals Democratic victories. That's a little oversimplified, and doesn't always play out to form—as the 2016 presidential results prove—but it's undeniable that low turnout among traditional Democratic voters in the 2010 and 2014 midterm elections resulted in huge setbacks for the party in Congress. The party faces long odds in winning back the House and Senate in 2018: In the Senate, it's defending 25 seats, compared to just nine Republicans up for re-election. Enthusiastic turnout of the sort Democrats saw in Georgia, however, could make a huge difference, at least in defending vulnerable Democrats running in so-called red states that backed Trump.
According to the Atlanta Journal-Constitution, nearly 55,000 people voted early in the 6th District special election, far higher than the early-voting rate in the district for the 2014 midterm election. And Democrats, in particular, showed a spike in early voting compared to 2014. "It's clear that Democrats are more riled up than they have been in years," the Atlanta paper wrote Tuesday. Add to that the tens of thousands of progressive donors from around the country who gave to the Ossoff campaign and it's clear the party's grassroots are hyper-engaged. The challenge is sustaining that energy level for the next 19 months. The president's actions are likely to have a lot to do with that.
Republicans in Moderate Districts Are Right to Be Nervous
Trump's sinking poll numbers are bad news for Republicans, generally, but they're particularly worrisome for those GOP members who represent more affluent, educated slices of the population. The president's populist rhetoric never had as much resonance among those "establishment" Republicans, who hew to a more business-friendly, globalist perspective. And certainly, the president is a hugely unpopular with the vast majority of Democrats.
Again, the results of an April 2017 special election are not an indicator of what the political climate will be more than a year and a half from now. But it's a sign of the risks Republicans face, particularly those representing the few dozen congressional districts that voted for Clinton in November, or split their vote narrowly between Trump and Clinton. As the website 538.com noted, Georgia 6 is hardly the most Democratic-leaning district that Republicans represent. And there's no doubt those Republican congressmen and -women are watching the energy around the Georgia race and factoring that in as they weigh whether to support Trump's agenda.