Man's Method of Bonding With Girlfriend's Daughter Blasted: 'Irresponsible'
A man who was trying to bond with his girlfriend's 14-year-old daughter has been dragged online for taking her on a motorbike ride without checking with his partner if she was happy for him to do that.
Reddit user u/throwawayacc717 shared a post on February 2 to the AITA [Am I The A******] thread seeking advice after taking his girlfriend's teenage daughter on his motorbike for over an hour, which his partner felt was "selfish and irresponsible".
The original poster explained that he doesn't spend much time with his girlfriend's teen daughter, so when he was asked to pick her up from school recently he gladly obliged. Due to the "pretty decent" weather he chose to take his motorbike to collect her.
The post continues: "After I picked her daughter up we went for some kebabs and afterwards her daughter asked me if she could ride around with me for a bit before I took her home. I didn't know she was into motorcycles so I thought that this might be my opportunity to bond with her."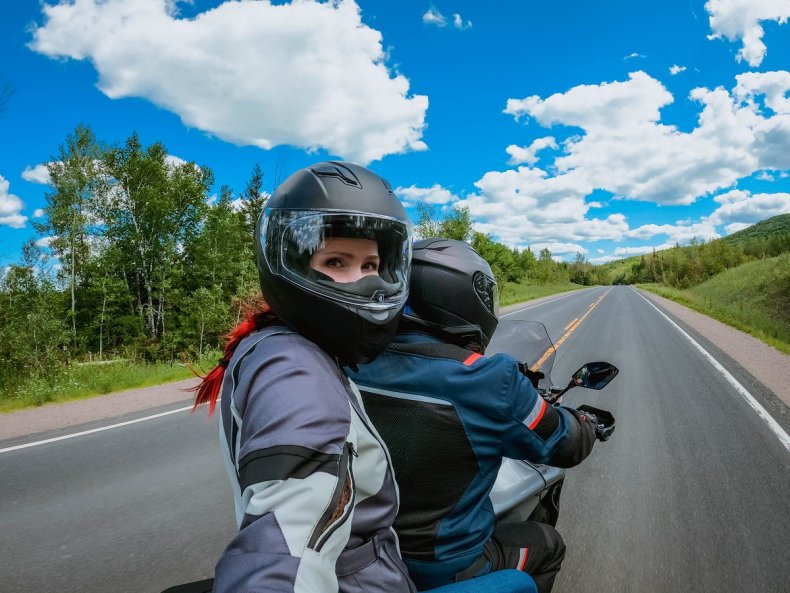 There are believed to be more than 8.3 million motorbikes in the U.S., according to Statista, and they appear to be most popular in California, as there are over 785,000 registered in the state. However, Statista also estimates that in 2020 there were over 80,000 motorbike crashes which led to injuries, 5,715 of which were sadly fatal crashes.
Unfortunately, the poster's girlfriend "was furious" that he took her daughter on the motorbike and an argument ensued. "I told her that she never said I couldn't use my bike", the poster wrote online, unaware of his error at the time.
Newsweek spoke to u/throwawayacc717 about the dilemma he found himself in. He said: "The drive was about an hour to 90 minutes. I had protective gear and a helmet, and she had a helmet and gloves on. She enjoyed it, she was even kind of upset that we couldn't ride around longer."
Since sharing the post on Reddit, it has received over 7,000 votes and 1,800 comments so far. Many people told the poster that he was in the wrong and shouldn't have taken a minor on a motorbike, especially not without permission from her mother.
The user told Newsweek: "I honestly felt kind of bad, I thought she'd be pleased that I was making an attempt to bond with her daughter and that her daughter had fun. After reading all the comments I've apologized to my girlfriend and things seem to have cooled off a bit."
One of the highest voted comments on the post, with over 18,000 up votes, says: "Fellow motorcyclist. I'd never take a minor as a passenger without checking. It is a good bonding opportunity, but you may have ruined it."
Many comments were from other motorcyclists who said the poster was in the wrong, as another person wrote: "I come from a family of motorcyclists. OP's biggest sin is that he didn't ask or even give a heads up."
It seems that the comments received on Reddit have shown the original poster the error of his ways, and although he was trying to do something positive, checking with his girlfriend was the issue he didn't address.
If you have a personal dilemma, let us know via life@newsweek.com. We can ask experts for advice on relationships, family, friends, money and work and your story could be featured on Newsweek's "What Should I Do? section.